Command centers can help keep your home and your life running smoothly. In this blog post, I've curated a list of kitchen command center ideas so you can find the inspiration to set up your own organized family command center.
Creating a home command center is a perfect next step for organizing after you implement my declutter tips throughout your home.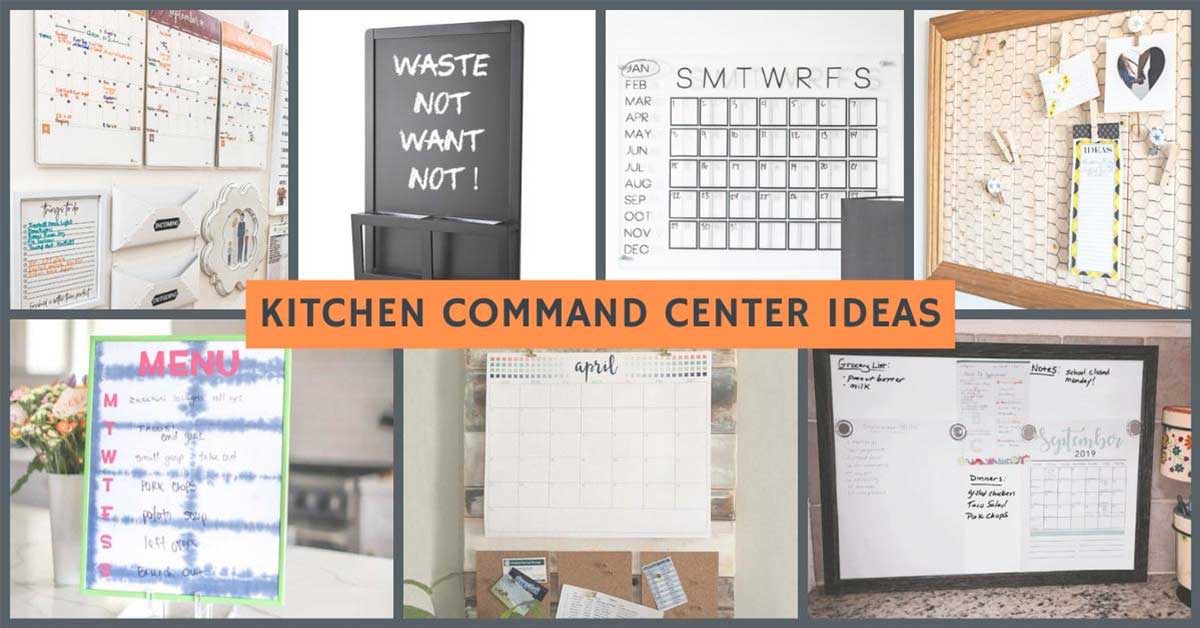 This post may contain affiliate links. If you choose to purchase through an affiliate link, I may receive a small commission at no additional cost to you. You can see my full disclaimer here.
What Is A Kitchen Command Center And Why Do You Need One
A kitchen command center is a gathering place for all the important things that happen in your home and family. It's a place where you can control the chaos and have everything you need at your fingertips.
A well-organized command center will make your life easier and less stressful. By designating a space for all of your important reminders, schedules, and plans, you can spend less time trying to remember things and more time enjoying life.
When you set up your home command center in the kitchen, everyone in the house will have easy access to the information and can help keep it updated.
A kitchen command center can help you keep track of meal planning, grocery lists, and other important household tasks. Having a dedicated space for a family calendar can help you stay on top of schedules and upcoming activities.
Whether you need a small command center or want to create a custom DIY command center, you're sure to get some amazing ideas here…
Kitchen Command Center Ideas
Tips For An Effective Kitchen Command Center
With all these ideas and choices, you may be wondering how you can make a command center work for you.
Here are some suggestions:
1. Start small
Some of the huge family command centers that track EVERYTHING are so beautiful! But if you're just getting started, keep it easy with a simple command center.
Most people start with their most-needed elements:
You can always add to your center as you need or want to.
2. Get everyone involved
Make using the command center easy for everyone in the house to use. If it's too hard, people will resist. Make it simple and stress-free.
3. Actually use your kitchen command center!
Staying organized takes some effort, but it works really well when everyone gets into the habit of keeping things updated.
More Organizing Resources And Inspiration
Need some budget-friendly ideas for home organizing? Check out these cheap ways to organize your home.
These meal planning printables are perfect for using in your kitchen command center and staying on top of your meal planning and cooking goals.
Not so sure you're up for creating your own kitchen command center? There are some beautiful ready-made and custom command centers on Etsy. 
I also love the gorgeous and super-smart design of 1THRIVE's wall organizer command centers. With their modular component pieces, you can completely customize them to your needs.
Concluding Thoughts On Command Centers For An Organized Home
I hope these command center ideas have inspired you to start working on plans to set up a system that will work for you and your family.
When it comes to getting organized, a command center is a valuable tool for any homeowner. By taking the time to set up a kitchen command center, you can help make your home a more efficient and organized space as you Build Your Best Life.
You've got this!
---
Did you enjoy this post? Know someone else who might like it? Please take a moment to share on Pinterest, Facebook, or your favorite social media… (Click the sharing buttons at the bottom of the post.) Thank you!