It's summertime, which means it's time for some relaxing books to read! These 10 titles for your summer reading list are great reads to take with you on your summer vacation or your favorite comfy porch chair.
Summer reading is at the top of my to-do list this year. I was inspired to ramp up my reading time when I put together this summer reading quotes post.
There's something for everyone on this simple summer reading list. So grab a few paperbacks or fill up your kindle. Let's Release… Refresh… Relax… and enjoy a good book this summer!
This post may contain affiliate links. If you choose to purchase through an affiliate link, I may receive a small commission at no additional cost to you. You can see my full disclaimer here.
Welcome to your simple summer. It's time to kick back with a list of relaxing, inspirational, and motivating summer reads.
These books are a mix of fiction and nonfiction, carefully chosen from my own reading list. Some are short, some are novel-length, and each of them should make you smile or make you think.
My reading tastes are all over the place, but summer reads always feel like they should be lighter, a little easy on the mind and heart… perfect for a simple summer.
Mostly, I like books that don't make me cry. So *most* of the books on this list are pretty light. These are all titles that I've either read, am currently reading, or have caught my eye and made it onto my 'perfect summer read' list.
10 Books For Your Simple Summer Reading List
These titles are all available for Kindle, although a few of them also have paper versions if you prefer. Some are even available on Audible [click here for a free Audible trial].
by Jana DeLeon
Genre: cozy mystery
Summary:
One of the world's largest arms dealers has put a price on the head of CIA assassin Fortune Redding. Suspecting a leak at the CIA, Fortune goes off-grid in the small bayou town of Sinful, Louisiana.
Not the girliest girl, Fortune isn't looking forward to posing as a former beauty queen turned librarian. But she's determined to fly below the radar until her boss finds the leak and eliminates the threat from the arms dealer.
When Fortune's newly-inherited dog unearths a human bone in her backyard, she finds herself in the middle of a murder mystery that threatens to blow her cover and get her killed.
Fortune teams up with Ida Belle and Gertie, a pair of seemingly-sweet old ladies who aren't what they seem. Together, they're determined to solve the mystery while avoiding interference from the handsome local deputy.
My thoughts:
There are few cozy mystery series that can make me laugh as much as the Miss Fortune books. Sharp wit, unique characters, and so much fun!
Once you're finished with this book, you'll definitely want to read the rest of the series… and pretty much everything else by Jana. She really is that good.
by J.K. Hage <– Yep, that's me!
Genre: cozy mystery
Summary:
Pepper Monroe needed a new life, she just didn't know it yet. Then her cousin Francine called to beg for help running the cafe in Sinful, Louisiana. Pepper recognized the invitation as a flashing neon sign to start over, so she hopped into her car to make the journey to Sinful.

However, Sinful isn't the sleepy little town she expected. While Pepper is busy trying to educate Southern tastebuds about the beauty of sweet iced coffee, she also ends up in the middle of murder and kidnapping.

And she meets Jaxson, the hottest man south of the Mason-Dixon line. Problem is, Pepper has just decided to get her life together without a man. But she can't stop herself from dreaming…
*Note: This quick-read novella is licensed fan fiction available as part of Jana DeLeon's Miss Fortune World. This is not a stand-alone book. It takes place after Jana DeLeon's first Miss Fortune book, Louisiana Longshot. Many thanks to Ms. DeLeon for allowing authors to tell new stories and create characters within her world!
by Kim Michele Richardson
Genre: historical fiction
Summary:
This historical fiction novel follows Cussy Mary, a packhorse librarian in the 1930s, as she brings books and knowledge to her small Appalachian community of Troublesome Creek.
Cussy isn't just a book woman, though; she's also the last of her kind, with blue skin that means she must confront prejudice and suspicion on a daily basis.
Inspired by the true blue-skinned people of Kentucky and the brave and dedicated Kentucky Pack Horse library service of the 1930s, The Book Woman of Troublesome Creek is a story of raw courage, fierce strength, and one woman's belief that books can carry us anywhere—even back home.
My thoughts:
I'm about halfway through this book, and I really like it so far. It's difficult to comprehend the life experiences of the characters in this time and place. But at the same time, that's why it's so very important to read and learn from books like this one.
by Margaret Lashley
Genre: cozy mystery
Summary:
The author says, 'Get set for a wickedly witty slide down the social ladder with a surprising cast of unexpected misfits!'
And that's exactly what you'll find in this funny mystery set in Sunset Beach, Florida. We meet Val Fremden as she comes home after a disaster of a marriage in Germany — now broke, divorced, jobless, and closing in on 50.
When Val's only friend turns up dead and the will brings out the local lunatics and con artists, Val reluctantly turns to three crackpots for help—a drunk, a redneck, and a snarky beach bum.
Unfortunately, their antics don't go unnoticed by the local hot cop who just might drive Val over the edge… or help her see that life isn't so bad after all.
My thoughts:
This was a fun storyline that kept me reading right into the next books in the series. Not a bad way to spend some summer reading time!
by Lee Child
Genre: suspense thriller
Summary:
Jack Reacher is an ex-military policeman who arrives in Margrave, Georgia and is arrested for murder after being in town for less than an hour.
Reacher knows he didn't kill anybody. At least not here. Not lately. However, from the looks of things, he doesn't stand a chance of convincing anyone.
But there's a lot more going on in this pretty little town than meets the eye. And before he's done, Jack Reacher will figure out exactly what's happening.
My thoughts:
I know, I know… this book is OLD. But I've been saying for many years that I 'want to' read Lee Child's Reacher series… long before there was a movie or a television series.
So it's on my list for this year. And as much as I liked the television show, I'm pretty sure the book will be better. Aren't they always?
by Shannon Hembree and others
Genre: women's personal growth
Summary:
This collection of essays by a diverse group of women in their forties reveals the true strength, beauty, and heart of women.
Through stories of women overcoming the odds and surviving loss, we are shown that it's possible to find humor in the challenges we all face.
Above all, they remind us that we need to have FUN.
My thoughts:
This book has been on my to-read list for a while. I'm not totally sure about whether or not I'll like it, but I do like positivity and this seems like it fits.
by Elin Hilderbrand
Genre: women's fiction
Summary:
The Hotel Nantucket was once a Gilded Age gem that became an abandoned eyesore before being renovated by London billionaire Xavier Darling. Xavier hires local Lizbet Keaton as the general manager, who in turn pulls together a hotel staff who all share the vision of turning the hotel into a success.
Filled with the emotional depth and multiple points of view that characterize Hilderbrand's novels and an added dash of Roaring Twenties history, The Hotel Nantucket offers something for everyone in this compelling summer drama.
My thoughts:
I haven't read this yet. From various reviews, I'm a little unsure about whether it's simply women's fiction or if it's actually a ghost story, which seems like it would be a little… weird. This might get pushed to the bottom of my list if I decide I need a more humorous escape, like Emily Henry's Book Lovers.
by Ellen Airgood
Genre: women's fiction
I was really excited to see Ellen Airgood had published a new book. I loved her debut novel South of Superior, about which I wrote:
There is just something about Michigan's Upper Peninsula, and something almost magical about the shore of Lake Superior. I knew when I was reading the book that the author had to live there — you can't write about that way of life without firsthand knowledge. Maybe it's because I've always lived in Michigan and spent many summer weeks in the U.P. over the years, but I found this book to be one of those that I just can't forget.
Summary:
Laurel Hill, a young single mother, and her ten-year-old daughter Skye have always been each other's world. They live on Lake Superior, where the local population often lives in rural poverty, far away from what most consider to be the 'normal' comforts of life.
After being evicted from their home, Laurel and Skye must fight for each other and navigate events that cause them to have to choose between leaving the place they love or moving closer to civilization, even as they learn to build community and resilience.
My thoughts:
This looks like it might be a little bit slow… which is fine for a slow summer, right? Mostly I'm looking forward to immersing myself in reading about the U.P. again.
by Graeme Simsion
Genre: humorous fiction / romantic comedy
Summary:
Don Tillman is a brilliant yet socially challenged genetics professor. When he decides it's time he finds a wife, he designs the Wife Project… a scientific survey to filter out anyone who could never be his perfect partner.
Don meets Rosie Jarman, a spontaneous whirlwind of a barmaid who could never be a candidate for the Wife Project. Throughout the book, Don and Rosie become friends… and then a little more, despite Don's scientific resistance.
My thoughts:
I LOVED this book! The situations and conversations are awesome, especially to people who know what it's like to be socially awkward or understand what it means to be on the very functional end of the autism spectrum. I'm looking forward to reading the next two books of the trilogy, The Rosie Effect and The Rosie Result.
by Mel Robbins
Genre: personal improvement
Summary:
In this book, Mel Robbins teaches how to start high fiving the most important person in your life, the one who is staring back at you in the mirror: YOURSELF.
This is for anyone struggling with self-doubt, self-criticism, focusing on negativity, or the inability to just.get.going.
The High 5 Habit is a simple yet profound tool that changes your attitude, your mindset, and your behavior to live daily with the confidence that your goals and dreams demand.
My thoughts:
Sure, sometimes it seems like all of these self-help books teach the same things. But we honestly need to hear (or read) those things over and over — and over — again before we really internalize them. Between this book and Mel's The 5 Second Rule, we can start to make some real progress.
How To Make Time For Summer Reading
Ease into time-making simple summer habits like getting up with the sun or staying up for the sunset. Take advantage of lazy afternoons where everyone does quiet things — or heads to the pool — and read, read, read.
Maybe you're planning a summer vacation with plenty of downtime… absolutely perfect for reading!
But if none of those work for you, how can you make time for summer reading as a busy adult?
One strategy is to set aside a specific time each day for reading. Put it in your planner or set an alarm on your phone as a reminder.
You could also try setting a goal of reading a certain number of pages each week. This works well if you always try to surpass the goals you set for yourself.
Try carrying a book with you wherever you go, so you can sneak in a few pages here and there when you have a few spare minutes. If you're an introvert, using a kindle or a reading app on your phone works especially well to deter unwanted conversations.
And be sure to create your own summer reading list of books you can't wait to dive into. You just might surprise yourself at how many titles you can finish this summer.
Must-Have Summer Reading Accessories
It's always fun to have all the summer reading accessories… even if you're reading in the comfort of your own living room or on the back deck.
Grab this cute book-themed tumbler to keep your beverage cold and handy.
Out and about? You'll want this book lover definition tote bag for hauling your stack of reading material.
Of course, everyone needs a summer reading t-shirt!
Keeping a reading log is a fun way to track your summer reading list. If you're techy, try this amazing digital reading journal.
Prefer something a little more old-school? This printable reading journal is cute, and you can print exactly which pages you want to use.
I love the feel of a 'real' book, but sometimes eBooks just make sense. A kindle with good resolution and an adjustable frontlit screen is perfect for reading late into the summer night, and they hold so.many.books.
Never tried reading an eBook? Download the free kindle app to your phone or tablet and give it a try!
To make digital reading even better, getting a Kindle Unlimited subscription means you'll NEVER run out of great books to read.
If you want to read but aren't into all those words on pages, you might prefer audiobooks. You can get a free Audible trial membership and see if listening to all.the.things just might help you reach your summer reading goals!
More Inspiration for a Simply Fantastic Summer
Productive Things To Do Over the Summer: Make Your Goals a Reality
31 July Creative Writing Prompts To Ignite Your Summer Writing
12 Summer Slow Down Quotes for Your Best Season Ever
10 Ways to Begin Your Simple Summer
Concluding Thoughts
So that's it! My current 10-book summer reading list for adult women.
I've always found the best books are the ones that pull you into the story, make you laugh out loud, or teach you something new.
From easy summer reads and relaxing books to something a little deeper, there's something for everyone on this list. I hope you find a title or two (or ten!) that piques your interest.
And if you have any suggestions for me, please leave them in the comments below. Happy reading!
---
Did you enjoy this post? Know someone else who might like it? Please take a moment to share on Pinterest, Facebook, or your favorite social media… (Click the sharing buttons at the bottom of the post.) Thank you!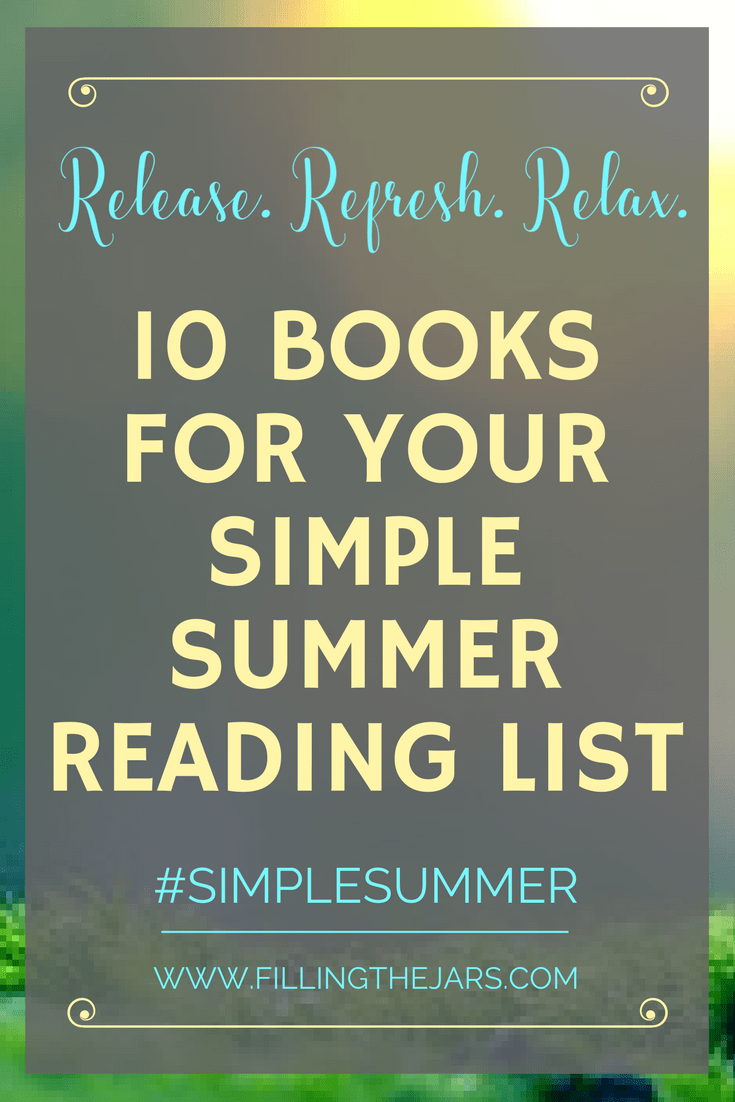 This post was originally published June 8, 2017.
Updated June 20, 2022.
Grab Your Free Printable SIMPLE SUMMER Checklist!
Enter your information now to receive your FREE printable 10 Ways to Begin Your Simple Summer checklist.
Choosing to join the Filling the Jars email list means you will receive regular emails with tips and recommendations to help you on your journey to Build Your Best Life.
Filling the Jars Privacy Policy