Welcome to Post #3 of the #SimpleSummer series! This week we're going to get out of the planning mode. It's time to kick back with a list of relaxing, inspirational, and motivating summer reads.
Release.
Refresh.
Relax.
These books are a mix of fiction and nonfiction, carefully chosen to help you do all of the above. Some are short, some are novel-length, and each of them should make you smile or make you think.
Kick back with a list of #relaxing, #inspirational, and #motivating summer reads > #reading #SimpleSummer Click To Tweet
---
This post may contain affiliate links. If you choose to purchase through an affiliate link, I may receive a small commission at no additional cost to you. You can see my disclaimer here.
---
These books are all listed on Amazon. They are all available for Kindle, although a few of them also have paper versions if you prefer.
Don't have a Kindle? You can still read on your mobile device or laptop with the FREE Kindle reading app. (I use it on my tablet, phone, and laptop — love it!)
> Click here to get the Kindle reading app <
~~~
Amazon description:
Everyone deserves a second chance…don't they?
Jenny Masters finds herself living the modern dream. Wife to a millionaire, living in a mansion and mother to Kardashian-obsessed ten-year-old April, there isn't anything missing. Until, her whole world comes crashing down, forcing Jenny and April to leave behind their glittering life and start over with nothing.

With village gossip following her wherever she goes, she finds refuge and a job in the new coffee shop in town. As the days pass Jenny fears she doesn't have what it takes to pick herself back up and give April the life she always wanted to. But with the help of enigmatic new boss Noah, and housemate Elle, Jenny realises it's never too late to become the woman life really intended you to be!
Amazon description:
When Marnie Appleton inherited a sweet shop from her grandfather she was determined to do his legacy proud. The shop has been a much-loved feature of the little seaside town of Shipley for years, but now Marnie needs to bring it up to date, and she's recruited gorgeous new assistant Josh to help.

Marnie gets busy redecorating the shop and choosing delicious new sweets to stock, but things are never that simple: new neighbour Isobel, a fame-hungry blogger, is on a crusade against sugar, and she'll go to any lengths to secure bad publicity for Marnie's shop.

Marnie fights back with homemade sugar-free treats, but with her best friend Beth heavily pregnant, her grandmother Celia recovering from an operation, and her very recently ex-boyfriend Alex returning to Shipley with a new love, Marnie has a lot on her plate.

And then there's Josh, with whom Marnie is struggling to keep her relationship strictly professional…Will both the sweet shop and love flourish?

A deliciously heartwarming read about family, friends and handmade coconut ice. Perfect for fans of Cressida McLaughlin, Debbie Johnson, and Tilly Tennant.
~~~
Amazon description:
The ocean, the wild roses on the dunes and the stunning Cliff House, perched atop a bluff in Sconset, Nantucket. Inside the faded pages of the Cliff House guest book live the spellbinding stories of its female inhabitants: from Ruby, a bright-eyed newlywed on the eve of World War II to her granddaughter Bess, who returns to the beautiful summer estate.

For the first time in four years, physician Bess Codman visits the compound her great-grandparents built almost a century before, but due to erosion, the once-grand home will soon fall into the sea. Bess must now put aside her complicated memories in order to pack up the house and deal with her mother, a notorious town rabble-rouser, who refuses to leave. It's not just memories of her family home Bess must face though, but also an old love that might hold new possibilities.

In the midst of packing Bess rediscovers the forgotten family guest book. Bess's grandmother and primary keeper of the book, Ruby, always said Cliff House was a house of women, and by the very last day of the very last summer at Cliff House, Bess will understand the truth of her grandmother's words in ways she never imagined.
Amazon description:
Ella's life just hit rock-bottom, but can a summer by the sea mend her broken heart? When life gives you lemons… make ice-cream!

Life hasn't always been easy for single mum Ella, but she has just hit an all-time low; she's jobless, loveless, very nearly homeless and, to make matters worse, now the owner of a pocket-sized pooch with a better wardrobe than her.

Packing her bags (and a bigger one for the dog), Ella sets off for the seaside town of Appledore in Devon to re-live the magical summers of her youth and claim her portion of the family ice-cream business: a clapped-out ice-cream van and a complicated mess of secrets.

There she meets gorgeous and free-spirited solicitor, Ben, who sees things differently: with a little bit of TLC he has a plan to get the van – and Ella – back up and running in no time.

Ella's Ice-Cream Summer is a heart-warming and hilarious romance that will scoop you off your feet and prove it's never too late for a fresh start. The ideal holiday read for fans of Lucy Diamond, Abby Clements and Debbie Johnson.
Amazon description:
Pepper Monroe needed a new life, she just didn't know it yet.

Then her cousin Francine called to beg for help running the cafe in Sinful, Louisiana.

Pepper recognized the invitation as a flashing neon sign to start over, so she hopped into her car to make the journey to Sinful.

However, Sinful isn't the sleepy little town she expected. While Pepper is busy trying to educate Southern tastebuds about the beauty of sweet iced coffee, she also ends up in the middle of murder and kidnapping.

And she meets Jaxson, the hottest man south of the Mason-Dixon line. Problem is, Pepper has just decided to get her life together without a man.

But she can't stop herself from dreaming…
NOTE: This is not a stand-alone book. It takes place after Jana DeLeon's first Miss Fortune book, Louisiana Longshot. Any character and timeline variations thereafter are purely coincidental.
Amazon description:
From the creator of The Honest Toddler comes a fiction debut sure to be a must-read for moms everywhere

There are good moms and bad moms—and then there are hot-mess moms. Introducing Ashley Keller, career girl turned stay-at-home mom who's trying to navigate the world of Pinterest-perfect, Facebook-fantastic and Instagram-impressive mommies but failing miserably.

When Ashley gets the opportunity to participate in the Motherhood Better boot camp run by the mommy-blog-empire maven she idolizes, she jumps at the chance to become the perfect mom she's always wanted to be. But will she fly high or flop?

With her razor-sharp wit and knack for finding the funny in everything, Bunmi Laditan creates a character as flawed and lovable as Bridget Jones or Becky Bloomwood while hilariously lambasting the societal pressures placed upon every new mother. At its heart, Ashley's story reminds moms that there's no way to be perfect, but many ways to be great.
Amazon description:
When a group of women noticed that the descriptions of women in their forties were a bit stale, they chose to turn that narrative on its head. Midlife Margaritas is a collection of essays by a diverse group of women sharing their heartwarming and hilarious stories of what it's like to conquer forty in today's world and live to tell the tale. They are the stories of women rising up after unimaginable loss, of overcoming impossible odds, and of finding humor in the everyday challenges we all face.

These touching essays reveal the true strength, beauty, and heart of women. They show us ordinary women doing extraordinary things. And, above all, they remind us to have fun.

Inspiring and encouraging, Midlife Margaritas is the fun companion you never knew you needed at this time of your life. Reading it is like being wrapped in a warm embrace from a beloved girlfriend…who is trying not to spill the margarita in her hand.
~~~
Amazon description:
This tastefully presented book outlines how to deal with challenges in life. They can be faced positively with a laugh, by working smarter, looking after yourself, refocusing and helping others who struggle. There are aspects of the book that are down to earth and downright witty in a matter of fact way which is easy to relate to. It is quite practical in nature which is a good thing as it offers solutions to problems we all face as well as forward-thinking strategies for putting your best foot forward.

The authors who are originally from the sandy beaches of sunny Jamaica, share with their readers, their background of facing adversities but still managing to face 'lemons' with a smile.

In this book you will find a little something for everyone, no matter your ethnic background, religion, creed or outlook in life. Even the pessimist comes away refreshed.
~~~
Amazon description:
If Eckhart Tolle and Jim Carrey had a baby, that baby would be Kyle Cease.

After twenty-five years of achieving what he thought were his dreams of being a headlining touring comedian and actor, Kyle Cease suddenly discovered that the belief that "When something happens, I will be happy" is a complete lie. With nothing more than an intuition, he decided to quit his stand-up career at its peak, and now—as a transformational comedian, he brings his one-of-a-kind self-help wisdom to sold-out audiences in his Evolving Out Loud Live stage show.

In I Hope I Screw This Up, he disarms readers as he leads them to their own personal breakthroughs, helping them to recognize that actual happiness and fulfillment is available to them—not in some distant future, but right now. As he has shown audiences all over the world, when you embrace your pain, fear, and vulnerability instead of pushing it away, you will discover an authentic creativity and power that is truly unstoppable.

Using self-deprecating personal stories, hilarious observations on life, and poorly drawn illustrations, Kyle unravels the deepest issues standing between us and emotional freedom. From discovering the never-ending opportunities that come from playing—and going with whatever comes up in the moment—to learning to let go of what feels heavy in our lives, this book is a journey into the endless possibility that can appear if we just dare to let go of our fear of screwing up.

This is not motivation. This is not inspiration. This is true transformation.
Amazon Description:
Simplify is a celebration of living more by owning less. Written by Joshua Becker, who inspires hundreds of thousands of people on his personal blog, this is a book that calls for the end of living lives seeking and accumulating more and more possessions by highlighting the enjoyment of living with less.

Three years ago, his typical, suburban family of four made the decision to minimize their possessions, declutter their home, and simplify their lives. In so doing, they discovered countless real-life benefits of living with less. And now, to help others experience the same freedom, they offer the most important lessons they've learned through the process. Simplify is full of personal stories, practical tips, and powerful inspiration.

It is based on a rational approach to minimalism. It will forever change the way you look at physical possessions. And most importantly, its approach will free you from the burden of clutter and provide you with the extra motivation to realign your life around your heart's greatest passions… however you choose to define them.
---
Prefer to listen to your books? Check out the FREE Audible trial through Amazon and start listening to your next favorite book today!
> Click here to learn more about the free Audible trial <
---
Enjoy your summer reading!
Like this list? Click one of the sharing buttons to share it on your favorite social media site!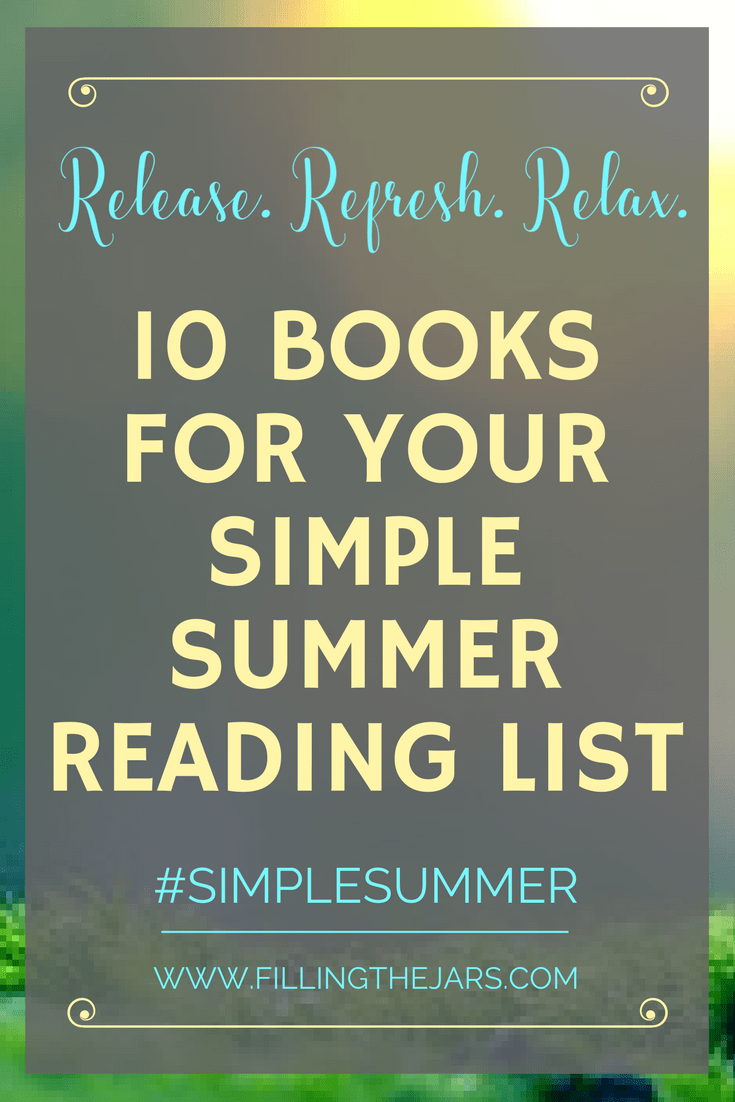 Grab Your Checklist!
Enter your information now to receive your "10 Ways to Begin Your Simple Summer" checklist.
Choosing to join the Filling the Jars email list means you will receive regular - usually weekly - email communication with news, community, and special offers to help you on your journey to Build Your Best Life.
Filling the Jars Privacy Policy