Finally… a summer quotes post for us indoorsy people who would rather bury our nose in a book than roast in the so-called summer sun and fun. Yep, that's right, I've got 22 summer reading quotes right here that will remind you of the glories of that time-honored, cool, and quiet summer activity.
To get the most out of your summer, you'll want to enjoy these quotes about summer reading and then check out my full collection of seasonal and motivational quotes.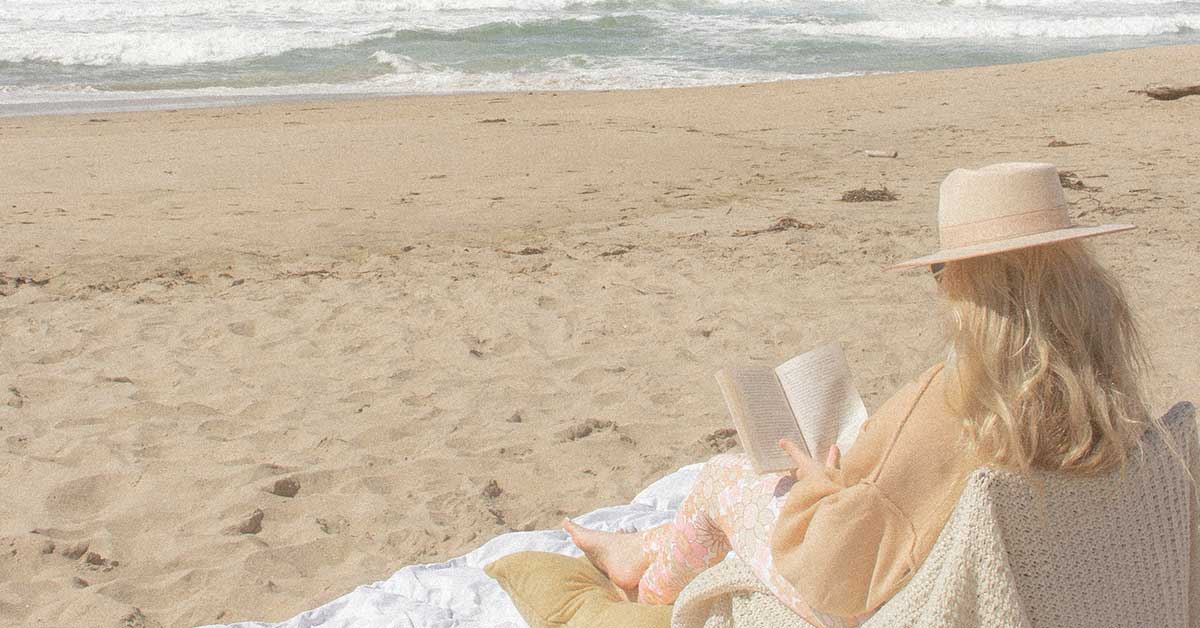 This post may contain affiliate links. If you choose to purchase through an affiliate link, I may receive a small commission at no additional cost to you. You can see my full disclaimer here.
I'll admit it… one of the reasons I've always loved summer is because of reading!
When I was growing up, summer meant we could check out extra books from the library every week.
We didn't have air conditioning or cable television at our house back in the 70s and 80s, so we spent hours every day lounging in the basement with piles of books at our sides.
We even made a special library visit right before our annual camping trip to get EXTRA books. Not.even.kidding. 🙂
It was glorious.
To me, reading will always be part of summer. If you're a summer reader, then I totally get you and I hope you enjoy these quotes about summer reading…
Best Summer Reading Quotes
"It is what you read when you don't have to that determines what you will be when you can't help it."
— Charles Francis Potter (often erroneously attributed to Oscar Wilde)
"One benefit of Summer was that each day we had more light to read by."
— Jeannette Walls, The Glass Castle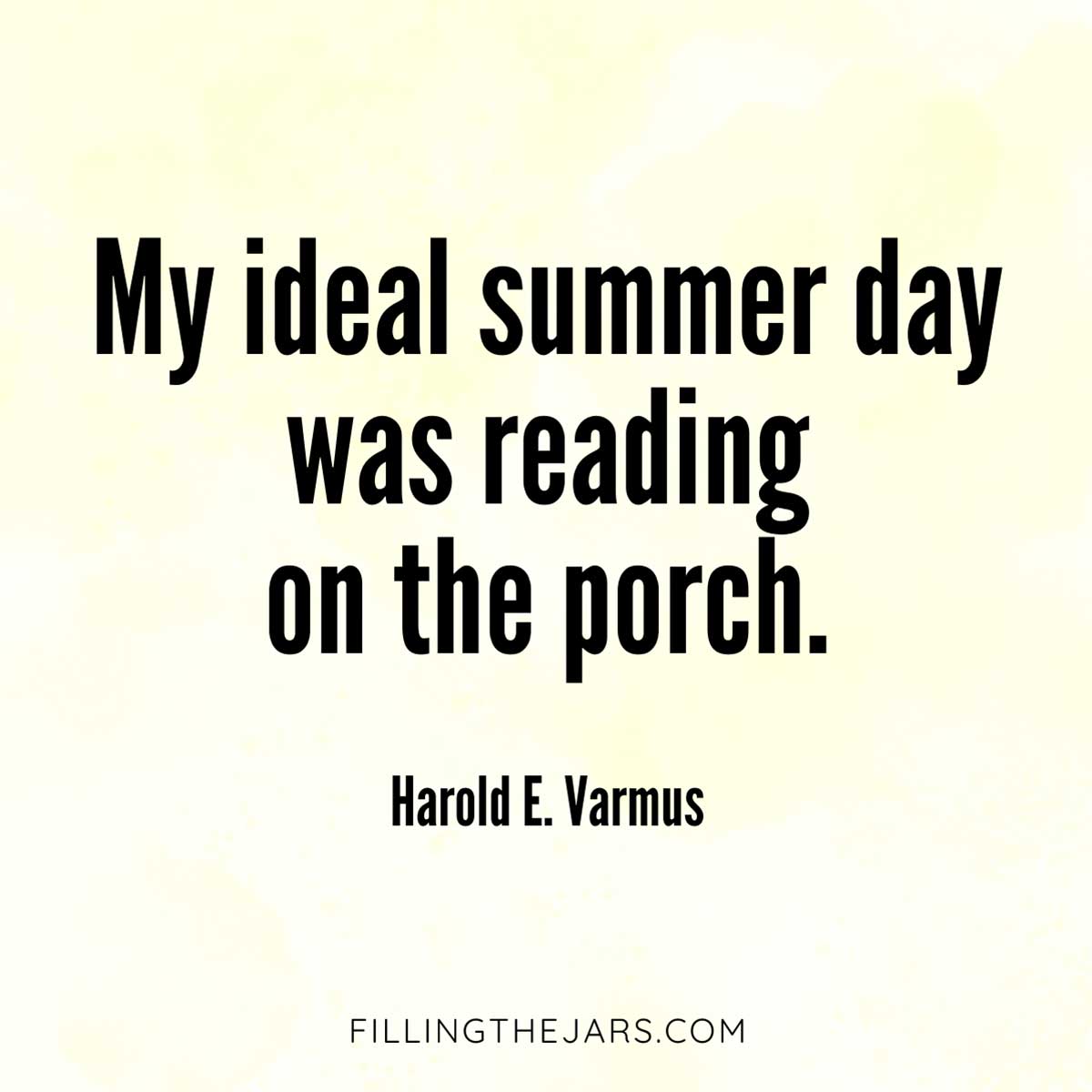 "My ideal summer day was reading on the porch."
— Harold E. Varmus
"The library in summer is the most wonderful thing because there you get books on any subject and read them each for only as long as they hold your interest, abandoning any that don't, halfway or a quarter of the way through if you like, and store up all that knowledge in the happy corners of your mind for your own self and not to show off how much you know or spit it back at your teacher on a test paper."
— Polly Horvath, My One Hundred Adventures
"It's the time of year when the literati give advice on what we should be reading on our summer holidays. These terrifying lists often leave me appalled at my own ignorance, but also suspicious about the pretension of their advocates."

Arthur Smith
"Think before you speak. Read before you think."
— Fran Lebowitz, The Fran Lebowitz Reader
"I never understood the concept of a fluffy summer read. For me, summer reading means beaches, long train rides and layovers in foreign airports. All of which call for escaping into really long books."
— Maria Semple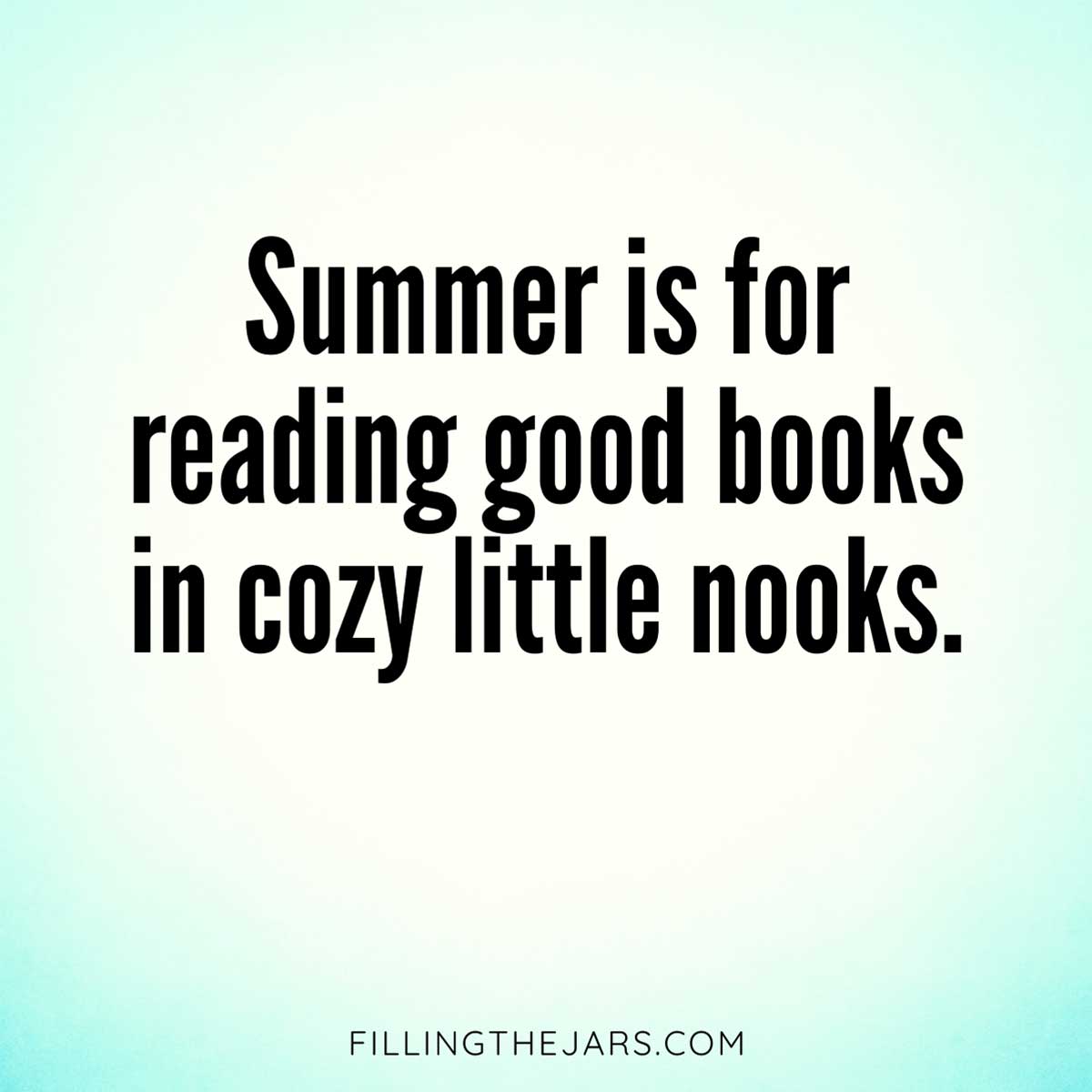 "Summer is for reading good books in cozy little nooks."
"Reading is a joy for my kids, and to swing in a hammock on a lazy summer day reading a good book just goes with summer."
— Marcia Gay Harden
"This was my only and my constant comfort. When I think of it, the picture always rises in my mind, of a summer evening, the boys at play in the churchyard, and I sitting on my bed, reading as if for life."
— Charles Dickens, David Copperfield
"To slide into the domed reading room at ten each morning, specially in summer, off the hot street outside, was a sensation as delicious as dropping into the water off the concrete edge of the Fitzroy Baths."

Helen Garner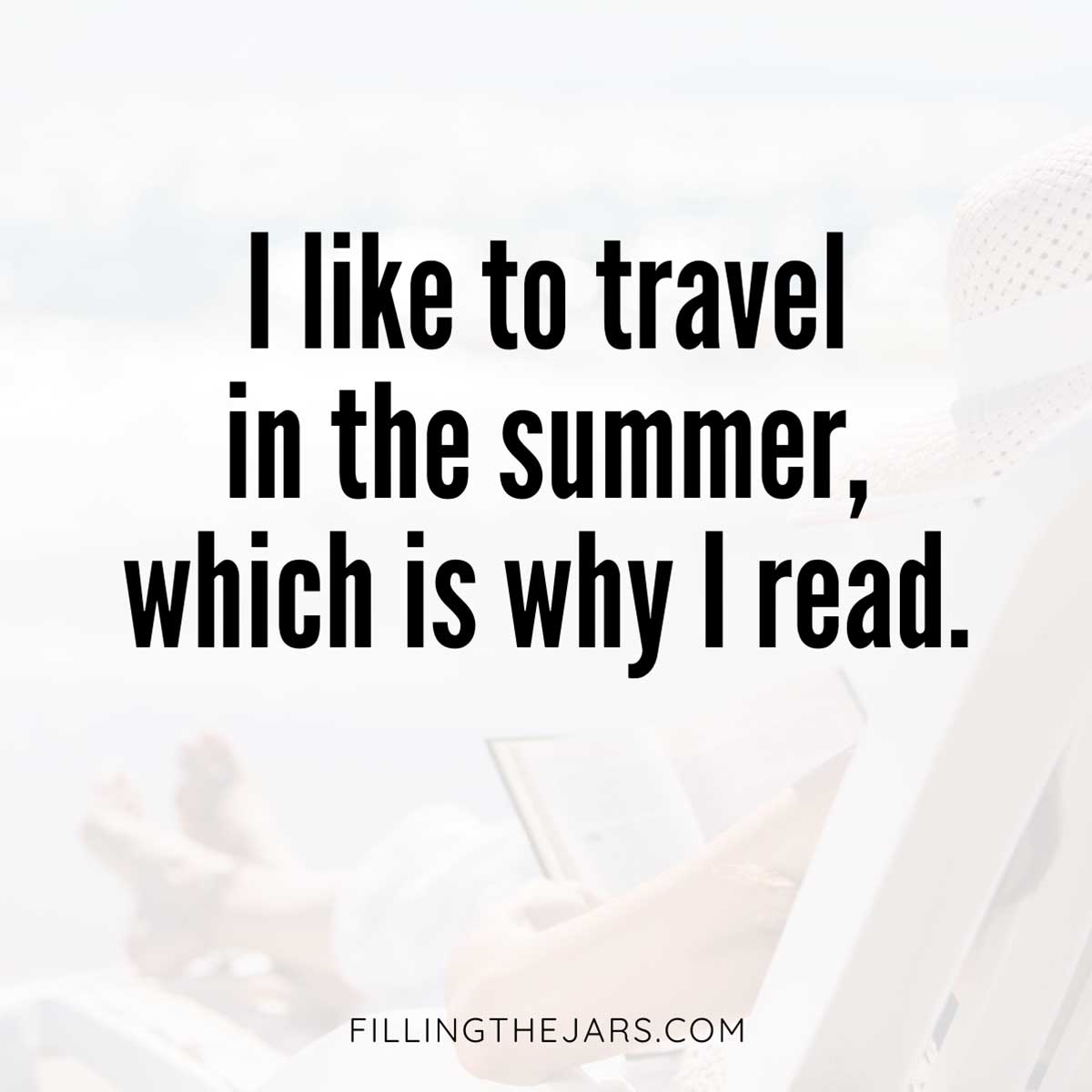 "I like to travel in the summer, which is why I read."
"Let us read, and let us dance; these two amusements will never do any harm to the world."
— Voltaire
"There is a temperate zone in the mind, between luxurious indolence and exacting work; and it is to this region, just between laziness and labor, that summer reading belongs."
— Henry Ward Beecher
Summer Book Quotes
"'Come with me,' Mom says.
To the library.
Books and summertime
go together."
— Lisa Schroeder, I Heart You, You Haunt Me
"My summer weekends are all booked up."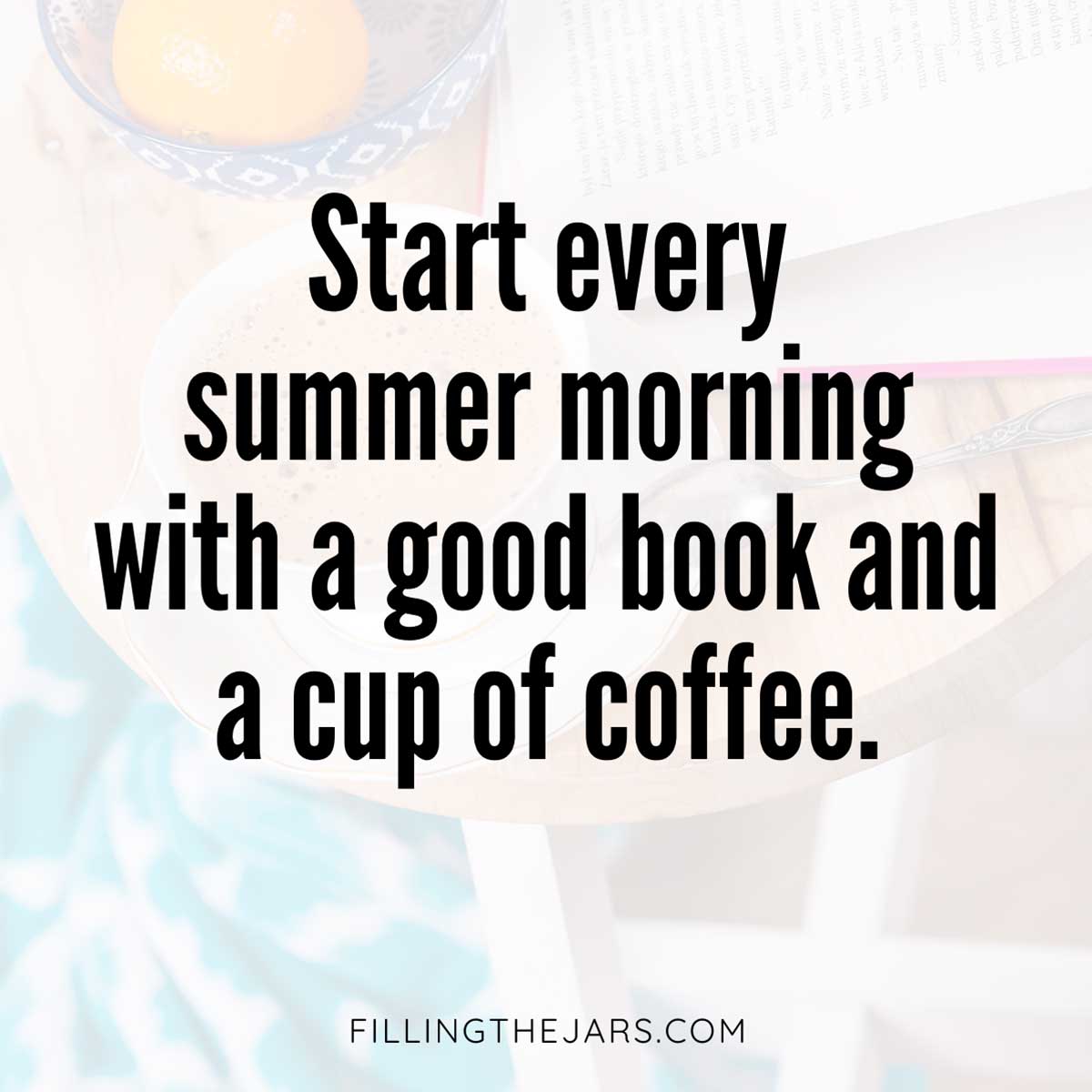 "Start every summer morning with a good book and a cup of coffee."
"So slip on your goggles and your reading trunks, for the sun is high. Let me leave you with one more thought. In what season of the year do we find ourselves – I'm speaking for a moment in terms of the physical world – wading through things? Surf. Kelp. Books. Summer."
— Roy Blount Jr., Summertime And The Reading Is Heavy, from the anthology Where Books Fall Open: A Reader's Anthology of Wit & Passion
"I like traveling in the summertime… to the library and bookstore."
"In my college years, I would retreat to our summer house for two weeks in June to read a novel a day. How exciting it was, after pouring my coffee and making myself comfortable on the porch, to open the next book on the roster, read the first sentences, and find myself on the platform of a train station."
— Amor Towles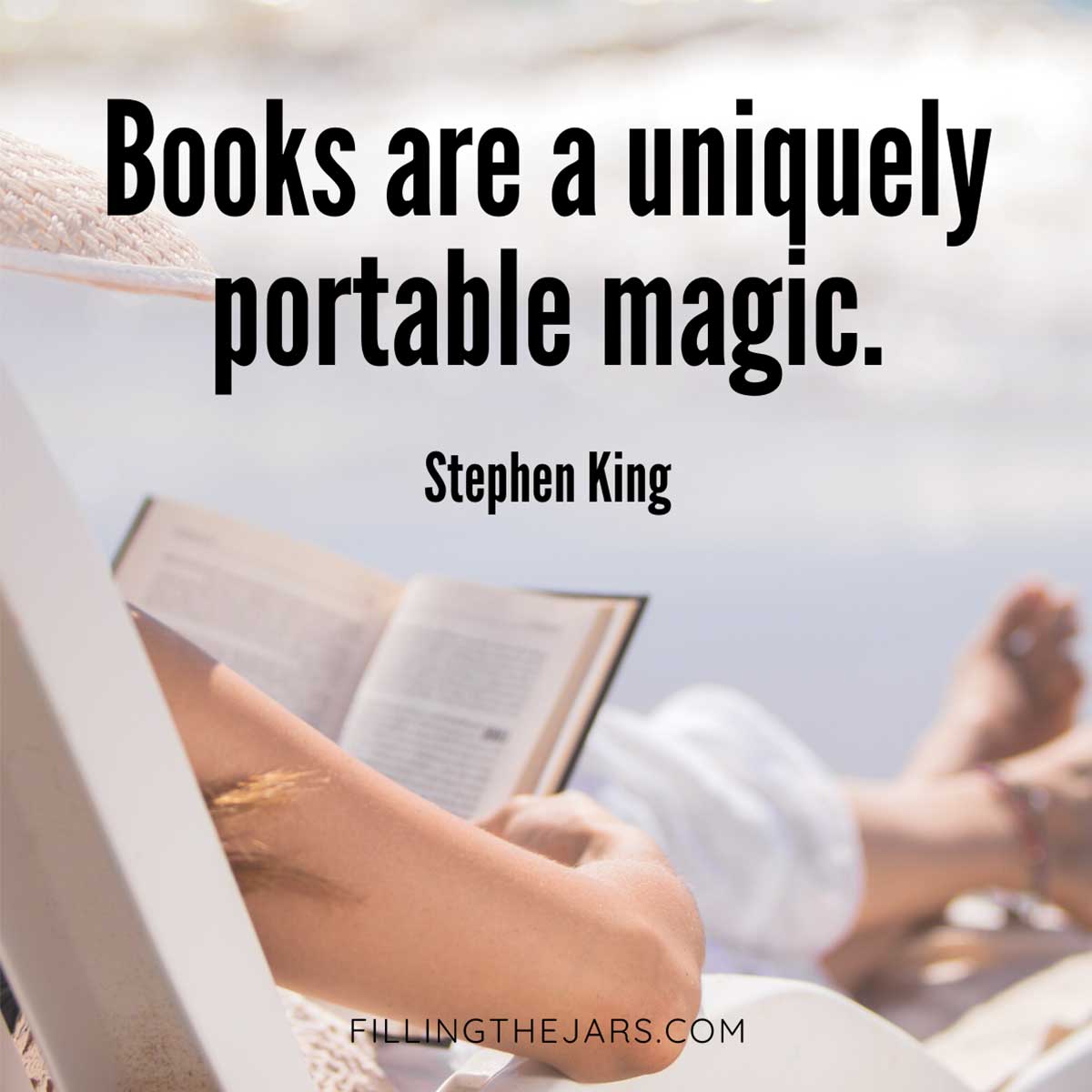 "Books are a uniquely portable magic."
— Stephen King, On Writing: A Memoir of the Craft
"I got lost this summer in a bunch of books."
Using Quotes About Summer Reading In Everyday Life
I know, I know… you love the quotes about reading books in summer. But how can you use them in your regular life? Here are a few ideas:
Create or purchase summer reading quote bookmarks.
What better way to keep your place in all of those amazing books you're going to read this summer? To give you an idea of what's out there, here are some quote bookmarks from Etsy.
Read the books the quotes come from.
I've linked to the books I could find on Amazon. Be sure to read the book description before you buy… just because a book has a great quote doesn't mean it's the right book for you.
Use the quotes as journal prompts.
Quotes almost always make amazing journal prompts, and these summer reading quotes are no exception. If you're tracking your summer reading in a journal, set aside a few pages to write about your thoughts on these quotes.
More Inspiration For An Amazing Summer
24 Summer Nights Quotes That Will Inspire You To Enjoy Every Night Of The Season
10 Books for Your Simple Summer Reading List – Updated for 2022
12 Summer Slow Down Quotes for Your Best Season Ever
Big Book Summer Challenge – Book By Book
Summer Reading Must-Haves
I get it… not everyone reads indoors. For those times when you want to hit the beach or the backyard with your book, don't forget these…
Reading can make you thirsty, especially on a warm summer day. Grab this cute book-themed tumbler to keep your beverage cold and handy.
You'll definitely need this book lover definition tote bag for hauling your stack of reading material.
Of course, everyone needs a summer reading t-shirt!
I don't know about you, but I always *think* I'll remember passages or ideas from books… and then I don't. Keeping a reading log definitely helps to solve that. Plus, it's fun to look back at what you've read!
If you're techy, try this amazing digital reading journal. I love that it has a page to keep track of your favorite book quotes! 😉
Prefer something a little more old-school? This printable reading journal is cute, and you can print exactly which pages you want to use.
I love the feel of a 'real' book, but sometimes eBooks just make sense. A kindle with good resolution and an adjustable frontlit screen is perfect for reading late into the summer night, and they hold so.many.books.
Never tried reading an eBook? Download the free kindle app to your phone or tablet and give it a try!
To make digital reading even better, getting a Kindle Unlimited subscription means you'll NEVER run out of great books to read.
If you want to read but aren't into all those words on pages, you might prefer audiobooks. You can get a free Audible trial membership and see if listening to all.the.things just might help you reach your summer reading goals!
Concluding Thoughts On Summer And Reading
Summer and reading should always go hand-in-hand.
There's nothing better than slowing down the busy-ness and pausing to read for a while at any time on a warm summer day. Morning, afternoon, evening… they're all great times to read!
With inspiration from these summer reading quotes, I hope you can make plenty of time for reading this summer.
You've got this!
---
Did you enjoy this post? Know someone else who might like it? Please take a moment to share on Pinterest, Facebook, or your favorite social media… (Click the sharing buttons at the bottom of the post.) Thank you!