As autumn arrives, it feels like time to kick up the productivity and intentional motivation. Here are 10 productive things to do in the fall so you can make your life better and do some powerful goal-setting instead of lying on your couch for the entire season.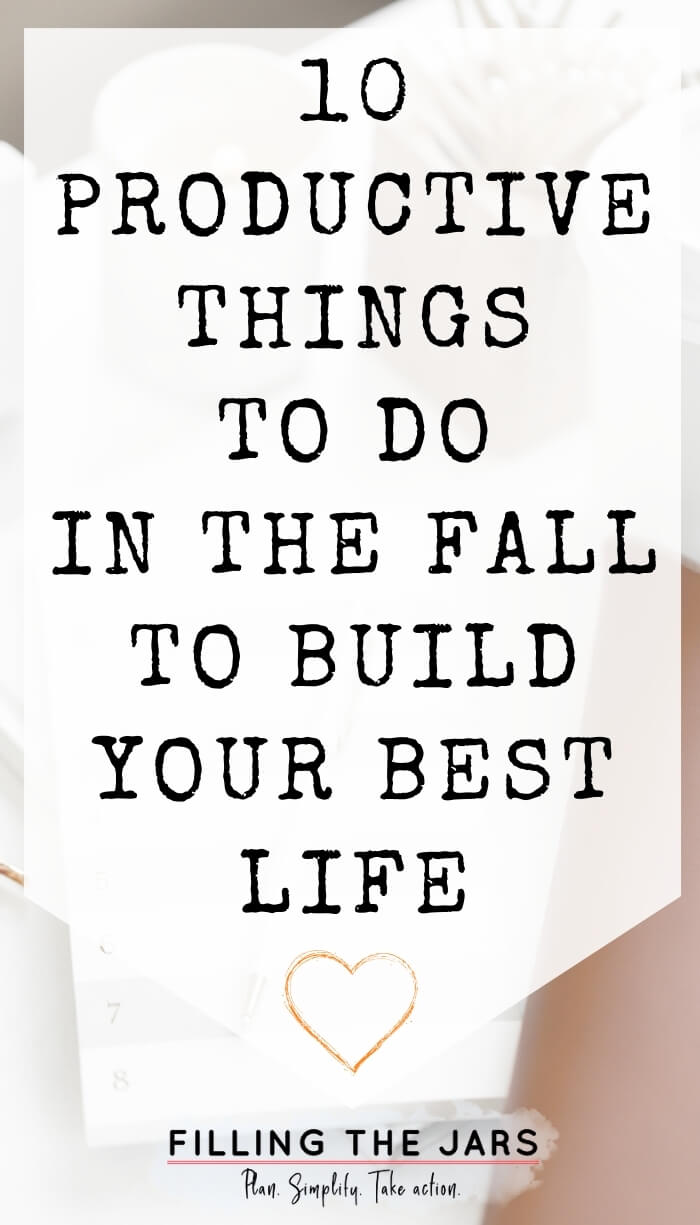 This post may contain affiliate links. If you choose to purchase through an affiliate link, I may receive a small commission at no additional cost to you. You can see my full disclaimer here.
Why Autumn Is the Perfect Time to Start Something Productive
It's totally unbelievable that summer is almost over and we're approaching the best season of the year. Yes, you read that right… in my opinion, fall really is the best season. 😉
Fall is my favorite time of the year for so many reasons! Mostly, I love the concept of creating space for new beginnings and the feeling of renewed productivity.
Autumn brings cooler temperatures, which invigorates our senses and can feel so energizing compared to the lethargy of summer. It also ushers in longer evenings, giving us time to reflect, which teaches us so much about our lives.
Besides this, who doesn't love all the pumpkin-flavored things and cooking all the hot soups during this season? I'm so excited for the fall season already!
If you feel the same, you are in the right place because I'm going to discuss some simple tips that will inspire you to stay productive during the fall season.
10 Productive Things To Do In The Fall
But wait… is 'fall productivity' even a thing? Actually, yes, it is! For most people, fall is your most productive time. So, why not take advantage of it and really dig into planning and DOING.
Here are some amazingly productive things you can do…
1. Create your vision board
If you're feeling like you lack productivity, it could be due to not having a strong future vision. You may have goals but you're not visualizing them over and over again. Having a vision board will keep you motivated and inspired to get your work done.
This will basically act as your 'why,' which will always help you to stick to your plans.
Start with a dreams and goals worksheet and then find motivational images that epitomize those things.
If you're more of a digital person, you can create a digital vision board too. Get some inspiration and just do it!
2. Make a 5-year plan
The idea of making a long-term future plan is to analyze where you actually see yourself in the next few years. Your growth depends on the actions your take according to your plan, so it's very important to set some realistic goals with deadlines.
It can be your personal plan or professional ones, but make sure that you define where you are now and how you wish to move forward.
If 5 years is too much to think about right now, it's okay to dial it back and do a 1-year plan.
3. Invest in learning and upgrading your knowledge
This is your time when you can actually help yourself grow into the person you always wished to be. Today, there are so many online courses available at your fingertips that can help you become your best self.
So, be wise, invest in those courses and books that help you develop new skills and let you be who you always wanted to be. Figure out what you're passionate about and enroll yourself in those few courses.
One caveat: Don't get caught up in continually learning and never taking action. At some point, you absolutely MUST stop thinking and start doing.
4. Discover a creative outlet
Utilize your time to bring back the creative spark within. You may always have wished to paint, doodle, or even write a book, do it now. This is the best time for pursuing your passion and doing what makes you happy.
Remember, you don't have to be an expert! Creative outlets are all about enjoyment.
Taking action to develop a creative outlet can also help you feel less lonely and improve your mental health.
5. Build new routines
You may already have a morning or an evening routine but those routines might not work for the fall season. Make some changes or tweak them a little and start adapting to the new changes.
Having a proper, solid routine will make you feel accountable and super productive even when you're unmotivated.
Also, don't forget to include some fun things in your routine like exercising, journaling, or meditation to keep your mind and body intact and stop being lazy.
---
6. Declutter your home
Imagine how amazing it would feel to spend the long winter months in a clutter-free and cozy space!
It goes back to that thing I said earlier about creating space for new beginnings. Whether you choose to do a slow declutter or a one-hour SPRINT, decluttering doesn't have to be hard!
Lifting the weight of clutter from our lives brings freedom that's a true gift to ourselves and everyone in our home. It makes intentional living feel real and productivity so much easier.
7. Work on your side hustle
This can seem super intimidating if you haven't thought of it before, but this is ABSOLUTELY the time when you can plan and build your own business.
Start a blog (this is a great FREE course for beginners by one of my very favorite blogging teachers) or an eCommerce site or another business that sparks your interest or that you see a desperate need for.
Your future self will thank you for taking the time to put in the effort.
Creating a side-hustle will indeed be difficult when you're just starting out, especially if you're an overthinker. Believe me, I know this firsthand! Having been through it myself, I have every confidence that you can be successful!
There are many guides — books, articles, videos, courses, etc. — available out there that can help you get started with your business idea. Choose 2-3 to learn from, and then get to work using the knowledge you've acquired.
8. Join a community
Having a community of like-minded people is really very helpful — especially when you're feeling extremely unproductive. For example, if you're a fitness freak, you can join some sports clubs in your town and also have some online groups that will keep you on track.
Facebook groups are great if you need an accountability partner or a friend. You can discuss ideas and share goals besides keeping each other motivated.
9. Redecorate your home
Maybe your house needs some fixing or you need an extra set of dishes or new towels or bedding. Perhaps you know you will be hosting some gatherings over the next few months.
This is the time to make a list and check it off, before the end-of-the-year busyness hits. Do some 'nesting' now so you can be nice and cozy and don't have to head outside during the messy winter months!
10. Get some extra rest
This may not seem productive to you, but getting enough rest does wonders for your health and productivity. If you're practicing self-care and intentionally taking time to rest, your mind will be clear enough and your body will be fit enough to do more work.
When it feels like we are always running from one thing to the next without a break, it's absolutely necessary to pause and get some extra hours of sleep. With evening arriving earlier during the fall, this is one of the things we can do at this time of the year that makes perfect sense!
Don't feel guilty about resting — because you totally deserve it! It's okay to not do anything for a while and enjoy the change in the season. Be mindful and notice how the leaves change and fall, how the seasons change, and how we all evolve.
Can You Be Productive If You Hate Fall?
It's an amazing experience for some of us to feel motivated and invigorated by the fall season.
However, many people don't like sitting at home during longer, colder nights. They love sun-basking, going for long road trips with endless hours for sightseeing, and planning trips for doing outdoor summer touristy things.
For them, being at home invites the feeling of laziness because it's so easy to get super-comfortable on the cozy couch with hot chocolate and a daily dose of Netflix.
Not that there's anything wrong with that. 😉
However, this is the time of year when you can totally bring a new, positive shift to your business or look for a better job — or any of the other things we've just discussed.
Even if it's difficult for you to keep the motivation high during autumn, it's absolutely worth the effort to do SOMETHING from this list of productive things to do in the fall.
More Help to Improve Productivity and Build Your Best Life
5 Ways Overwhelmed Overthinkers Can Beat Procrastination
Eliminate Decision Fatigue — 5 Life Areas to Streamline for Less Stress
How to Develop Your Finishing Instinct: The Magic Final Step to Real Productivity
6 Powerful Life Hacks You Need to Stop Being Lazy
How to Kick Start Your Goal Planning for Next Year
Motivational Resources:
My book 'The One Focus Method' contains expanded versions of my most inspirational posts on goal setting and achieving. It also helps you work on building the motivation to follow through on completing projects in short periods of time.
Productivity planners can kick-start your efforts to set goals and get things done.
Use a beautiful journal to reflect on your intentional living goals and do some future planning.
I'm a very visual person, which means I absolutely love motivational wall art for inspiration to keep me focused and productive. It really does work!
I really hope that these ideas for productive things to do in the fall will help you stay inspired to intentionally make your life better and grow you into the best version of yourself as you Build Your Best Life.
You've got this!
Don't forget to sign up to have your dreams and goals worksheet sent to your inbox:
---
Did you enjoy this post? Know someone else who might like it? Please take a moment to share on Pinterest, Facebook, or your favorite social media… (Click the sharing buttons at the bottom of the post.) Thank you!