It's no secret that autumn is my favorite season. If there were a place where fall were a year-round season, I would move there in a heartbeat.
One of my favorite things about the season is the almost-magical feeling of fresh inspiration that happens. To go along with that, I've pulled together a collection of amazing inspirational fall quotes.
These aren't your basic ol' fall quotes ( ← I have those too if you want to check them out). Nope, these fabulous fall inspirational quotes have a little extra somethin' somethin' — think of it as a motivational message to get your butt in gear and make the most of the beautiful autumn season.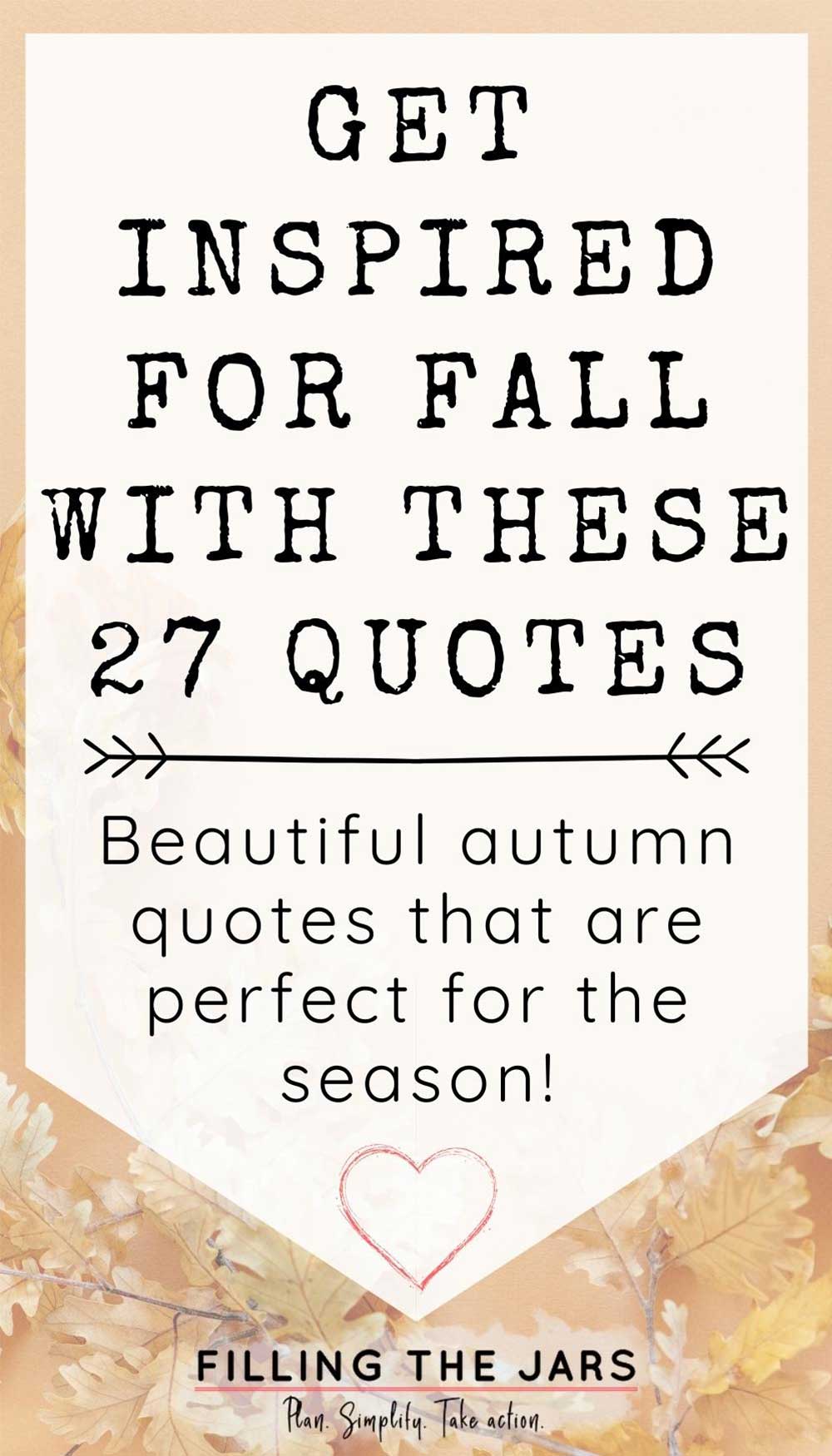 This post may contain affiliate links. If you choose to purchase through an affiliate link, I may receive a small commission at no additional cost to you. You can see my full disclaimer here.
Why Do We Need Inspirational Fall Quotes?
It's the most wonderful time of the year…or is it? For some people, autumn can be a tough season. The days are getting shorter, the weather is getting colder, and there's the looming specter of winter.
This post is your reminder to take a moment to focus on the positivity and beauty that's happening right now.
Autumn is truly a time of beauty, motivation, reflection, and joy. And one of the best ways to embrace the autumn vibes and fall feels is by reading plenty of autumn inspirational quotes.
We all need some inspirational and beautiful fall quotes to help us uplevel the season!
You may choose to find more productive things to do in the fall.
Or perhaps you'll make a decision to start living an intentional life every.single.day even beyond this season.
Let these quotes motivate you to enjoy the current season as much as possible and do everything you can to flourish during these gorgeous days.
Inspirational Quotes For Fall
"Or maybe spring is the season of love and fall the season of mad lust. Spring for flirting but fall for the untamed delicious wild thing."
— Elizabeth Cohen, The Hypothetical Girl
"Autumn is the mellower season, and what we lose in flowers we more than gain in fruits."
— Samuel Butler
"Spring is beautiful, and summer is perfect for vacations, but autumn brings a longing to get away from the unreal things of life, out into the forest at night with a campfire and the rustling leaves."
— Margaret Elizabeth Sangster
"Aprils have never meant much to me, autumns seem that season of beginning, spring."
— Truman Capote
"Fall makes me think that if I fail horribly at this art thing, and then fail horribly with this writing thing, I'll go run a pumpkin patch."
— Tyler Hojberg
"You don't waste October sunshine. Soon the old autumn sun would bed down in cloud blankets and there would be weeks of gray rain before it finally decided to snow."
— Katherine Arden, Small Spaces
"And every year there is a brief, startling moment
When we pause in the middle of a long walk home and
Suddenly feel something invisible and weightless
Touching our shoulders, sweeping down from the air:
It is the autumn wind pressing against our bodies;
It is the changing light of fall falling on us."
— Edward Hirsch, Wild Gratitude
"I would rather sit on a pumpkin, and have it all to myself, than be crowded on a velvet cushion."
— Henry David Thoreau
"The heat of autumn is different from the heat of summer. One ripens the apples, the other turns them to cider."
— Jane Hirshfield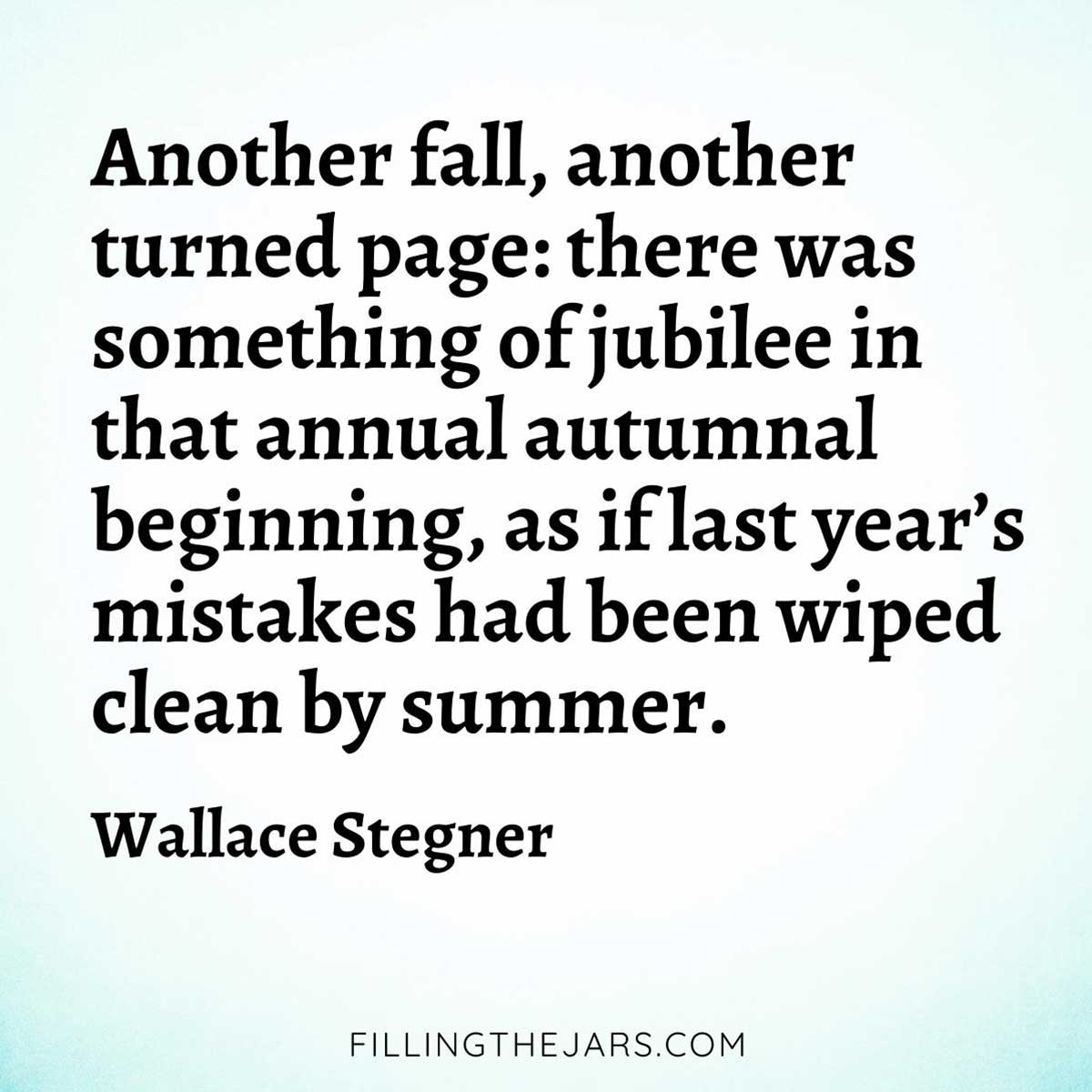 "Another fall, another turned page: there was something of jubilee in that annual autumnal beginning, as if last year's mistakes had been wiped clean by summer."
— Wallace Stegner, Angle of Repose
"For man, autumn is a time of harvest, of gathering together. For nature, it is a time of sowing, of scattering abroad."
— Edwin Way Teale
"The first flash of color always excites me as much as the first frail, courageous bloom of spring. This is, in a sense, my season–sometimes warm and, when the wind blows an alert, sometimes cold. But there is a clarity about September. On clear days, the sun seems brighter, the sky more blue, the white clouds take on marvelous shapes; the moon is a wonderful apparition, rising gold, cooling to silver; and the stars are so big. The September storms–the hurricane warnings far away, the sudden gales, the downpour of rain that we have so badly needed here for so long–are exhilarating, and there's a promise that what September starts, October will carry on, catching the torch flung into her hand."
— Faith Baldwin, Evening Star
"Fall is the season of beauty and delicious food. Be grateful for the change of scenery, and try observing it to get more book ideas."
— B.A. Gabrielle
"Designers want me to dress like Spring, in billowing things. I don't feel like Spring. I feel like a warm red Autumn."
— Marilyn Monroe
"THERE is something in the autumn that is native to my blood—
Touch of manner, hint of mood;
And my heart is like a rhyme,
With the yellow and the purple and the crimson keeping time."
— Bliss Carman
"There is a harmony in autumn, and a luster in its sky, which through the summer is not heard or seen, as if it could not be, as if it had not been!"
— Percy Bysshe Shelley
"October is a fine and dangerous season in America. It is dry and cool and the land is wild with red and gold and crimson, and all the lassitudes of August have seeped out of your blood, and you are full of ambition. It is a wonderful time to begin anything at all…"
— Thomas Merton, The Seven Storey Mountain
"And autumn is the best time for adventures, because even the world is feeling a little more alive."
— Marisa Casciano
"The ripe, the golden month has come again, and in Virginia the chinkapins are falling. Frost sharps the middle music of the seasons, and all things living on the earth turn home again… the fields are cut, the granaries are full, the bins are loaded to the brim with fatness, and from the cider-press the rich brown oozings of the York Imperials run. The bee bores to the belly of the grape, the fly gets old and fat and blue, he buzzes loud, crawls slow, creeps heavily to death on sill and ceiling, the sun goes down in blood and pollen across the bronzed and mown fields of the old October."
— Thomas Wolfe, Of Time and the River: A Legend of Man's Hunger in His Youth
Short Inspirational Fall Quotes
"Take heart and dive into the quiet maturity of autumn."– Sir Kristian Goldmund Aumann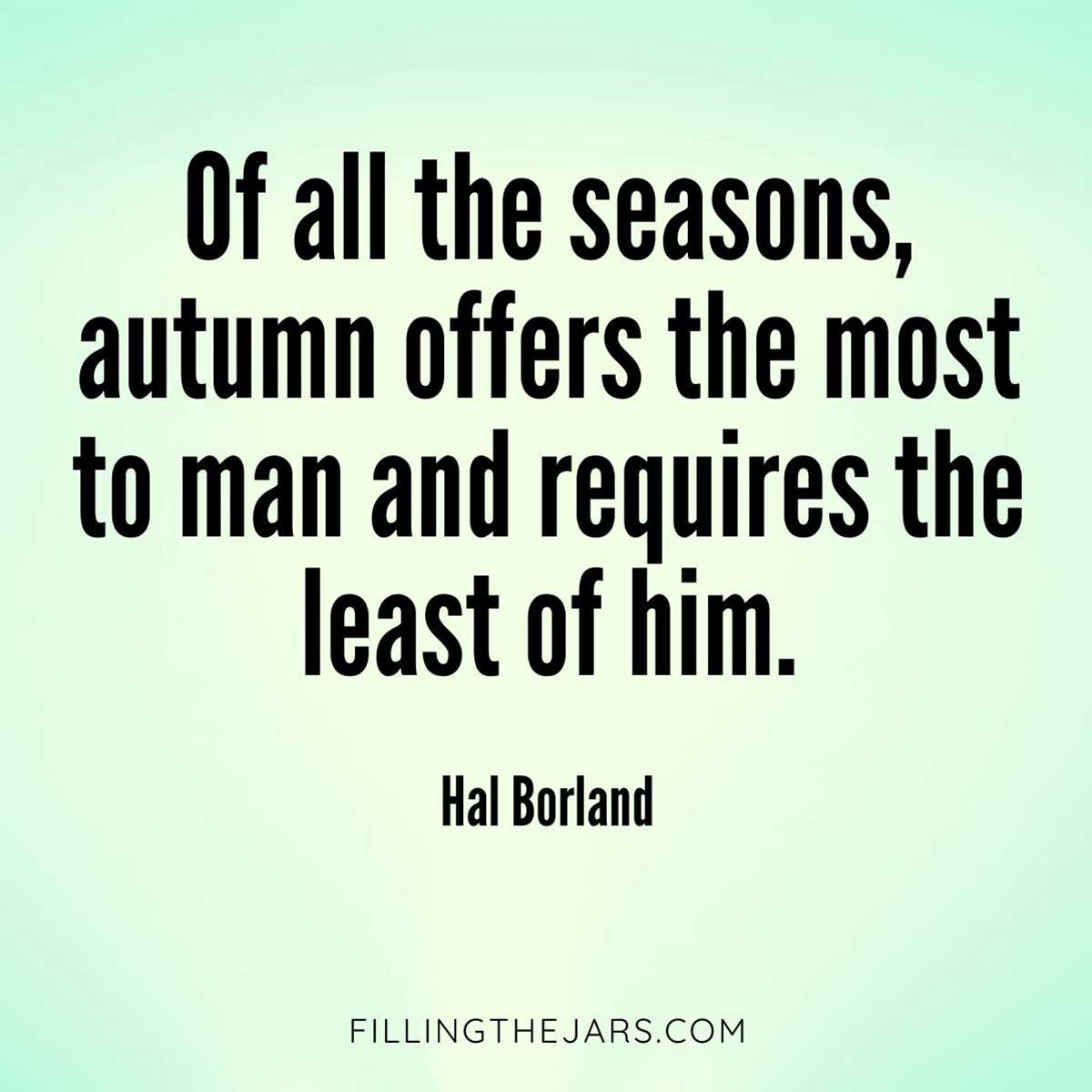 "Of all the seasons, autumn offers the most to man and requires the least of him."
— Hal Borland
"… Sweet and smiling are thy ways,
Beauteous, golden Autumn days."
— Will Carleton
"No spring nor summer beauty hath such grace as I have seen in one autumnal face."
— John Donne
"The leaves are changing; I feel poetry in the air."
— Laura Jaworski
"Autumn… the year's last, loveliest smile."
— William Cullen Bryant
"Notice that autumn is more the season of the soul than of nature."
— Friedrich Nietzsche
"I guess it's something about the air. Fall air always smells like possibility."
— Becky Albertalli & Adam Silvera
Ideas For Using Inspirational Quotes
Here are some pretty powerful ways to put these quotes to work in your daily life:
Use quotes as journal prompts
Simply choose a favorite quote about autumn, and then spend some time writing about what it means to you.
You can reflect on the changes that autumn brings, and how you can make the most of them. Or, you might use quotes about harvest time as a reminder to be grateful for all the good things in your life.
Whatever you choose to write about, using quotes as journal prompts is a great way to stay positive and inspired as the weather gets colder.
Make artwork from especially meaningful autumn quotes
Whether you're practicing calligraphy or doodling while you reflect on a daily inspirational quote this fall, don't be afraid to display your work.
Frame your quotes or hang them on your refrigerator or mirror to stay inspired by the quotes and your thoughts about them.
Turn your favorite fall quotes into autumn inspirational stories
Sort of like journal prompts, you can use these quotes as a creative springboard for writing fiction.
Of course, you can write any kind of fiction. But how amazing would it be to create positive stories that happen during the most beautiful season of the year?
I'm sure you can think of even more ways to use these quotes to inspire your best fall season!
More Quotes And Autumn Inspiration
22 November Quotes for Inspiration and Reflection
Get into the fall spirit with a cozy blanket ( ← this is my FAVORITE cozy blanket, bigger than a throw size), fall-scented candles, and a perfect autumn mug.
Fall Reading Challenge Ideas to Read More and Cozy up with Good Books
20 Fabulous Fall Journal Prompts: Get Creative and Reflective
Concluding Thoughts
Keep an eye out for opportunities to bring a little extra light and life into your autumn days. Smile at a stranger, offer to help someone with their groceries, or simply take a moment to breathe in the crisp fall air and notice the clarity of light.
I hope these autumn quotes have inspired you see the beauty in this time of year and left you feeling ready to take on whatever comes next.
You've got this!
---
Did you enjoy this post? Know someone else who might like it? Please take a moment to share on Pinterest, Facebook, or your favorite social media… (Click the sharing buttons at the bottom of the post.) Thank you!