Autumn is a time for changing leaves, pumpkin spice lattes, and cozy sweaters. It's also a time to enjoy some of the most beautiful quotes about falling leaves. Be sure to check out these awesome falling leaves quotes if you're looking for some inspiration while appreciating the beauty of the season.
Craving more autumn quotes? Check out my full collection of fall quotes.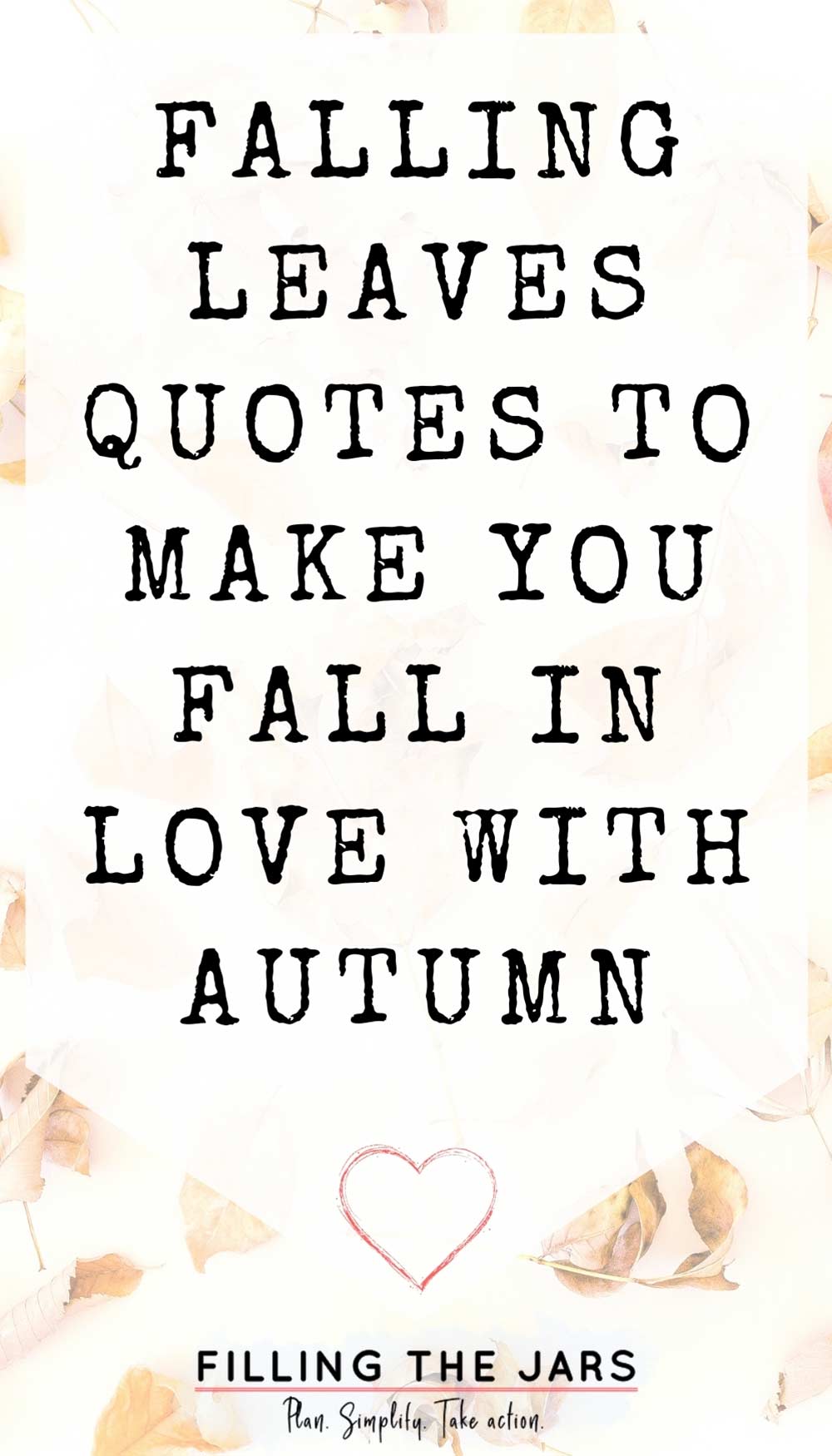 This post may contain affiliate links. If you choose to purchase through an affiliate link, I may receive a small commission at no additional cost to you. This post is not to be taken as professional medical or mental health advice. All statements are strictly my personal life observations. You can see my full disclaimer here.
What does fall mean to you?
Fall means welcome change to me. It's a time of year when the air starts to get that crisp, cool feeling to it and leaves start changing colors. I love the bright oranges, yellows, and reds that are on the trees at this time of year.
Then the leaves start to fall, and it's almost like the trees are shedding their old skin so they can prepare for new growth. (I'm pretty sure there's a lesson for all of us in there.)
I love the changing of the seasons. I know that it is a time to be thankful for everything we have and cherish moments with family and friends as we prepare for the coming winter.
Oh, and the smell of fall! I soak up every bit of the fresh air, pumpkin spice, and apple aromas. The smell of autumn leaves is almost as good as the feel of them crunching beneath my feet!
We also start up the woodstove. There's nothing like that toasty warmth and the scent of burning firewood.
To celebrate the start of fall, light a candle that smells like apples or pumpkin — or maybe even burning leaves if you enjoy that — and get your favorite autumn drink ready. Then don a cozy sweater, settle in, and enjoy these autumn falling leaves quotes.
Quotes About Falling Leaves
"There is a subtle magic in the falling of old leaves."
— Avijeet Das
"Fallen leaves lying on the grass in the November sun bring more happiness than the daffodils."
— Cyril Connolly
"Listen …
With faint dry sound,
Like steps of passing ghosts,
The leaves, frost-crisp'd, break free from the trees
And fall."
— Adelaide Crapsey, November Night
---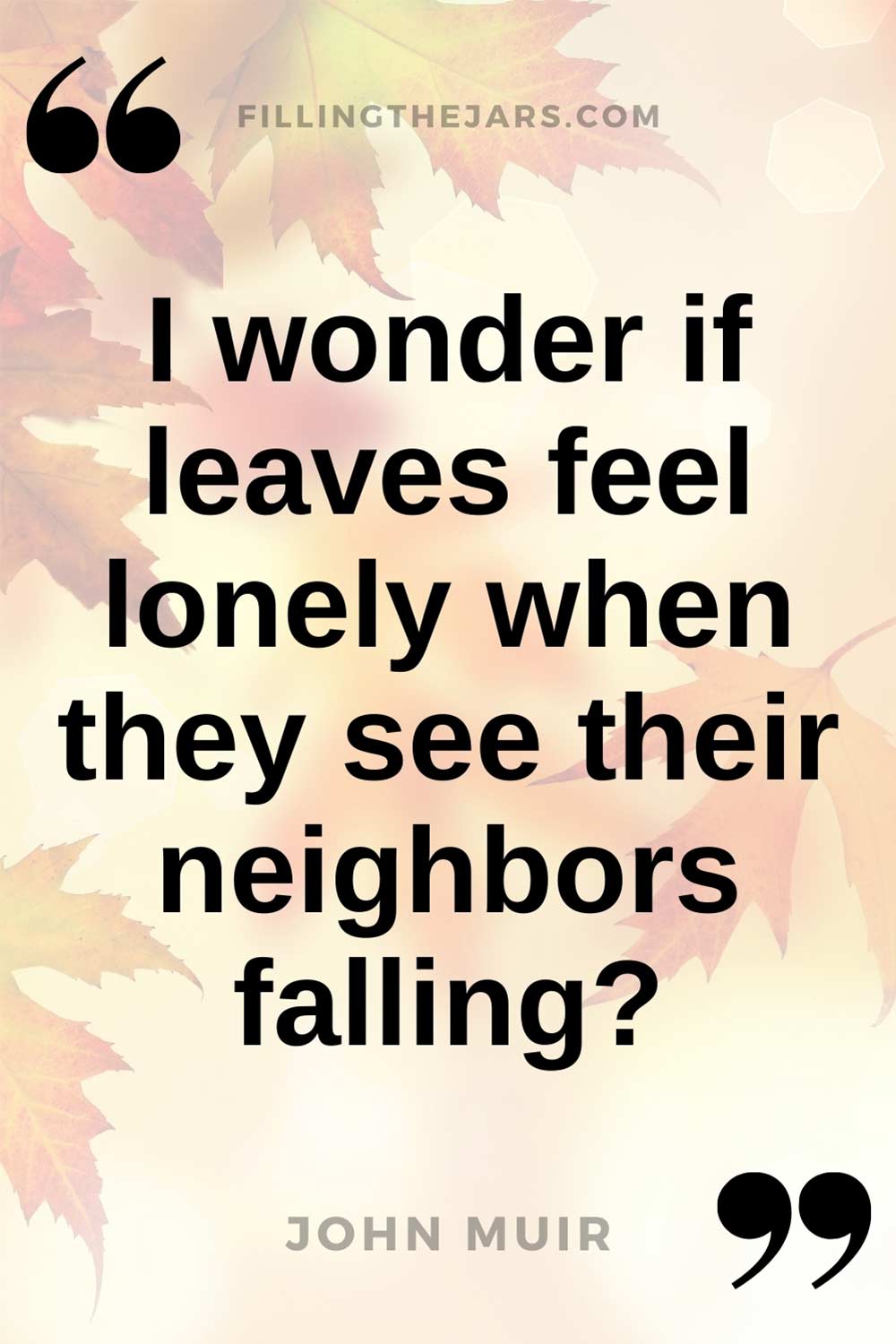 "I wonder if leaves feel lonely when they see their neighbors falling?"
— John Muir
"FALLING IN LOVE WITH OCTOBER
Leaves descending to the ground,
Orange, magenta, green & brown
The cool crisp breezes in the air,
Autumn season must be here"
— Charmaine J Forde
"How strange and awful is the synthesis of life and death in the gusty winds and falling leaves of an autumnal day!"
— Samuel Taylor Coleridge
"In every change, in every falling leaf there is some pain, some beauty. And that's the way new leaves grow."
— Amit Ray
---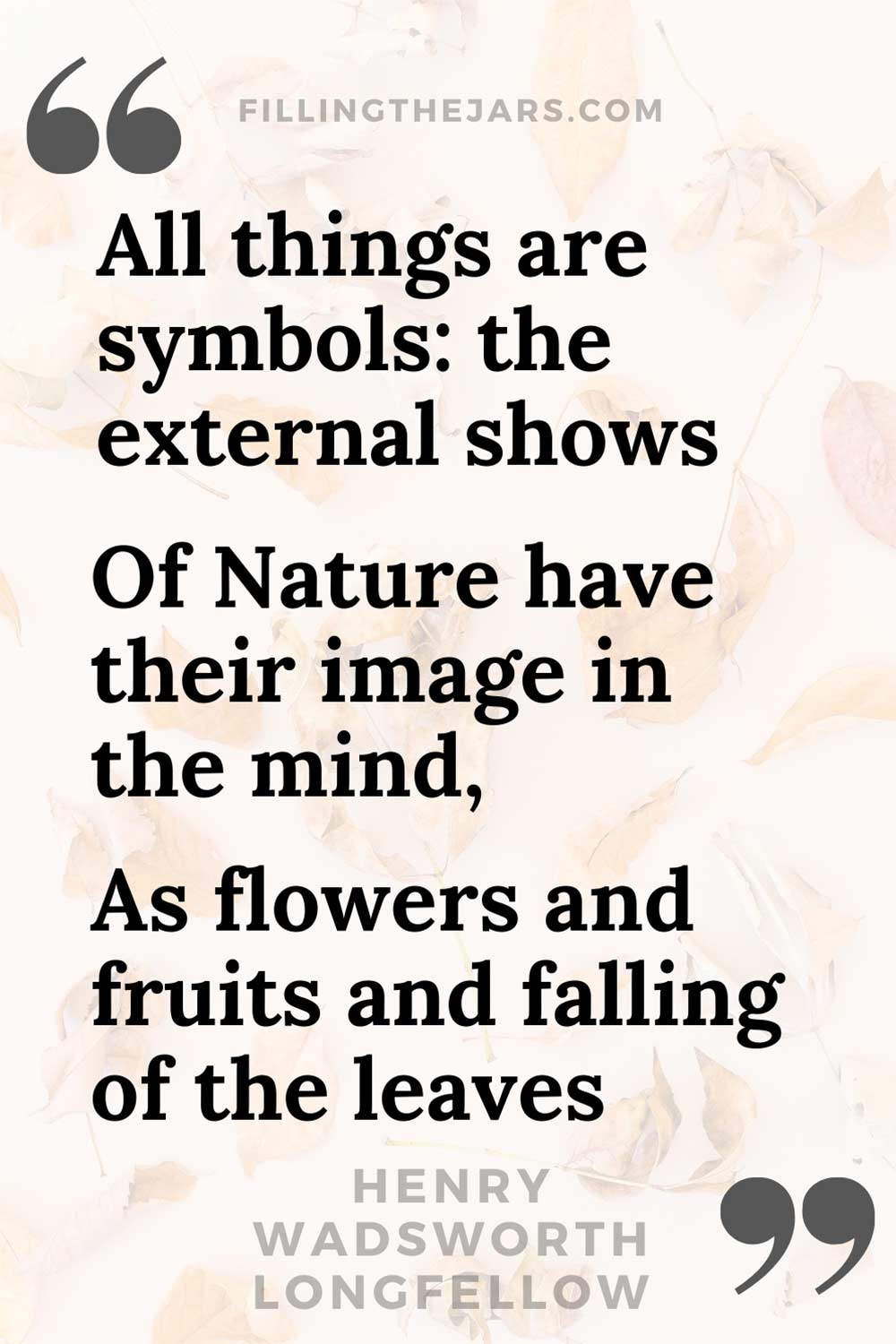 "All things are symbols: the external shows
Of Nature have their image in the mind,
As flowers and fruits and falling of the leaves"
— Henry Wadsworth Longfellow, The Harvest Moon
"Autumn is the hardest season. The leaves are all falling, and they're falling like they're falling in love with the ground."
— Andrea Gibson
"The leaves fall patiently
Nothing remembers or grieves
The river takes to the sea
The yellow drift of leaves."
— Sara Teasdale
"The falling leaf that tells of autumn's death is, in a subtler sense, a prophecy of spring."
— Robert Green Ingersoll
---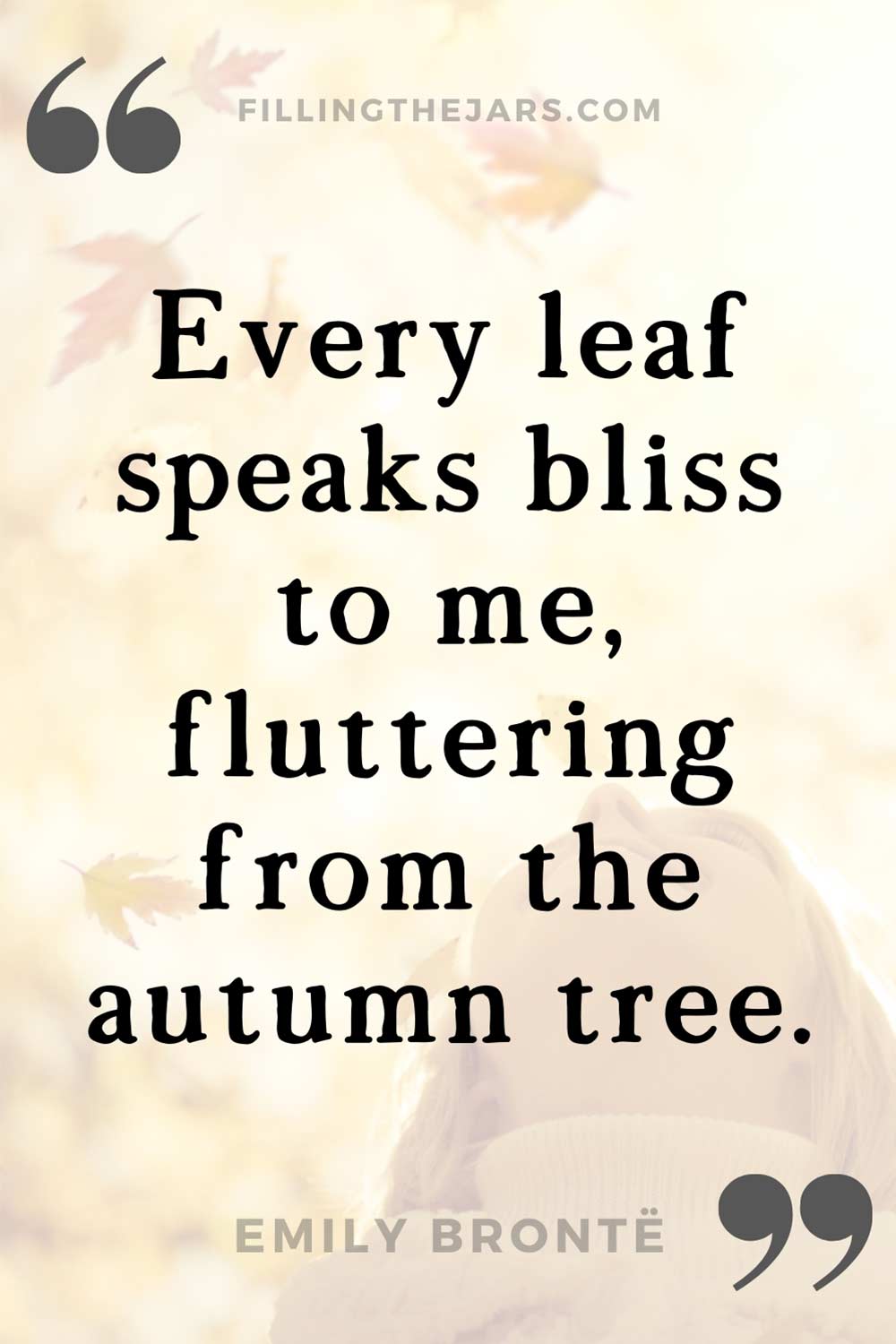 "Every leaf speaks bliss to me, fluttering from the autumn tree."
— Emily Brontë
"falling leaves
hide the path
so quietly"
— John Bailey, Autumn Haiku
"Anyone who thinks fallen leaves are dead has never watched them dancing on a windy day."
— Shira Tamir
"October is the fallen leaf, but it is also a wider horizon more clearly seen. It is the distant hills once more in sight, and the enduring constellations above them once again."
— Hal Borland
---
"Even those fallen leaves dance, on the musical wind cadence."
— Anoushka Tyagi
"When the bold branches
Bid farewell to rainbow leaves –
Welcome wool sweaters."
— B. Cybrill
"Autumn leaves shower like gold, like rainbows, as the winds of change begin to blow, signaling the later days of autumn."
— Dan Millman
"Swinging on delicate hinges
the Autumn Leaf
Almost off the stem"
— Jack Kerouac
---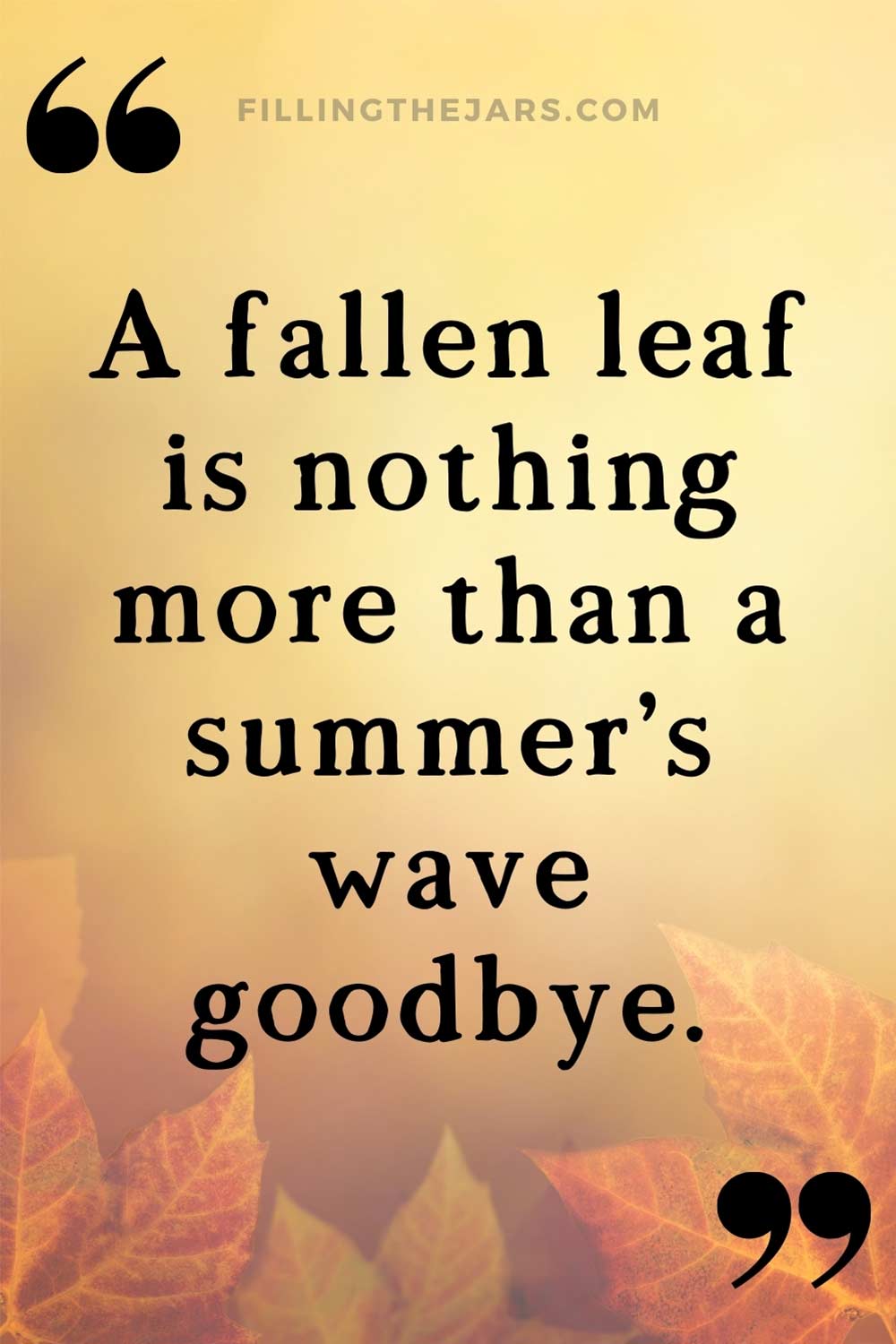 "A fallen leaf is nothing more than a summer's wave goodbye."
"She calls it 'stick season,' this slow disrobing of summer,
leaf by leaf, till the bores of tall trees rattle and scrape in the wind."
— Eric Pinder
"Autumn leaves don't fall, they fly. They take their time and wander on this their only chance to soar."
— Delia Owens, Where the Crawdads Sing
"the fallen leaves in the forest seemed to make even the ground glow and burn with light"
— Malcolm Lowry
How To Use Falling Leaves Quotes In Your Daily Life
It's important to prepare your mind and your home for this seasonal shift so you can properly enjoy it. Here are some great ways to use these quotes about falling leaves:
Home decor
It's amazing how quotes can make your home come alive with a feeling of warmth and coziness. Fall is the perfect time to bring out your favorite falling leaves quotes.
Display falling leaves quotes on your bulletin board
Frame a new quote each week or month and post it where you'll see it every day
Purchase ready-made quotes prints and hang them everywhere!
You could also print and frame your favorite fall quotes to give as gifts!
Journal prompts
Creating your own quote journal is an excellent way to get started with this type of reflective writing. The falling leaves signal not only a change in season, but also a change in mood… which is the perfect time to begin journaling.
Choose a quote to write about every day and writing about the thoughts and feelings the quote brings to your mind. Ask yourself how this quote applies to your current situation and relationships.
Remember, there are no wrong answers! A word of caution, though: If you are uncomfortable with self-reflection and prefer a more analytical approach, then writing down your thoughts about quotes may not be for you.
Try some 'fall' things
Read a book by the author of your favorite falling leaves quotes
Take a road trip to enjoy the colorful scenery
Go walking in the woods or enjoy nature hikes in new places with lots of fallen leaves
Try some new-to-you autumn recipes
Host an outdoor gathering around the fire pit
Go on a hayride or try a corn maze
Whatever you choose, give in to your desire to break free from the monotony of everyday life and fully experience the fall season.
More Quotes and Inspiration for Intentional Living
The Best Slow Quotes to Help You Feel More Relaxed About Life
Living An Intentional Life: 7 Powerful Steps to Make It Happen
Hygge Activities To Make Your Home Cozy This Fall – Organized Motherhood
September Quotes: 14 Happy and Poetic Quotes to Welcome the Month
10 Productive Things To Do In The Fall to Build Your Best Life
Concluding Thoughts
The changing seasons can be a source of inspiration to live life intentionally. Take the opportunity to slow down and take in all of the beauty around you, rather than rushing through life in a constant state of chaos.
The natural world is constantly changing, and so are we! Taking time to appreciate these changes will help us focus on what's important in our lives and create space for those things that matter most.
So, today I challenge you — go out into nature, breathe deeply, and reflect on how you can practice self-care as you work toward your intentional living goals during this season of falling leaves.
Build Your Best Life
You've got this!
---
Did you enjoy this post? Know someone else who might like it? Please take a moment to share on Pinterest, Facebook, or your favorite social media… (Click the sharing buttons at the bottom of the post.) Thank you!