By taking a moment each day to reflect on the beauty of autumn with the inspiration of these fall sunset quotes, we can reset our minds and find renewed joy in the season.
We're all juggling a lot these days. We work, we take care of our families, we try to stay healthy and active…and the list goes on. Fall sunsets offer a special opportunity for us to think about the day that has passed and recharge for the challenges ahead.
Pausing to enjoy the beauty of nature can be incredibly calming. That's why I've put together this list of autumn sunset quotes, which make a fantastic addition to the rest of my fall quotes collection.
This post may contain affiliate links. If you choose to purchase through an affiliate link, I may receive a small commission at no additional cost to you. You can see my full disclaimer here.
Fall Sunset Quotes
Every time you see one of these stunning autumn sunsets, I want you to take a deep breath and remember that you are enough, you are doing enough, and — one way or another — everything is going to be okay.
"And the sunsets of Autumn – are they not gorgeous beyond description? More so than the brightest dreams of poetry?"
— Charles Lanman
The colors of autumn are unrivaled in their beauty. From the deep reds and oranges of the leaves to the brilliant hues created by the setting sun, fall is a truly magical time of year.
And yet, so often we let the busyness of our lives get in the way of truly enjoying this season.
This quote is a reminder to slow down and appreciate how nature — like the stunning sunsets of autumn — can rival anything in our imagination. The next time you're presented with a perfect autumn day, take a moment to stop and connect with the beauty that surrounds you.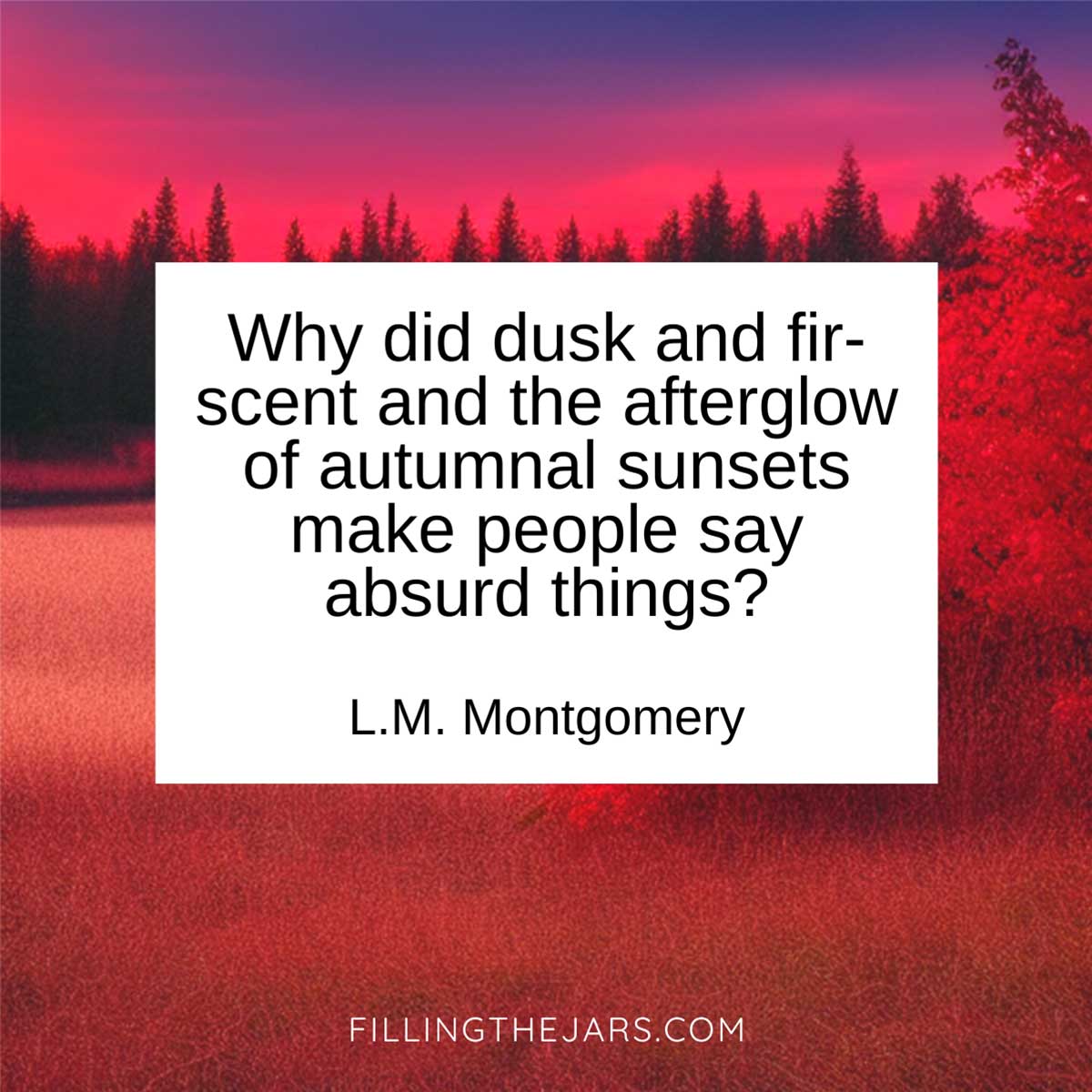 "Why did dusk and fir-scent and the afterglow of autumnal sunsets make people say absurd things?"
— L.M. Montgomery, Emily's Quest
As the days grow shorter and the nights get cooler, there's something about fall sunsets that can make people feel a little extra emotional. Maybe it's the way the colors seem to be just a little bit more intense, or the fact that we feel winter on the way.
Whatever the reason, fall sunsets can have a way of making people reflect on their lives and say things that they might not otherwise say. Of course, not all of these things are profound or meaningful. But sometimes, in the midst of all the silly chatter, someone will say something that's deeper than anyone expects to hear.
Is that a bad thing? It doesn't have to be. But if you're afraid of 'saying too much' during the beauty of an autumn sunset, you can always take the opportunity to journal your thoughts instead of expressing them out loud.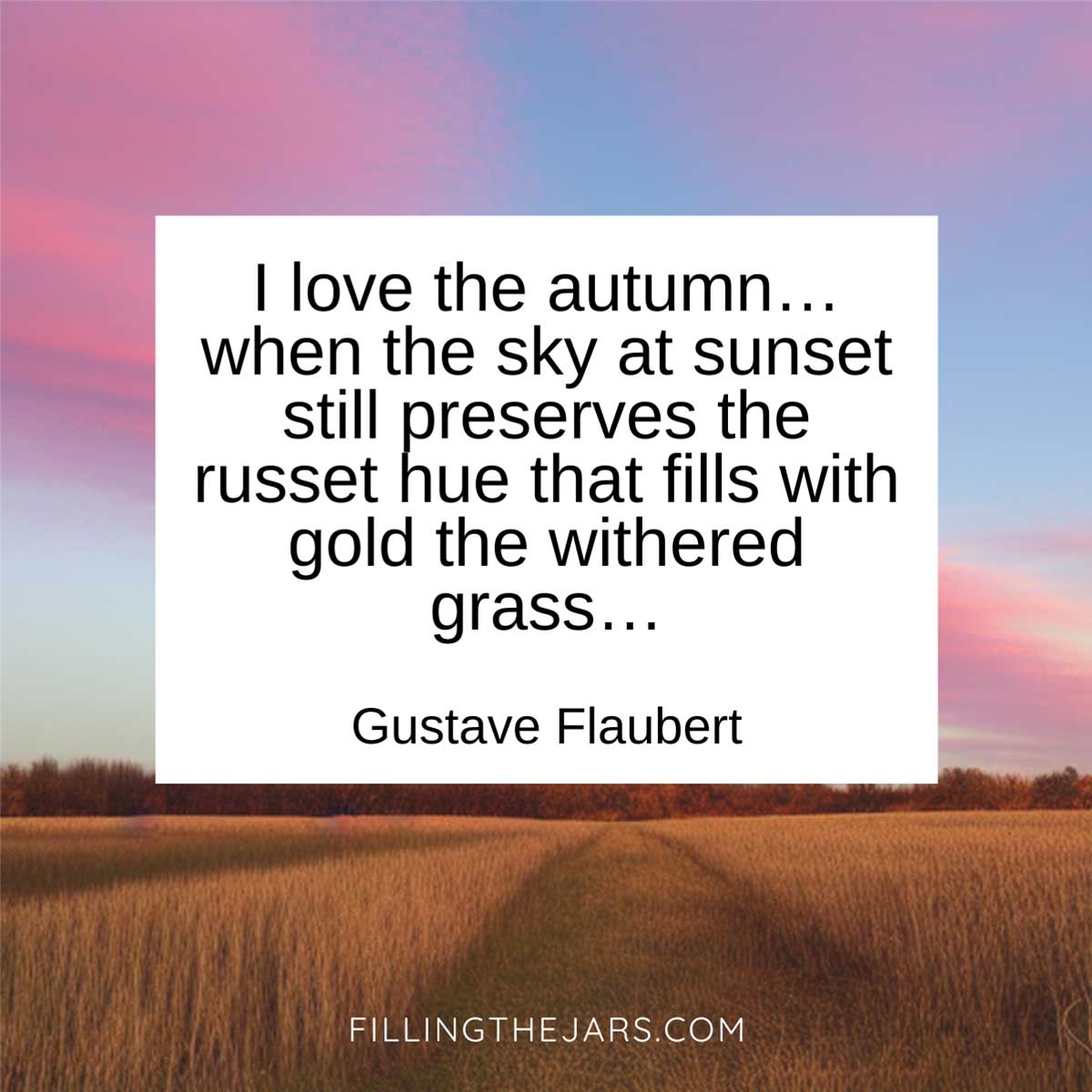 "I love the autumn – that melancholy season that suits memories so well. When the trees have lost their leaves, when the sky at sunset still preserves the russet hue that fills with gold the withered grass, it is sweet to watch the final fading of the fires that until recently burnt within you."
— Gustave Flaubert, Memoirs of a Madman and November
This quote really speaks to the beauty of fall. But beyond that, I think it also captures the emotions of autumn.
This is a season of reflection, when we think over events of the past season and even further back. Beyond that, we tend to see the changing scenery in front of us as representing some of the emotions we feel in our lives.
While there can be sadness in that, there's also something incredibly beautiful about it. Let those feelings flow, and express them in some creative outlet… through journaling, painting or drawing, deep discussions with friends or family, or any other safe way that works for you.
"Autumn glows upon us like a splendid evening; it is the very sunset of the year."
— Mary Russell Mitford
Mary Russell Mitford's quote speaks to the beauty of fall sunsets and how they are often a time to reflect on the year that has passed and to set intentions for the future.
The quote also highlights the transient nature of autumn, and how quickly it slips away. Just like the fall leaves, our time in this season is fleeting and we must make the most of it.
So take a moment to enjoy the fall sunsets, and let their beauty inspire you to live your best life every.single.day.
"It was the golden time of year. Every day the leaves grew brighter, the air sharper, the grass more brilliant. The sunsets seemed to expand and melt and stretch for hours, and the brick façades glowed pink, and everything got bluer. How many perfect autumns did a person get?"
— Elif Batuman, Either/Or
Elif Batuman's quote paints a beautiful picture of fall sunsets with the vibrant colors and sense of possibility in the air. Rather than a wistful ending, I prefer to think of fall as a time of positive change and new beginnings. After all, what's more inspiring than the turning of leaves and the start of a new season?
So if you're feeling down or stuck in a rut, take a cue from nature and let go of what's holding you back. Embrace the change and see what new opportunities await you. After all, fall is the perfect time for fresh starts. Who knows? Maybe this is the golden time of year for you, too.
"I see the turning of a leaf dancing in the autumn sun, and brilliant shades of crimson glowing when the day is done."
— Hazelmarie Elliott
This quote is so beautiful and evocative. It captures the sense of wonder we feel when we see the natural world in all its glory. The brilliant shades of crimson glowing at the end of the day are just breathtaking.
When I see a fall sunset, I can't help but feel grateful for the beauty of this world. It's a reminder that there's so much to appreciate in life, even when things are tough. Seeing the amazing colors of a fall sunset always brings a smile to my face.
This quote is definitely worth reading again and again, especially when the autumn leaves are at their peak color. What an eloquent reminder of the gift nature can be.
"November – with uncanny witchery in its changed trees. With murky red sunsets flaming in smoky crimson behind the westering hills."
— L.M. Montgomery, The Blue Castle
As autumn draws to a close, the natural world undergoes a transformation. The leaves of deciduous trees fall to the ground, leaving the bare branches behind and the landscape changed.
Even the sunsets take on a different quality, as so vividly described in this quote. The smoky crimson of the sky is both beautiful and haunting, a reminder that winter is on its way.
For many people, this time of year can be difficult, as the days grow shorter and the evenings longer. But even in the midst of these long, dark nights, there is still beauty to be found in the world. So take heart, and enjoy the little moments that make autumn special.
More Quotes And Fall Inspiration
Living An Intentional Life: 7 Powerful Steps to Make It Happen
25 Fresh Start Quotes: Inspiration for a New Beginning This Autumn
10 Productive Things To Do In The Fall to Build Your Best Life
Autumn Leaves Quotes: 25 Gorgeous Fall Seasonal Quotes
My Fall Aesthetic picks on Amazon
Concluding Thoughts
Making a point of paying attention to autumn sunsets is an amazing way to pause and appreciate life. There's nothing better than settling in with a cozy fall blanket, a hot drink in your favorite autumn mug, the perfect fall candle, and enjoying a fall sunset.
So, go ahead and bookmark this page or save it to your phone. when you need a little reminder to slow down and enjoy the moment, just take a look at one of these quotes and let the magnificent colors of an autumn sunset give you some peace.
You've got this!
---
Did you enjoy this post? Know someone else who might like it? Please take a moment to share on Pinterest, Facebook, or your favorite social media… (Click the sharing buttons at the bottom of the post.) Thank you!