These slow down Sunday quotes couldn't have come at a better time! Because let's face it, do we rest as much as we should? The chances are you don't allow yourself to, especially if you're throwing yourself back into doing as many 'regular life' things as you possibly can right now!
These slow Sunday quotes fit right in with the rest of my slow quotes collection, which are focused on living and succeeding by slowing down.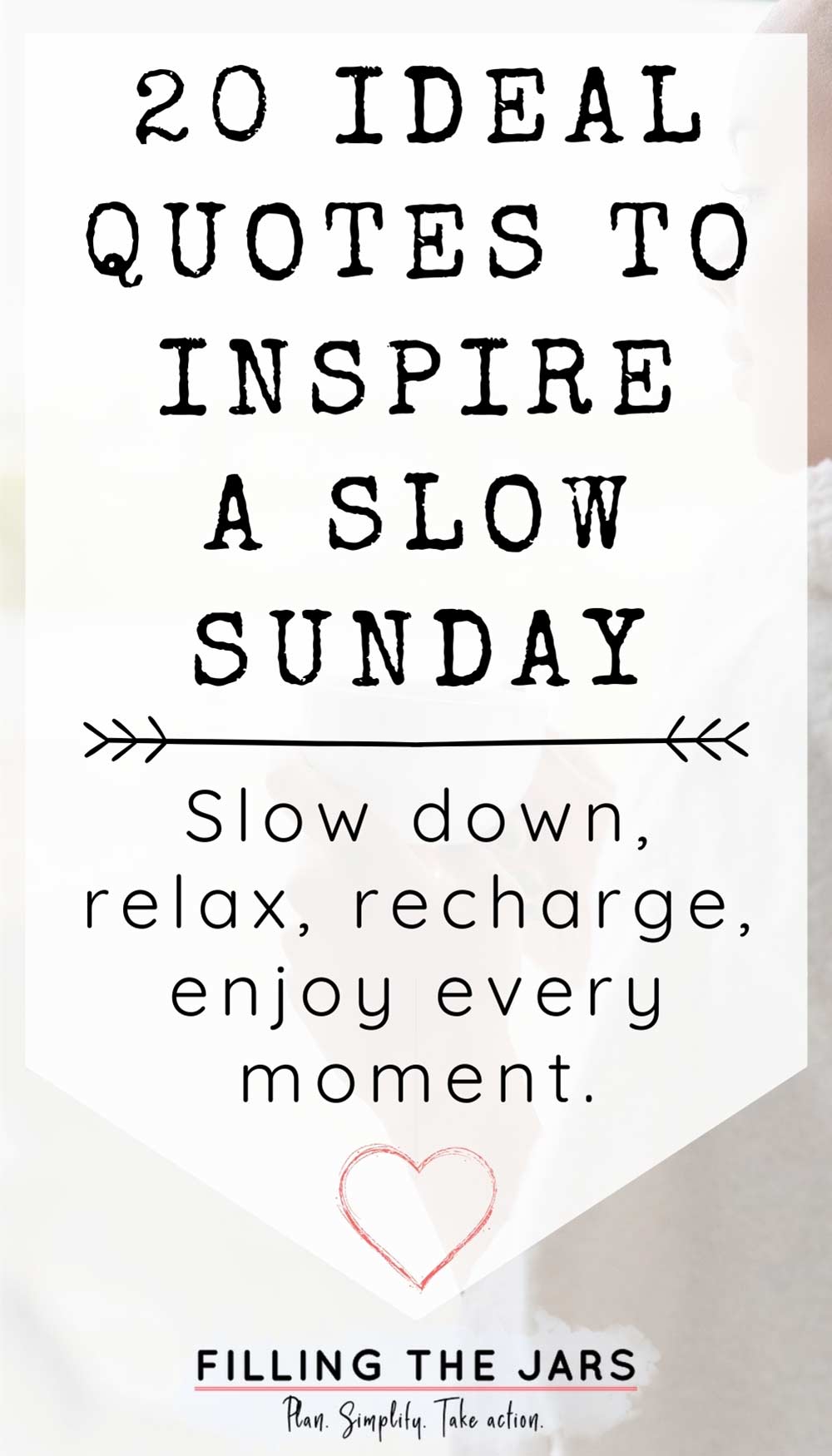 This post may contain affiliate links. If you choose to purchase through an affiliate link, I may receive a small commission at no additional cost to you. You can see my full disclaimer here.
You're not alone!
We all can feel exhausted by the time Sunday comes around. First, there's a hectic week filled with work, family commitments, appointments, and general life stuff. Then we mix it all with a weekend that's likely filled to the rafters with social events.
Often, we don't actually want to do all.the.things. either! But there's this need to fill the time and blank spaces on the calendar.
However, Sunday should be your opportunity to slow down. Take stock and refuel. If you are rushed off your feet, then pull up a chair, grab your favorite drink and take note of these Sunday relax and recharge quotes.
Why Should You Slow Down On Sundays?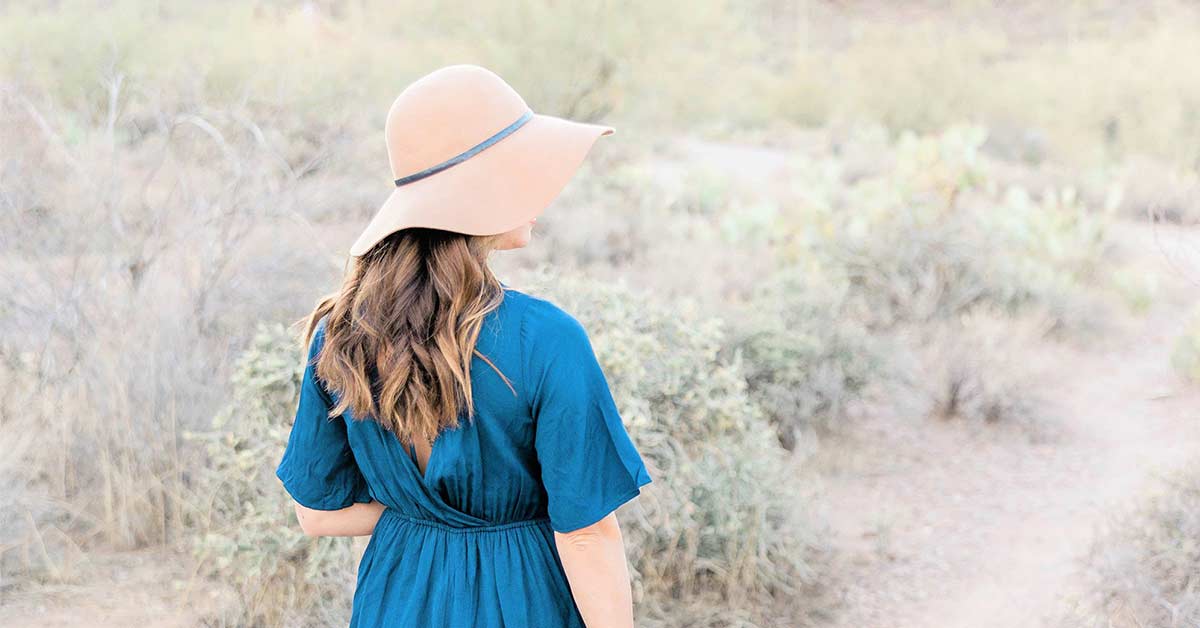 Nobody can do all of the things, all of the time, seven days a week. At some point, you're going to run out of steam.
You may not be able to afford the option of slowing down daily, but choosing to do something like a Sunday recharge should be a priority. As much as we want to, we can't do it all!
It's all about filling your jug (or… jar 😉 )!
When a jug is empty, there isn't anything to give. But filling it up means that the jug can be poured once more. Slowing down helps you to fill your jug so that you can give.
I know that we can all feel that 'do something' urge. Spare time should be utilized, right? But I am trying to switch that thinking. Instead, slowing down IS something. Something that needs to be done to help me feel happier and calmer.
The benefits of a Sunday slow down
You feel rested for the week ahead
There is time to plan your days so you feel less overwhelmed
You can calm a busy mind
Doing something for yourself makes you feel good and better able to help others
Enjoy these quotes to get into the best slow Sunday mindset…
Sunday Slow Down Quotes
"Sunday afternoon is for papers and writing."
— Nicholas Haslam
---
"A little slow Sunday goes a long way"
"Sundays are like confetti floating in the air in slow motion, in the evening they reach the ground and you hope a bit of wind could blow on them so they could fly a bit longer."
— Alain Bremond-Torrent, running is flying intermittently
"Life should be paused on Sunday mornings"
"Sunday clears away the rust of the whole week."
— Joseph Addison
"Sunday is the golden clasp that binds together the volume of the week."
— Henry Wadsworth Longfellow
Sunday Relaxation Quotes
"Well, there's nothing better than putting your feet up on a Sunday afternoon and grabbing a good book."
— Chris Klein
---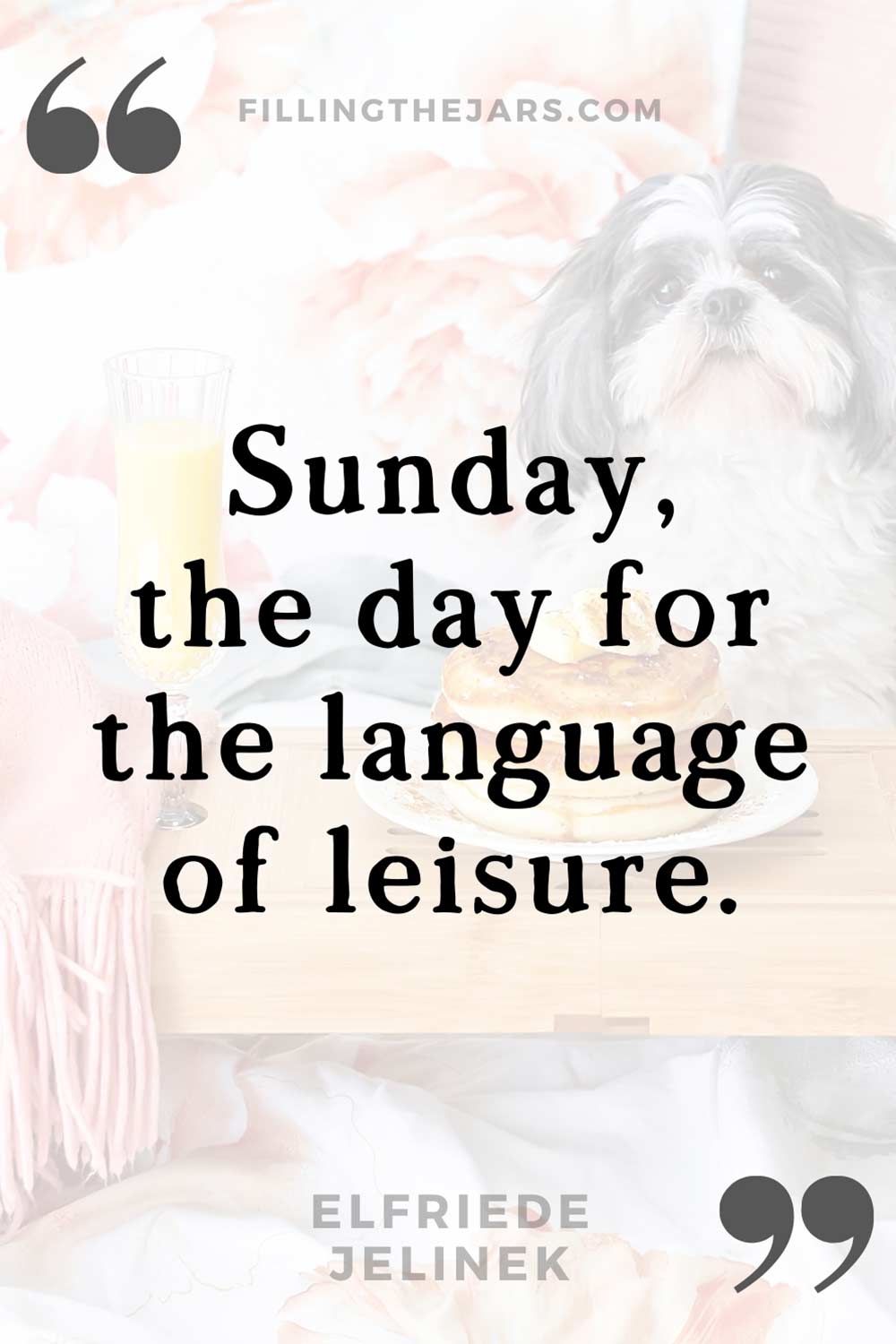 "Sunday, the day for the language of leisure."
— Elfriede Jelinek, The Piano Teacher
"Cheers to Sunday. Snuggle by the fire, read a good book, have a hot cup of coffee (or two), watch an old movie, relax and enjoy the day."
— unknown
"Sundays are for Netflix, no makeup, and naps"
"Weekends don't count unless you spend them doing something completely pointless."
— Bill Watterson
Sunday Affirmation Quotes
"Sunday. Take it slow and give your soul a chance to catch up with your body."
— unknown
"You cannot have the beginnings of a productive week without a Sunday spent in the calmness of the day."
— Byron Pulsifer
---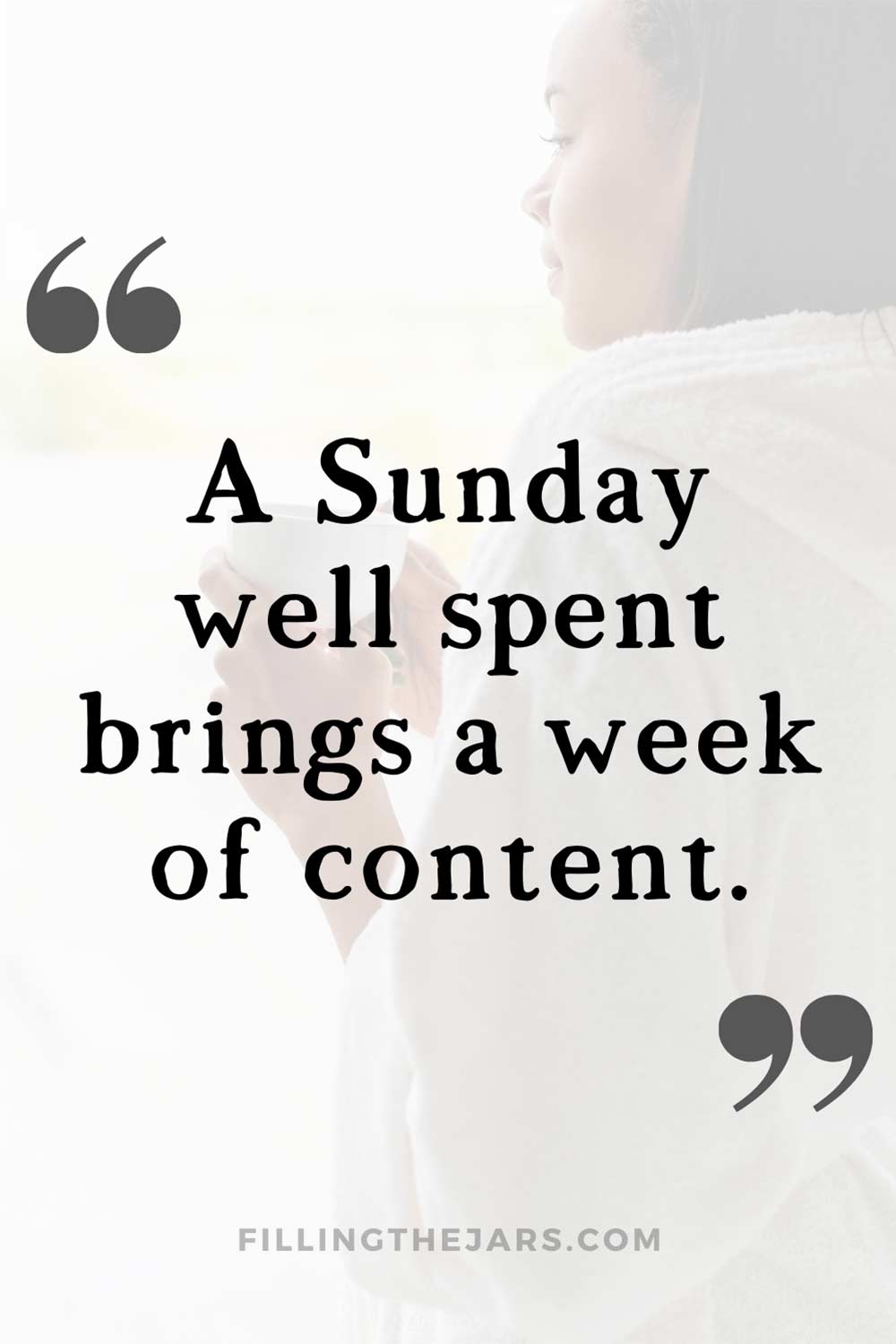 "A Sunday well spent brings a week of content."
— unknown
"Sunday is good for the soul."
"Do not let Sunday be taken from you. If your soul has no Sunday, it becomes an orphan."
— Albert Schweitzer
Grateful Sunday Quotes
"Ah, Sunday, the day of rest… now THAT'S something to be thankful for!"
— Aaron P. Taylor
---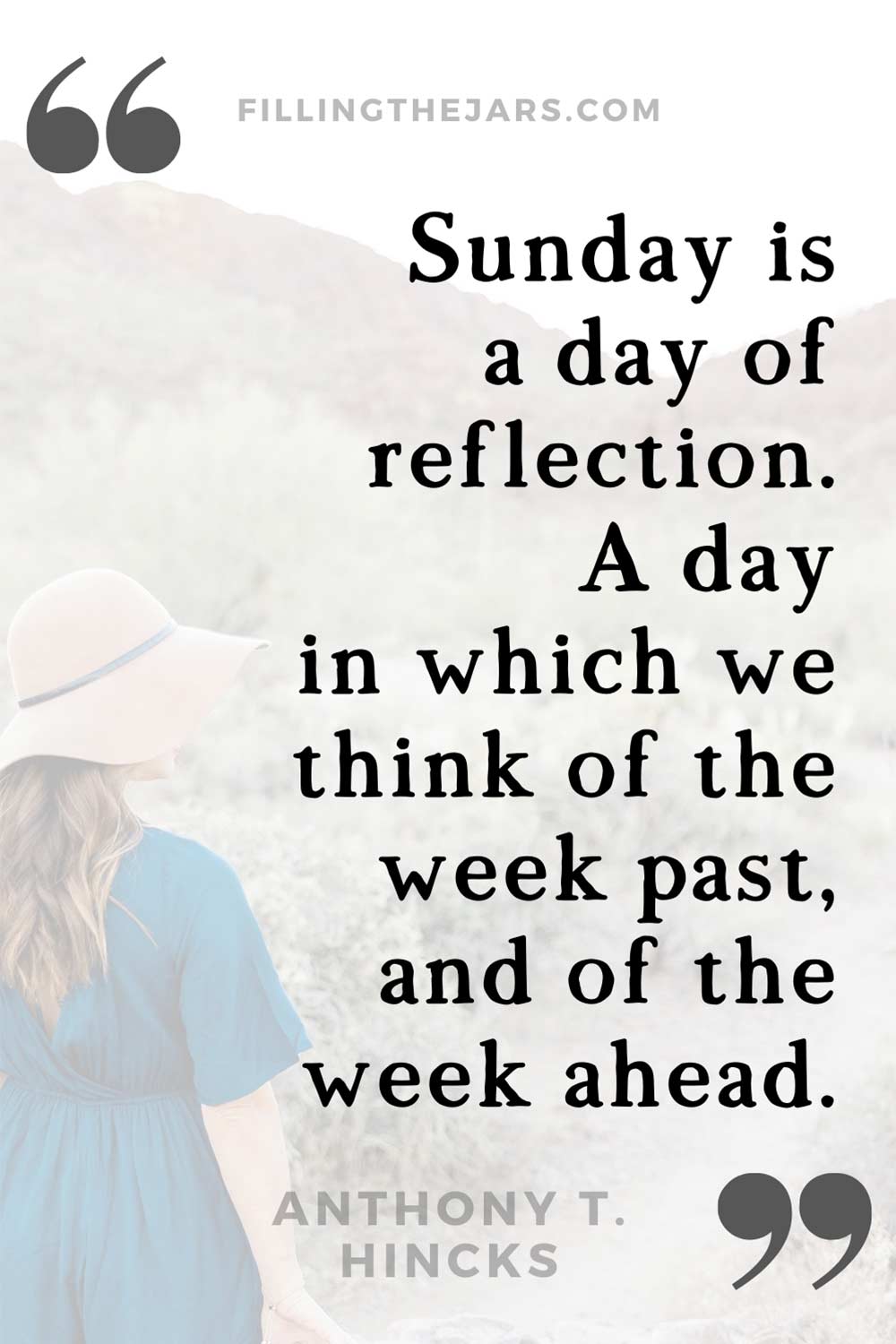 "Sunday is a day of reflection. A day in which we think of the week past, and of the week ahead. Have a happy Sunday."
— Anthony T. Hincks
"Sometimes I have loved the peacefulness of an ordinary Sunday. It is like standing in a newly planted garden after a warm rain. You can feel the silent and invisible life.''
— Marilynne Robinson, Gilead
"Sunday. A day to refuel your soul and be grateful for your blessings. Take a deep breath and relax. Enjoy your family, your friends, and a cup of coffee."
— unknown
Ways You Can Use Slow Down Sunday Quotes In Your Life
I know, I know… slowing down isn't as easy to DO as it is to SAY. I for one can be too set in my ways of wanting to utilize every minute or get 'just one more thing' done.
But a busy mind and life aren't always productive. Slowing down can be a great way to refocus, set intentions, and ensure that things get done when needed.
So, how can you encourage yourself to slow down? Using these Sunday relaxation quotes is a great way to remind you.
Here are some of the ways you can use them:
Set a reminder for Sunday morning
One of the first things you should do is set some reminders on your phone. Set them on a timer to ping your phone on a Sunday morning… but not TOO early. 😉 This will remind you of the intention you want to set for that day: To slow down.
Plan your Sunday slow down
Use the quotes to plan your Sunday slow down. This might be a lovely breakfast. Having your planner and lists out ready. Comfy clothes laid out and your fluffiest of slippers.
Use the quotes in meditation and relaxation
You could use the quotes as you breathe in and exhale out when you are meditating or doing other relaxation techniques. They are great ways to reaffirm what you want to do. Make time to do it, even if Sunday is the only day you can.
Life can get hectic and chaotic, and many of us might use a planner to keep things in check. So make a note of any of the Sunday slow down quotes that resonated with you in your planner on the Sunday spot. As you look at your planner through the week, you will be reminded that Sunday is your chance to recharge.
Use them as journaling prompts
It could be time for you to try and use these slow down Sunday quotes as journaling prompts throughout the week. Doing this will cement the need to take it slow on that day. You may even find that you are working towards it.
More Inspiration to Slow Down and Live Intentionally
12 Timely Slow Living Quotes to Revitalize Your Intentional Living Goals
Favorite Motivational Quotes to Get You Through Every Day
This is Why Focusing on Your Needs isn't Selfish – Midlife Rambler
Living An Intentional Life: 7 Powerful Steps to Make It Happen
12 Slow And Steady Quotes to Keep You Grounded
How Will You Slow Down This Sunday?
Take the time to prioritize yourself and use these Sunday slow down quotes as inspiration to do it.
Help yourself be more productive and live more intentionally simply by slowing down and setting good intentions.
Build Your Best Life
You've got this!
---
Did you enjoy this post? Know someone else who might like it? Please take a moment to share on Pinterest, Facebook, or your favorite social media… (Click the sharing buttons at the bottom of the post.) Thank you!