We all have areas of stuff that we know we should declutter, but we never seem to find the time or energy. In this blog post, I'm going to share 27 easy things to declutter for quick wins to help your life feel more organized.
Making things easy is one of my core declutter tips. Decluttering doesn't have to be overwhelming!
So grab your box or bag and let's get started!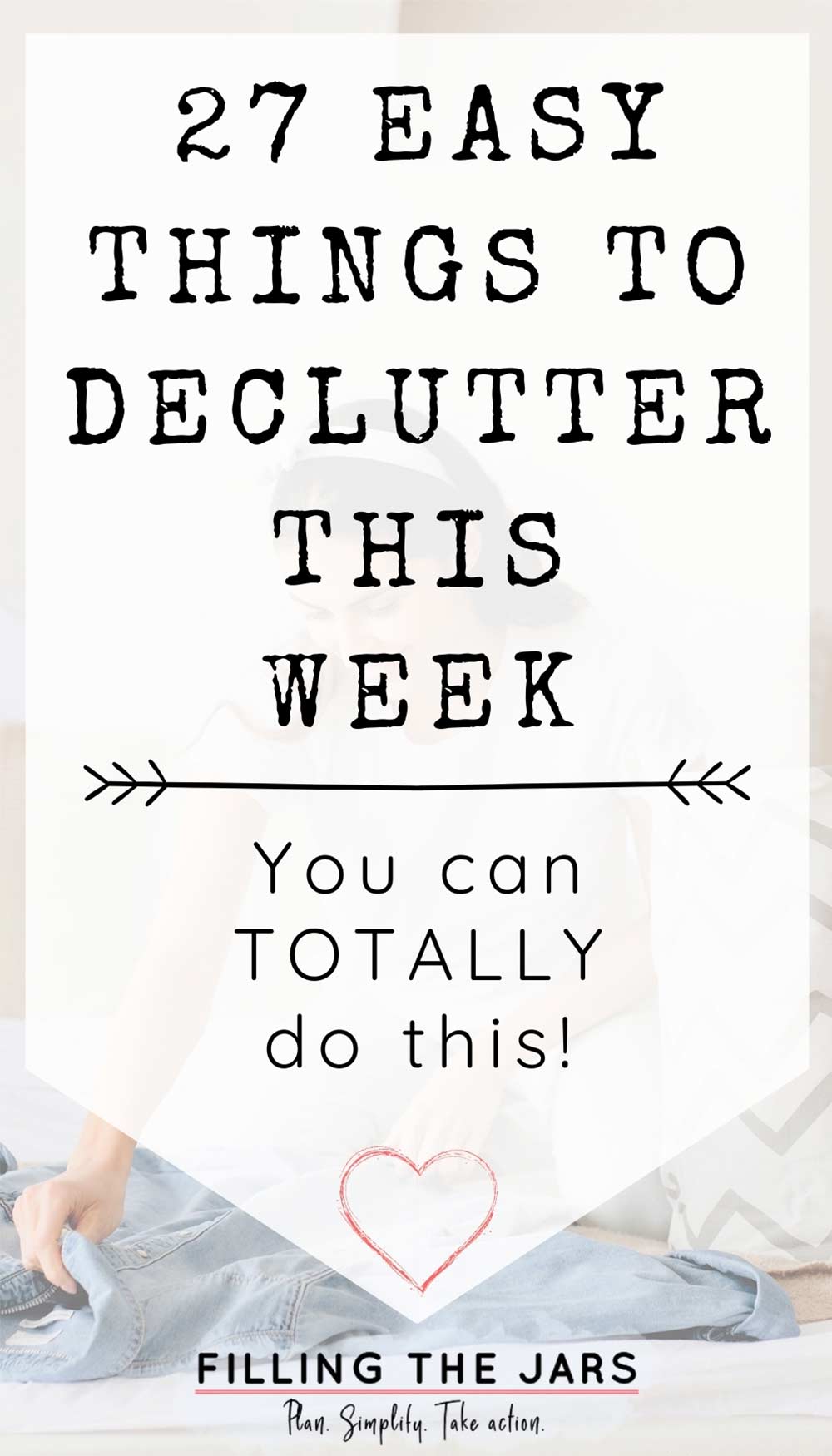 This post may contain affiliate links. If you choose to purchase through an affiliate link, I may receive a small commission at no additional cost to you. You can see my full disclaimer here.
Why You Should Declutter Easy Items First
If decluttering seems impossible to you, I get it! (Hey, my brain can make the easiest task in the world into an epic feat of difficulty.)
When it comes to decluttering, we have a lot of physical and virtual obstacles standing between us and success.
We often just can't seem to get started, which means never feeling the joy of living in a clutter-free space.
So how do we have any hope of success?
It all starts with breaking the process down into very simple steps that are impossible to overthink and so easy that we can do them even if we're overwhelmed.
Start with the easy areas!
Decluttering 'easy' things means concentrating on items that don't require making heavy decisions or dealing with difficult emotions.
This is the perfect way to start a declutter session… getting rid of items that don't take much energy or thought and will give your mind room for more difficult tasks later in the process!
This is a short beginner list for a reason… to get you moving and show you just how easy it is to let things go. No tough decisions. No guilt or sentimental items that might slow your progress.
And while you could declutter these things in one day, it's not absolutely necessary. Honestly, I rarely recommend all-day decluttering.
It's easier to build the decluttering habit for continued success if you work for about 10 minutes a day, during which you should easily be able to let go of about 10 items.
Apply that strategy to this list and you may be surprised at how well it works for you!
27 Quick and Easy Things to Declutter
Miscellaneous Papers
Sort through the piles on the kitchen counter or near the front door. Recycle or shred what you don't need and organize the remaining items so they're easy to find later. Use some of these paper organizing tools or 3 ring binders.
To prevent future paper clutter from piling up, keep a small shredder or recycling bin handy for incoming junk mail.
Toss:
Junk mail
Receipts from regular shopping trips, etc.
Expired coupons
Travel brochures
Kitchen Stuff
This doesn't have to be a deep kitchen declutter. Just spend a few minutes at a time in each area and get rid of the 'no-brainer' things you NEVER use, things that are broken, etc.
Toss:
Junk drawer items — old batteries, dead pens, etc.
Outdated spices
Old or unused cleaning supplies
Donate if in good condition:
Duplicate utensils
Cookbooks
Gadgets
Dishes you never use
Tech & Toys
Donate, toss, or recycle:
Old mobile phones
VHS and CD players if you only stream movies now
Toys that are broken or no longer age-appropriate
Video games & game consoles that are no longer used
There are several websites like decluttr that will pay cash for your old mobile phones and some other tech. You can also donate old phones to charities. 
Your Car
It's easy to accumulate a bunch of loose items that just pile up when you spend a lot of time driving! Take care of it now by sorting through everything, getting rid of anything unnecessary, and organizing what remains so there's easy access to it in the future.
Toss:
Old insurance papers
Expired annual registrations
Maps if you no longer use them
Dried out cleaning or sanitizing wipes
Extra piles of napkins from the drive-thru
Forgotten beverage bottles and food items (especially important during the hot summer)
Personal Items
These areas can quickly edge into sentimental territory, so keep it simple and straightforward. You're decluttering trash or items that won't ever be used or worn again. That's it.
Inside your current purse or handbag — dump & declutter
Children's outgrown clothes
Your old prom dresses, bridesmaid dresses
Bath products and other toiletries that you don't love
Extra gift bags and tags
Broken, used-up, or dried out craft supplies (coloring books, crayons, inks, glue, etc.)
Like this list? Here are ANOTHER 62 things to declutter that are also easy — and you will never miss them!
Quick Decluttering Tips for Your Living Space
Decluttering is a very personal process and your exact method/results will depend on your needs and perspective. The best way to know what works best for you is to try the simplest methods first. You can always do more intense decluttering once you feel like you're having some success.
Sort properly. Before you begin decluttering, know what you're going to do with the stuff: keep, donate, or discard.
Keep: Items that you use and love.
Donate: Items that are in good condition but haven't been used for a while. These can be things like clothing, books, or furniture.
Discard: Trash items such as broken appliances, electronics, etc.
Notice there's no 'sell' on this list? Here's why I recommend you declutter and donate instead of selling stuff.
Keep your decluttering sessions short to avoid decision fatigue. 10 items or 10 minutes a day is a great start. Use a timer!
More Easy Decluttering Motivation
The Slow Declutter: A No-Mess Method to Declutter Your Home
Top 7 Decluttering Mistakes for Overthinkers & How to Avoid Them
Stop Being a Victim of Clutter [Mindset Transformation]
Do These 3 Things When You're Overwhelmed By Clutter
Concluding Thoughts
I hope this list of the easy things to declutter has inspired you to begin decluttering right away. Once you get started, you will find many more things that you can let go of.
The important thing to remember when going through this process is that it's your life… If something doesn't make you happy or make sense in your space anymore, then the best thing to do is let it go!
You deserve peace and happiness as you Build Your Best Life. 🙂
You've got this!
---
Did you enjoy this post? Know someone else who might like it? Please take a moment to share on Pinterest, Facebook, or your favorite social media… (Click the sharing buttons at the bottom of the post.) Thank you!