Let's talk about a few lazy life hacks that will increase your daily productivity potential without depleting your energy. Though it seems a little weird, the best way to learn how to stop being lazy is to use lazy hacks to help you complete tasks the efficient yet lazy way.
Sounds like a win-win to me!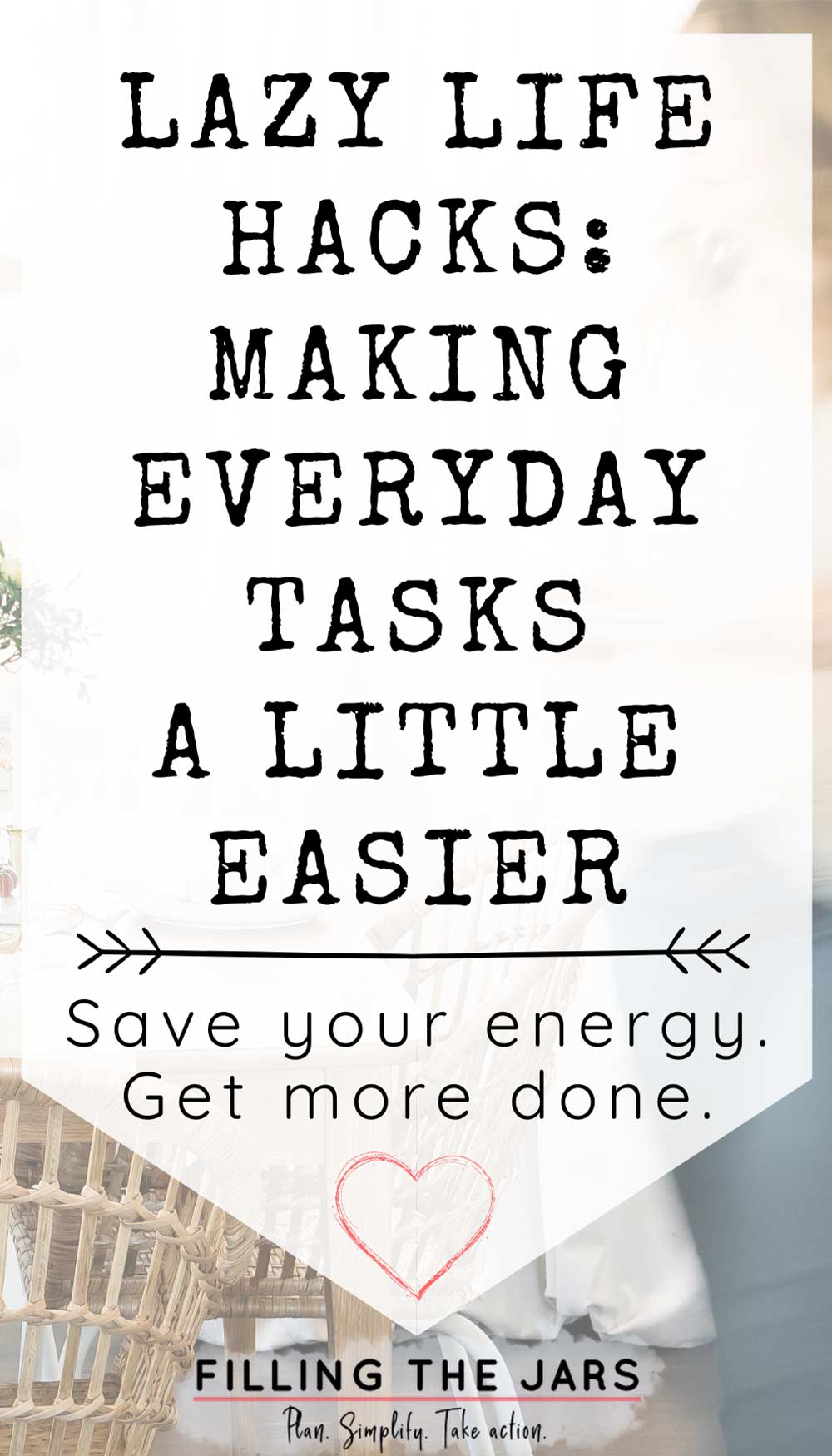 This post may contain affiliate links. If you choose to purchase through an affiliate link, I may receive a small commission at no additional cost to you. You can see my full disclaimer here.
History of Lazy Life Hacks
Since the early 1900s, efficiency experts have documented ways to complete nearly any hard job with less bodily and mental fatigue thanks to lazy people. How? They examine how 'lazy' workers do the most difficult jobs — because those people will find the fastest and easiest way to complete a task.
While many people are taken aback by this statement due to the stereotypes surrounding the concept of laziness, there is a golden nugget of wisdom in there…
For overwhelmed overthinkers, saving your energy by using lazy life hacks means you avoid exhausting yourself. And that means you still have the time and energy to accomplish all those other things you need — and want — to do.
Plus, who doesn't feel a thrill of excitement at marking lots of things off the daily to-do list with very little effort?
Lazy life hacks may be discovered lazy people, but they can actually be useful for everyone and become a stepping stone in your journey to live more intentionally.
Below are some hacks to get you started…
Life Hacks for Lazy People
Lay Out Your Clothes at Night
Laying out your clothes for the next day is key for extending cozy morning bed time as long as possible. You can repurpose the time you would spend picking out an outfit for time you get to continue to relax in bed.
If you hate picking out your outfits in general, make a uniform for yourself. This eliminates many choices from your clothing spectrum, making the decision process significantly easier.
Related post: How to Combat Decision Fatigue: 5 Life Areas to Streamline for Less Stress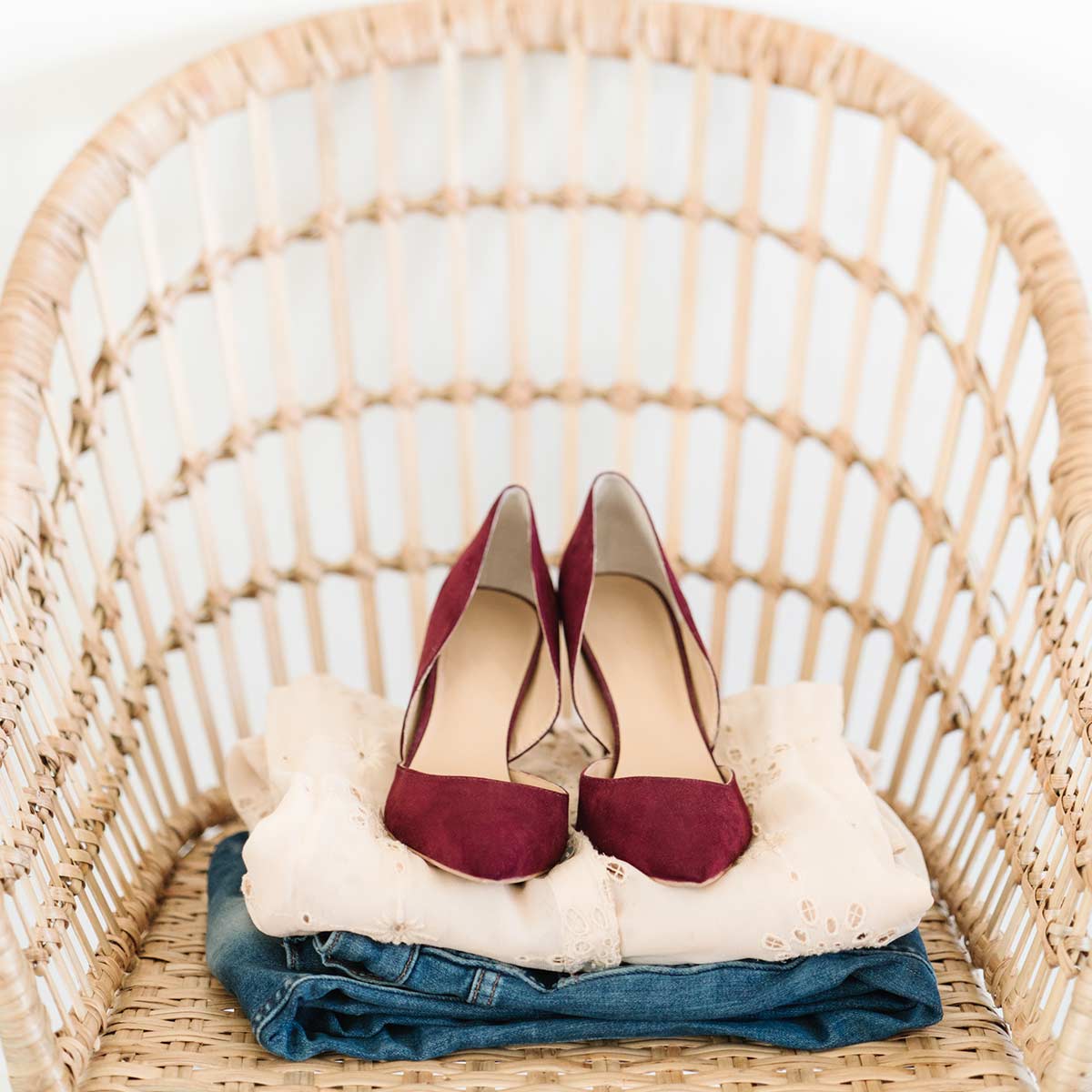 ---
Wear Your Gym Clothes To Bed
If you struggle to get up and work out in the morning, don't worry, you are one of many like-minded individuals. However, all hope is not lost if you still strive to get in that morning workout.
This might sound a little crazy, but try sleeping in your workout attire.
That way, all you have to do once the buzzing of that dreaded alarm clock wakes you up is roll out of bed and to the gym… or wherever you prefer to work out.
If you feel too uncomfortable sleeping in your gym clothes, you can try laying out your workout clothes the night before. While not quite as speedy as sleeping directly in the clothes, it still eliminates the step of gathering the items needed for your best workout.
Exercise in Increments
It's no secret that the idea of exercising leaves many feeling defeated before they even begin.
It is extremely hard to drag your butt out of bed to get yourself active — especially if the only way you know how to work out is by going to an hour-long group fitness class.
While working out is very important for our mental and physical health, you don't have to torture yourself to do it. Better yet, you don't even need to do it for a full hour!
Studies have shown that short bursts of workouts can be just as beneficial as that hour-long class you so often skip. HIIT (High Intensity Interval Training) is the perfect way to do your workout within 20 minutes or less, allowing you to stay in bed that much longer in the morning.
You can also split your workouts into even smaller segments throughout the day by taking a five-minute walk in the morning and another at night. There are a myriad of options and you will definitely be able to find whatever works best for you.
Related post: How to Stop Being Lazy and Exercise: 20 Tips for When You Have No Motivation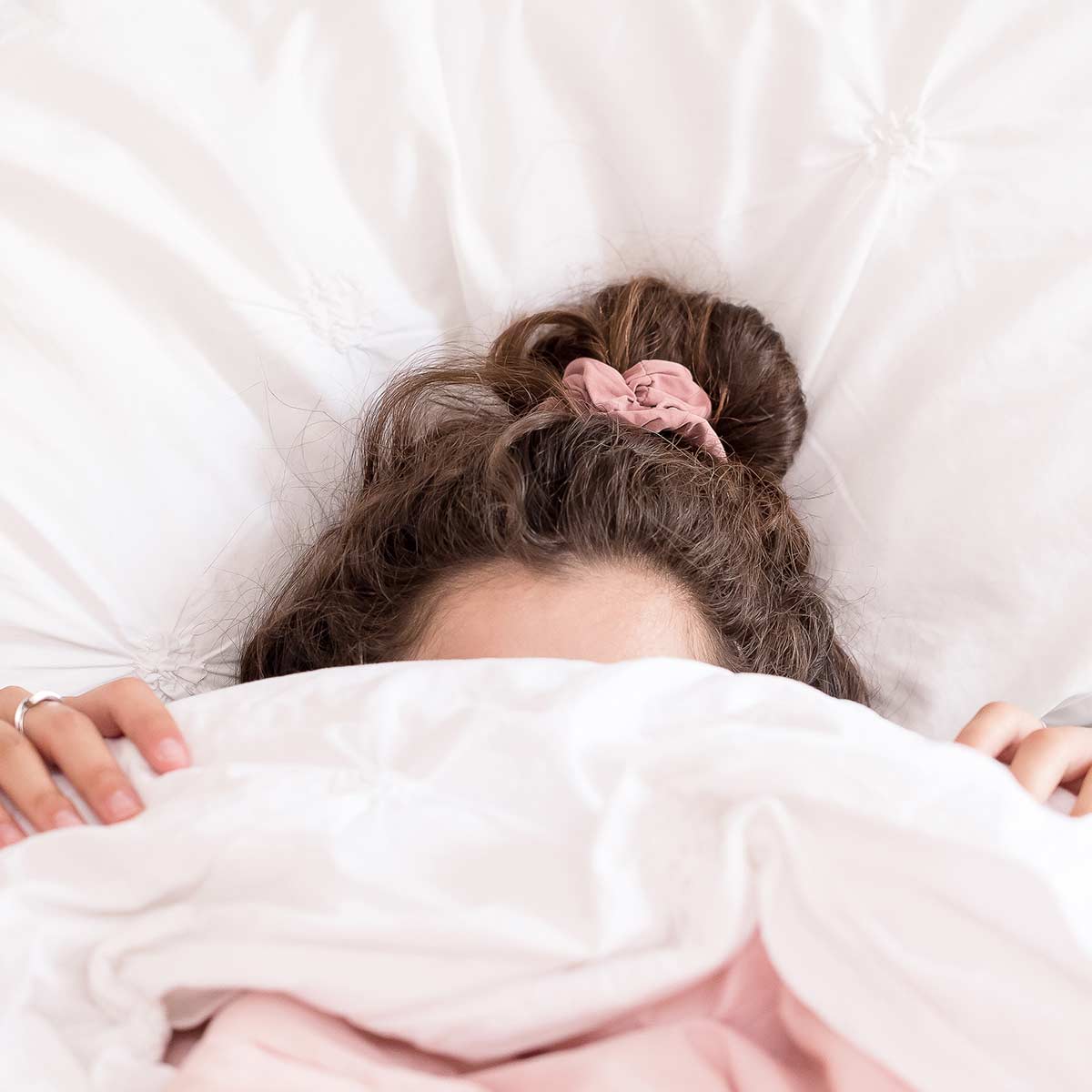 ---
Kitchen Hacks for Easier Cooking
Pre-Cook Your Meals
While meal prepping may sound like something a non-lazy person would do, it is actually a great hack for lazy and un-lazy folk alike. It requires only a short burst of effort per week, leaving you with easy meals the remaining days.
Once your meals are prepped, you literally just pop them in the microwave or oven to reheat and your dinner is ready. No more figuring out what to cook and chopping veggies all day every day because your meals are done.
This trick can also help improve your budget as you will be less likely to spend more on delivery if your food is basically ready to eat when you want it.
Related post: Quick Food Prep Routine for a Week of Easier Meals
Cut a Cake The Easy Way
Cutting a cake, although a delicious experience, leads to a lot of mess and clean up in its aftermath. Try this trick to cut a cake in an easier manner.
You can use a string of unflavored dental floss to cut your cake. That's right… dental floss. This works best on a freestanding cake, not in a baking pan.
Just run the floss down through the cake to make the perfect cut. The best part is that you don't need to clean a knife after.
Use Kitchen Utensils in Creative Ways
Use a pizza cutter for any of these:
Herbs
Pancakes
Waffles
French toast
Even children can learn how to use a safety-style pizza cutter on their own food… independence for them, and easier mealtimes for you!
Egg slicers can cut more than eggs:
Mushrooms — that is, if you can't find a package of pre-sliced 😉
Strawberries
Other round-ish, soft foods
Tired of making batch after batch of toast for big family breakfasts? Use your oven! Set your oven racks one level apart. Place a sheet pan on the bottom rack. Place slices of bread upright through the top rack. Turn the oven to 450F and bake until the slices are toasted to your liking.
Use your stand mixer to shred chicken. The paddle attachment will make quick work of cooked, boneless chicken.
Extra-lazy tip: Cook large batches of seasoned chicken breast in your crockpot just for shredding.
More Blog Posts to Help You Truly Stop Being Lazy
Living An Intentional Life: 7 Powerful Steps to Make It Happen
32 Journal Prompts for Self-Discovery and Clarity
What To Do When Feeling Lazy: 10 Tiny Tasks for Easy Wins
4 Fast + Simple Habits to Keep a Clean and Tidy Home
What's Next?
You may be struggling with laziness, but it doesn't have to stop you from doing anything you need to do. I hope you can at least have some fun trying out some of the lazy life hacks mentioned above as you Build Your Best Life.
You've got this!
What's your favorite lazy life hack that actually helps you get MORE done? I would love to hear it… Leave a comment below!
Grab my printable anti-laziness list and worksheet. Sign up in the box below to have it sent right to your email.
---
Did you enjoy this post? Know someone else who might like it? Please take a moment to share on Pinterest, Facebook, or your favorite social media… (Click the sharing buttons at the bottom of the post.) Thank you!