This collection of inspirational quotes for February is sure to get your mind moving and motivate you to positive action as we inch closer to the end of winter. Welcome, February!
Love quotes? Me too! This set of February quotes is a wonderful addition to my collection of hundreds of seasonal and motivational quotes that can help you get through every day. Enjoy!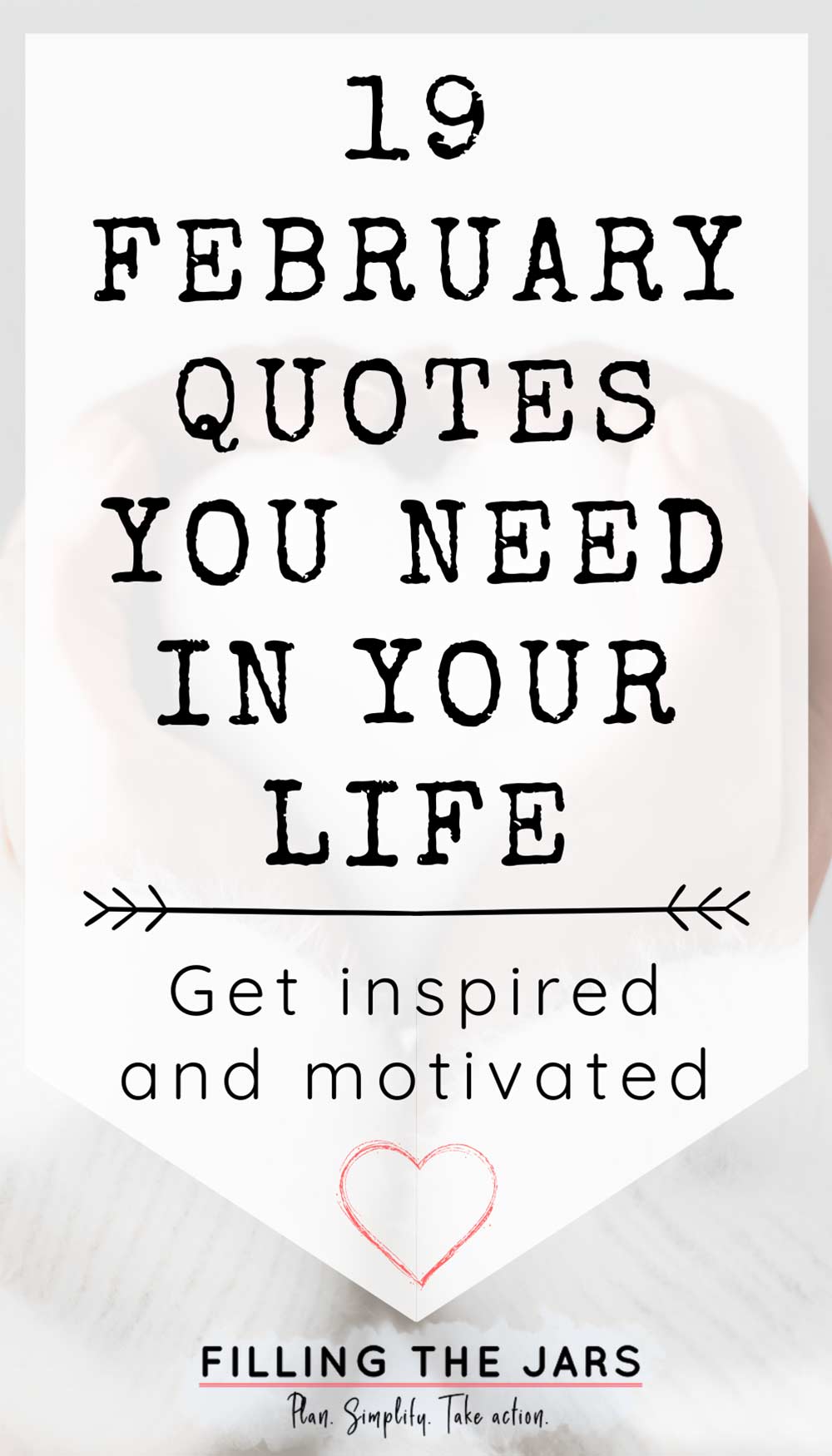 This post may contain affiliate links. If you choose to purchase through an affiliate link, I may receive a small commission at no additional cost to you. You can see my full disclaimer here.
How to Use Beautiful February Quotes in Everyday Life
Although for many of us February is a cold and harsh month, there are still ways to find enjoyment, continue to grown as a person, and live intentionally.
Reflecting on inspirational and motivational quotes is one of my favorite things to do every day. And for some reason, it seems even more important to take in that positivity when it feels like we're almost at the end of winter, but not quite there yet.
However, reading the words is only part of the process. What you do in response to those words is actually even more important.
Don't just think of these fabulous February quotes as 'pretty words.' Don't allow yourself to simply say, 'Oh, I love that!' when you discover an amazing-to-you quote — and then promptly forget about what you've read.
Of course we love the words. We wouldn't read quotes if well-crafted thoughts didn't intrigue us. After you read these quotes, try some of these ideas to put them to use in your life:
Find a powerful quote that you can use to inspire positive action every single day.
Memorize it and repeat it out loud to yourself in the mirror every day.
Print out great quotes and display them as artwork. These printable gratitude quotes are a perfect start.
Doodle your favorite quotes in your planner.
Journal about what a new inspirational quote means to you and what it's prompting you to do. An inexpensive journaling notebook or refillable journal is perfect for writing about your inspiration, thoughts, and plans.
Share the quote and your reaction on your favorite social media platform.
Then, share the subsequent positive actions the quote motivated you to take. 
A new favorite quote may inspire your thoughts and actions for the rest of your life, or you may only 'need' it for a day… or a week… or a season of life. It's all good!
For February, I want to challenge you to practice more kindness, more love, more understanding toward others AND toward yourself. Spread some extra warmth and light during this final month of winter.
Inspirational Quotes for February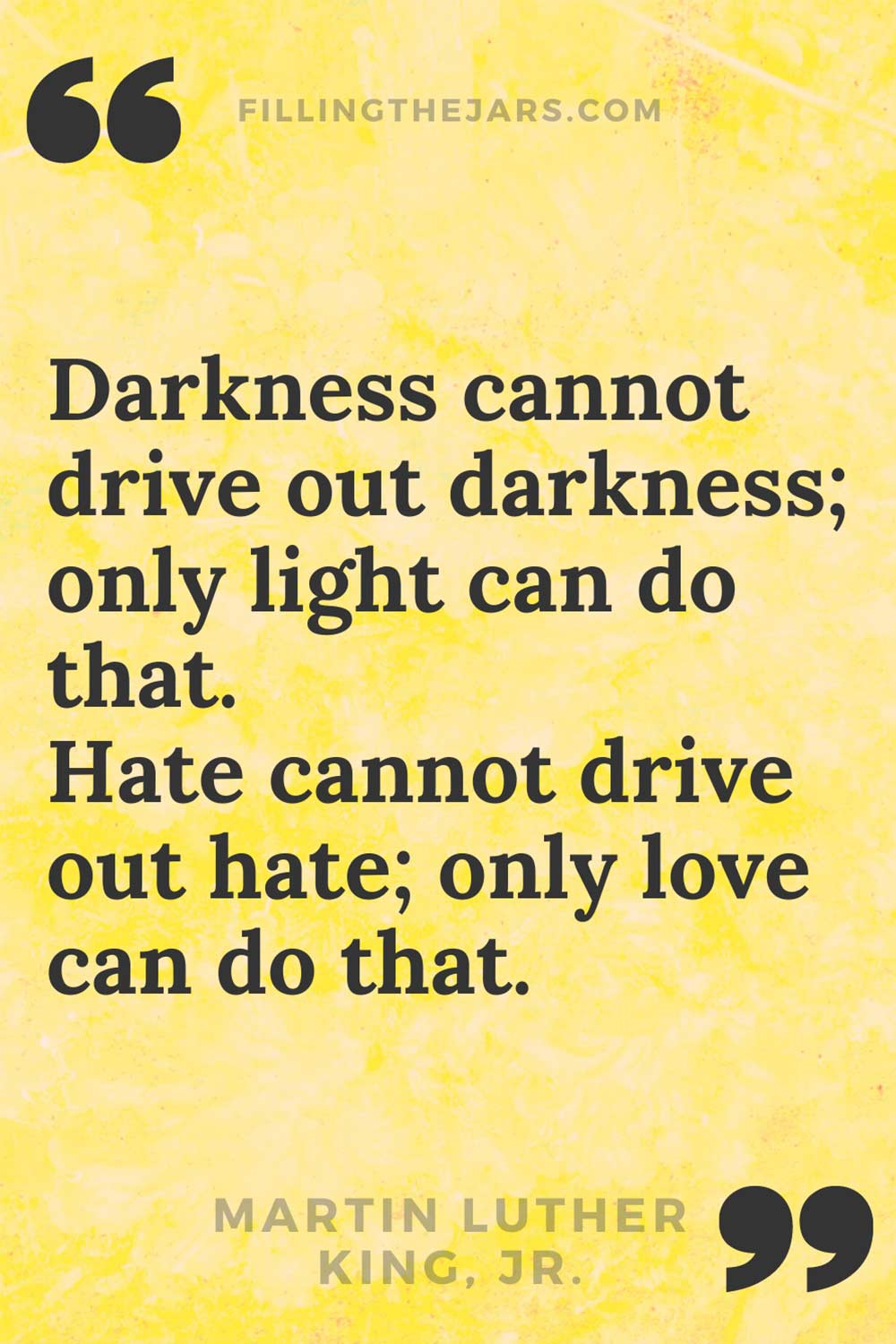 "Darkness cannot drive out darkness; only light can do that. Hate cannot drive out hate; only love can do that."
— Martin Luther King, Jr.
"In February there is everything to hope for and nothing to regret."
— Patience Strong
"I used to want the words 'She tried' on my tombstone. Now I want 'She did it.'"
— Katherine Dunham
"In the coldest February, as in every other month in every other year, the best thing to hold on to in this world is each other."
— Linda Ellerbee
"The best and most beautiful things in the world cannot be seen or even touched – they must be felt with the heart."
— Helen Keller
---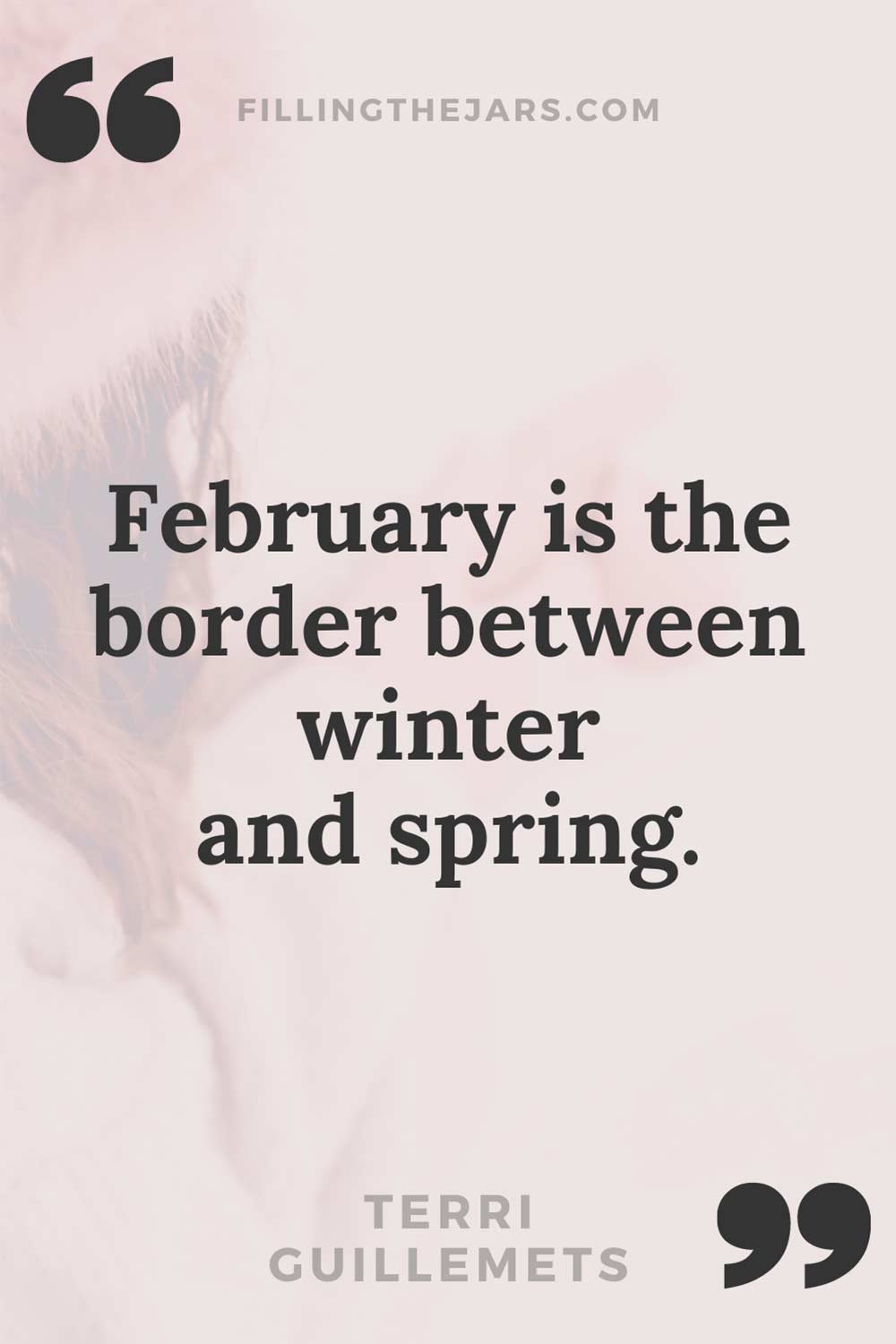 "February is the border between winter and spring."
— Terri Guillemets, Years
"Go to the winter woods: listen there, look, watch, and 'the dead months' will give you a subtler secret than any you have yet found in the forest."
— William Sharp (writing as Fiona Macleod), Where the Forest Murmurs
"Never be limited by other people's limited imaginations."
— Mae Jemison
"The greatest danger for most of us is not that our aim is too high and we miss it, but that it is too low and we reach it."
— Michelangelo
"Doing the best at this moment puts you in the best place for the next moment."
— Oprah Winfrey
"No one's ever achieved financial fitness with a January resolution that's abandoned by February."
— Suze Orman
---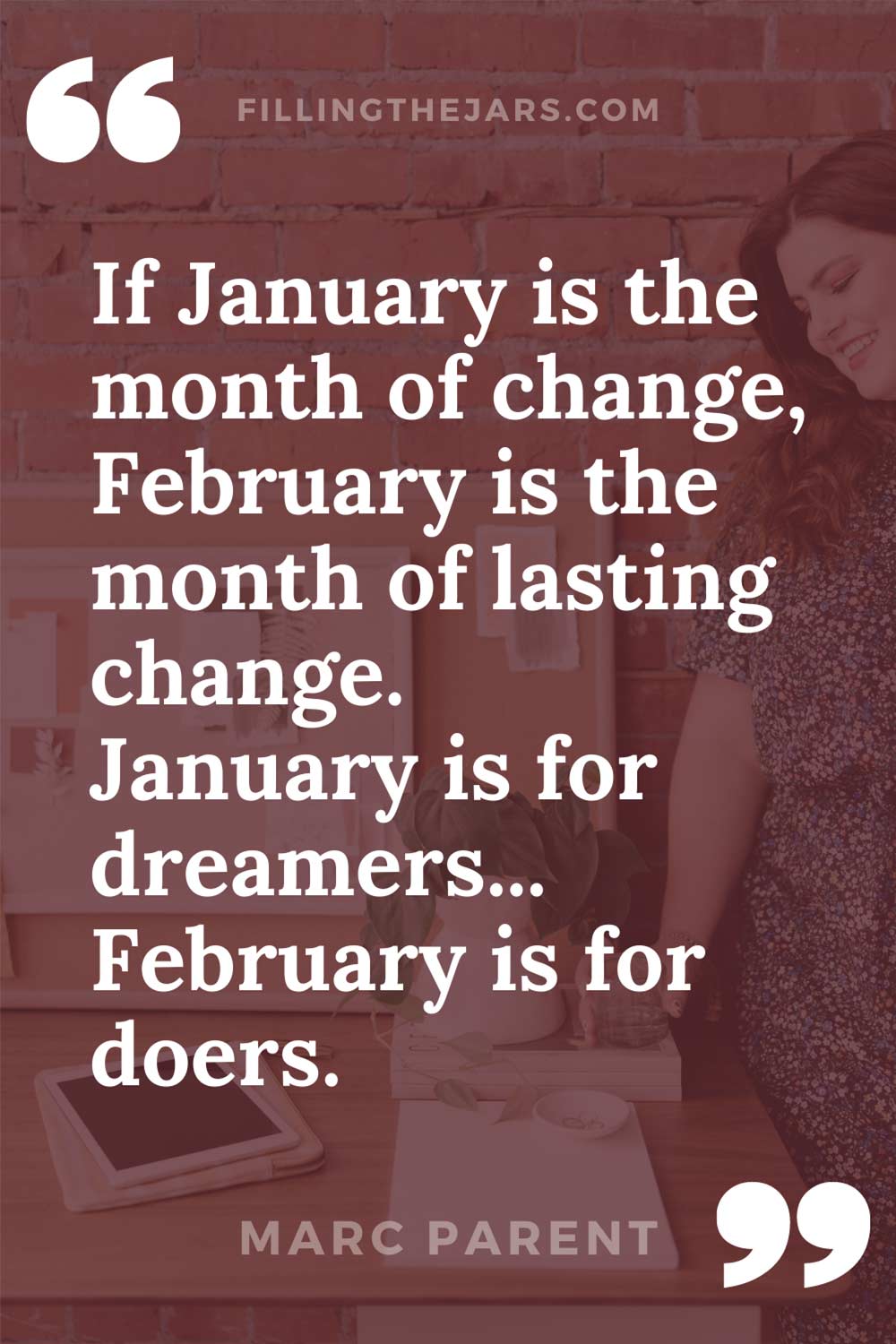 "If January is the month of change, February is the month of lasting change. January is for dreamers… February is for doers."
— Marc Parent
"You may never know what results come of your actions, but if you do nothing, there will be no results."
— Mahatma Gandhi
"There is always in February some one day, at least, when one smells the yet distant, but surely coming, summer."
— Gertrude Jekyll
"February is short and very sweet."
— Charmaine J Forde
"Keep your face always toward the sunshine – and shadows will fall behind you."
— Walt Whitman
"If you can learn to love yourself and all the flaws, you can love other people so much better. And that makes you so happy."
— Kristin Chenoweth
"Our greatest glory is not in never falling, but in rising every time we fall."
— Confucius
---
"We have to confront ourselves. Do we like what we see in the mirror? And, according to our light, according to our understanding, according to our courage, we will have to say yea or nay – and rise!"
— Maya Angelou
More Posts You May Enjoy
Living An Intentional Life: 7 Powerful Steps to Make It Happen
17 Best Quotes to Welcome the Month of March
25 Motivational Phrases to Use as Part of Your Positive Daily Routine
29 Winter Quotes: Wise and Cozy Words for an Inspired Season
What will you do next?
Today is the perfect time to put some motivational February quotes to use as you Build Your Best Life.
Add some love and sparkle to someone's day… every day.
You've got this!
Which of these inspirational quotes for February is your favorite? How will you use it in your life?
Did you grab the free printable gratitude quotes? Sign up below to have them sent right to your email…
---
Did you enjoy this post? Know someone else who might like it? Please take a moment to share on Pinterest, Facebook, or your favorite social media… (Click the sharing buttons at the bottom of the post.) Thank you!