Feeling like your current rate of progress is too slow to bring the success you want? These inspirational slow success quotes will motivate you to stay the course and not give up.
Taken together with my full collection of motivational quotes, you'll be ready to keep taking positive action every day to reach those amazing goals.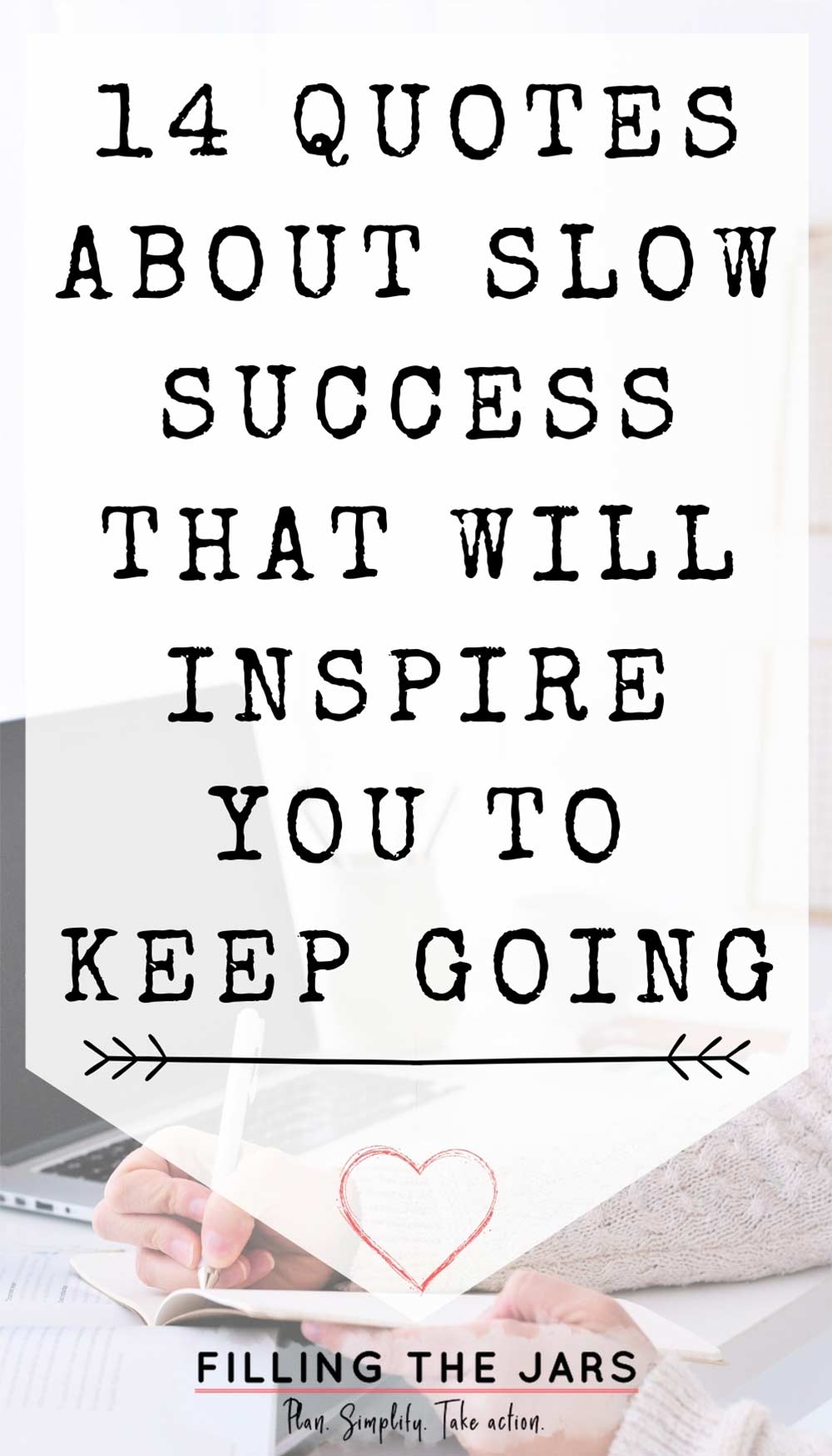 This post may contain affiliate links. If you choose to purchase through an affiliate link, I may receive a small commission at no additional cost to you. You can see my full disclaimer here.
It can be hard to recognize success in our daily lives, whether it's celebrating the small wins or achieving goals we have set. We often expect results right away, and then we get disheartened when it doesn't work out that way.
I get it! Wanting to quit when success comes slowly isn't an easy hurdle to overcome.
However, slow and steady really can win the race, and I've personally found this to be 100% true when it comes to goals and achievements. This is where the quotes about slow success I'm sharing will help you get to where you want to be.
Why Slow Success Can Give You The Best Results
Slow success will often give you greater rewards.
You may think I'm a little crazy to say that, and I don't blame you. Sure, there are situations where things will work out quickly. And some people are just faster at doing all.the.things than you or I may be.
But often, achieving goals requires slow habit changes and daily work on your mindset — not to mention actionable steps to get to where you want to be. And those things simply take time.
Why slow success?
It gives you the chance to make long-lasting changes
The reward will feel greater
You appreciate the effort
The long-term strategy gives you greater results
Increased confidence
Sounds good, doesn't it?
I've been on some very long and slow roads to success in many areas of my life. Some of them will probably never actually end, and that is absolutely fine! As long as we make sure to stop thinking and start doing, it's all good. 😉
Setting realistic expectations and staying motivated when we're taking small steps to success makes all the difference.
I hope you enjoy and use these quotes as much as I have…
Quotes About Slow Success
"Success is the sum of small efforts – repeated day in and day out."
— Robert Collier
"If you are persistent, you will get it. If you are consistent, you will keep it."
— Harvey MacKay [a.k.a. MacKay's Moral]
"The maximum success is reached when you are never busy."
— Nassim Nicholas Taleb
---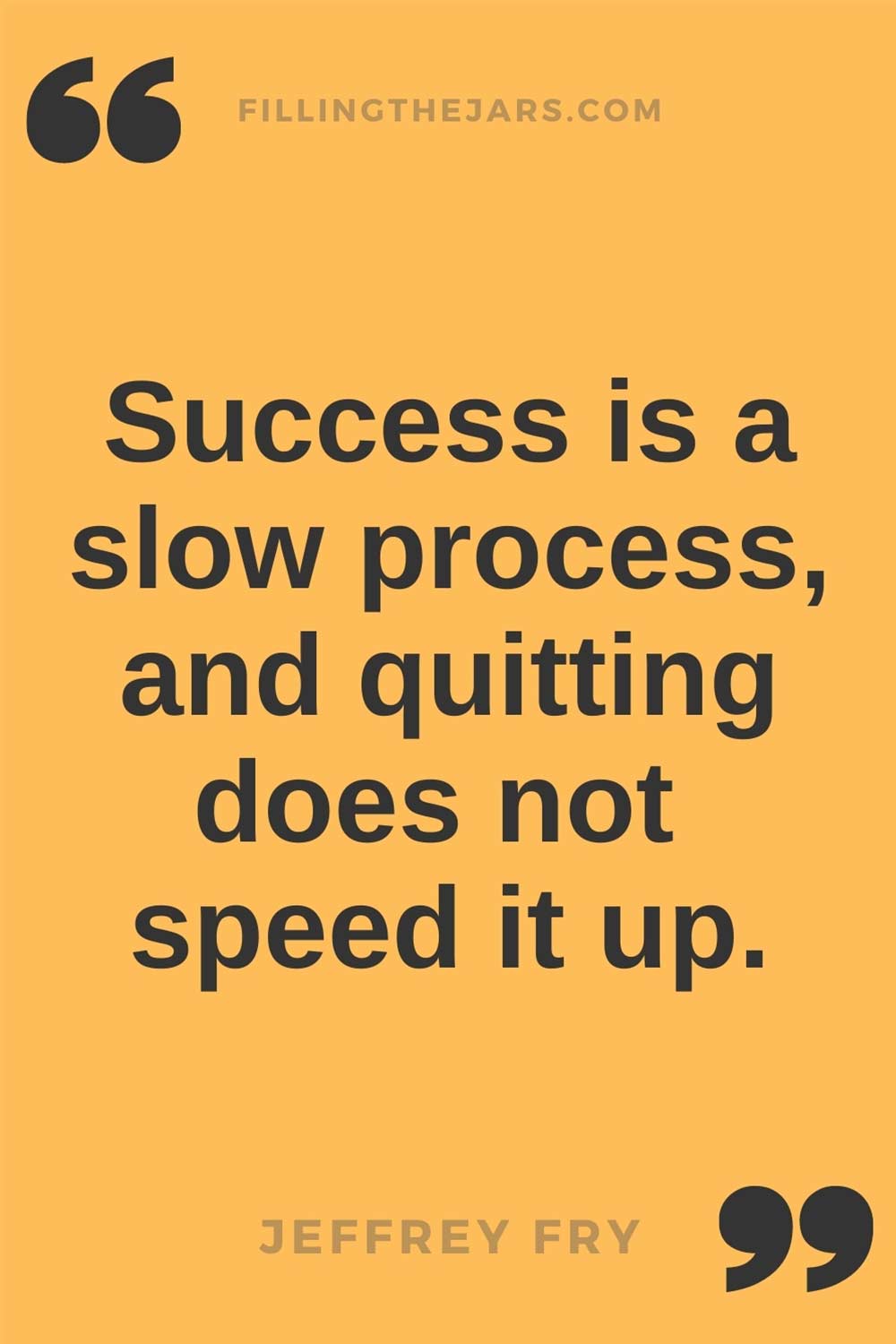 "Success is a slow process, and quitting does not speed it up."
— Jeffrey Fry
"One of the best pieces of advice I ever got was from a horse master. He told me to go slow to go fast. I think that applies to everything in life. We live as though there aren't enough hours in the day but if we do each thing calmly and carefully we will get it done quicker and with much less stress."
— Viggo Mortensen
"Pray that success will not come any faster than you are able to endure it."
— Elbert Hubbard
"Perfection is attained by slow degrees; it requires the hand of time."
— Voltaire
---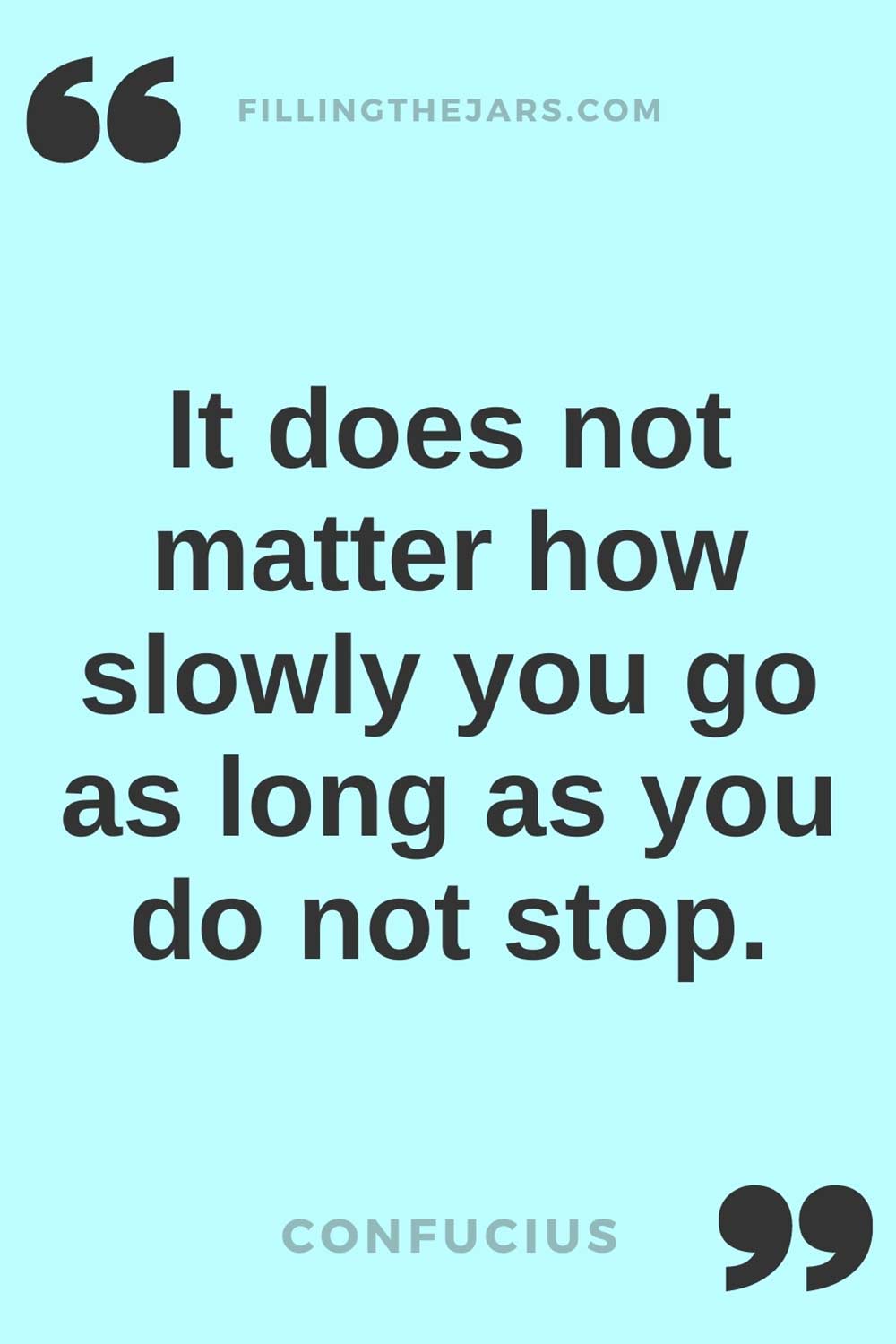 "It does not matter how slowly you go as long as you do not stop."
— Confucius
"Success is a journey, not a destination. The doing is often more important than the outcome."
— Arthur Ashe
"Success is sweet and sweeter if long delayed and gotten through many struggles and defeats."
— Amos Bronson Alcott
"The trees that are slow to grow bear the best fruit."
— Moliere
---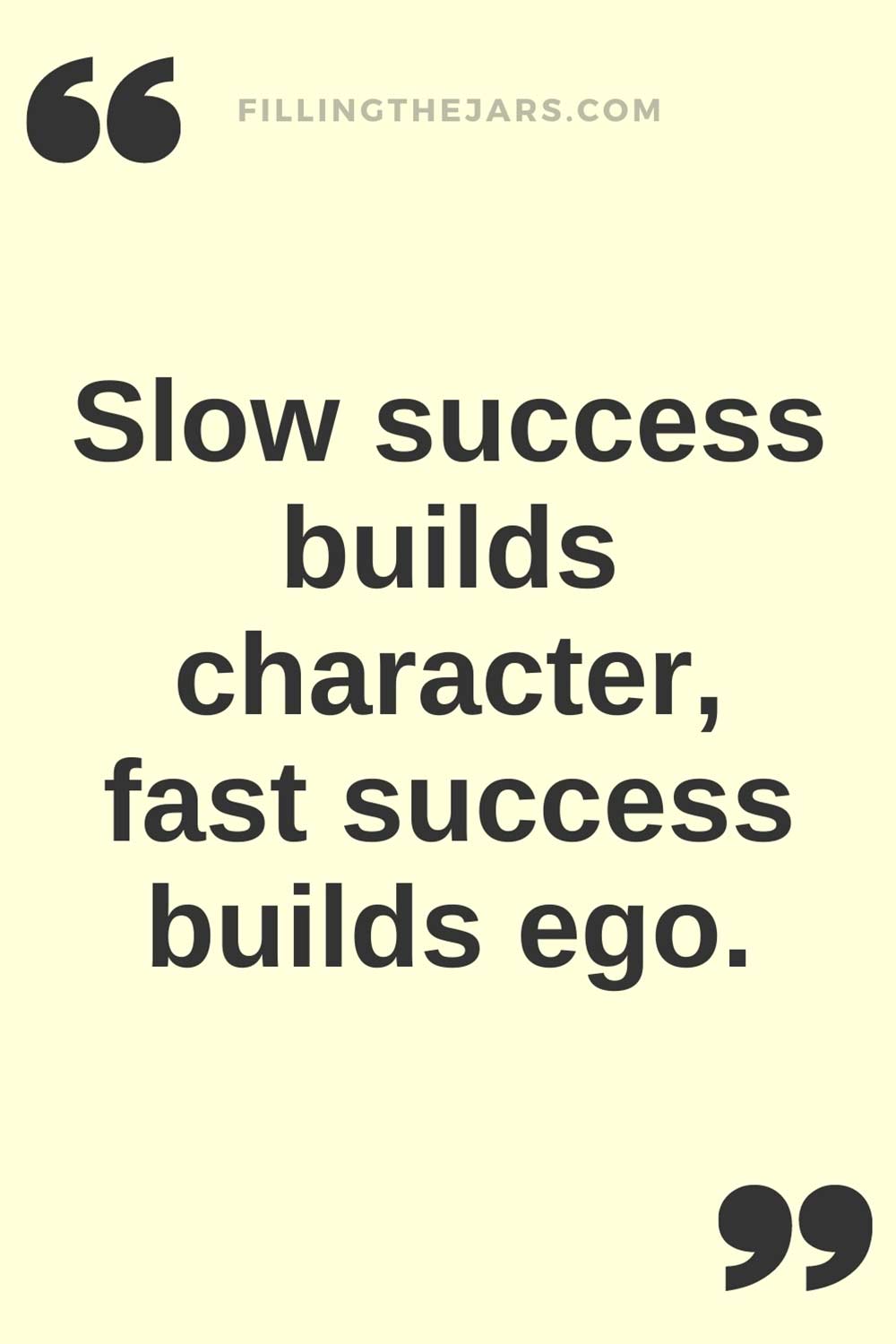 "Slow success builds character, fast success builds ego."
"Where you're headed is more important than how fast you're going."
— Stephen Covey
"It's a very slow process – two steps forward, one step back – but I'm inching in the right direction."
— Rob Reiner
"Failure is success in progress."
— Albert Einstein
How To Implement Quotes on Slow Success To Achieve Your Goals?
Powerful goal setting and having the intention to make changes is a great start. Taking actionable steps to make them happen is another. This is where implementing a slow success approach could help.
There are a few ways you can make use of these quotes in your daily actions:
Use them as journal prompts
We know how great it can feel to write and set intentions through journaling. Use these quotes as inspiration to creatively write how they can and will help you.
You could do this for ten minutes before you start your day. Or use them as a prompt in the evening to measure your success.
Use them as daily affirmations
Whether you say these first thing in the morning or throughout the day when things don't seem to be going your way, they can help. Say a few different ones or pick one out that resonates with you the most at that time.
Use a reminder app on your phone
Instead of your usual appointment reminders, put some of these slow success quotes as reminders on your phone. Set them to randomly come through to your phone throughout the day and then repeat them quietly to yourself.
A planner is a great way to be reminded of these quotes daily. This will only work if you actively use a planner throughout the day.
Choosing a quote and writing it down for that day or week will help you to be reminded of your intention each time you go to your planner. Simple, but effective.
Write out your favorite quotes and then stick them to the mirror in your room, the refrigerator door, at your workspace, even in your bag. This will remind you of your plan and the route you want to take to achieve your goals.
More Motivation and Resources for Success
Self-Confidence Quotes: 33 Inspirational Quotes You Need Today
The Joy of Missing Out: Live More by Doing Less – Tanya Dalton
12 Slow And Steady Quotes to Keep You Grounded
The ONE Thing: The Surprisingly Simple Truth Behind Extraordinary Results – Gary Keller, Jay Papasan
Need Inspiration? 10 Remarkable People to Follow Right Now – Always Well Within
Productive Things To Do Over the Summer: Make Your Goals a Reality
Motivational quotes wall art – Love these prints!
25 Insightful Quotes About Decluttering the Mind
Could Slow Success Be The Secret?
I think so, especially when you make sure you're clear about your goals and the steps you want to take. Success is intentional. Using these slow success quotes will help you to be accountable when it comes to your actions.
If you're not doing.the.things, you won't see success. But when you use the motivation from these quotes to keep going in the right direction, eventually you can't help but find success.
You CAN achieve everything that you want. But it starts with belief that you can do it.
I have faith in you and I know you've got this!
---
Did you enjoy this post? Know someone else who might like it? Please take a moment to share on Pinterest, Facebook, or your favorite social media… (Click the sharing buttons at the bottom of the post.) Thank you!