Are you feeling overwhelmed by the thought of decluttering after 50? If so, you're not alone.
Many women feel this way at this stage in their lives, especially if you're hanging onto your children's stuff and a multitude of items you've inherited over the years… not to mention your personal collections, hobbies, and clothes from the past 30 or 40 years…
Oh, and don't forget about your partner's heaps of… treasures? junk? You don't even know WHAT to call it, but it's everywhere.
But don't worry — this blog post is here to help! In it, we'll discuss the challenges, benefits, and process of decluttering in midlife and offer some of my favorite declutter tips to help you succeed. So whether you're getting ready to downsize or just want to declutter for a fresh start, read on for helpful advice.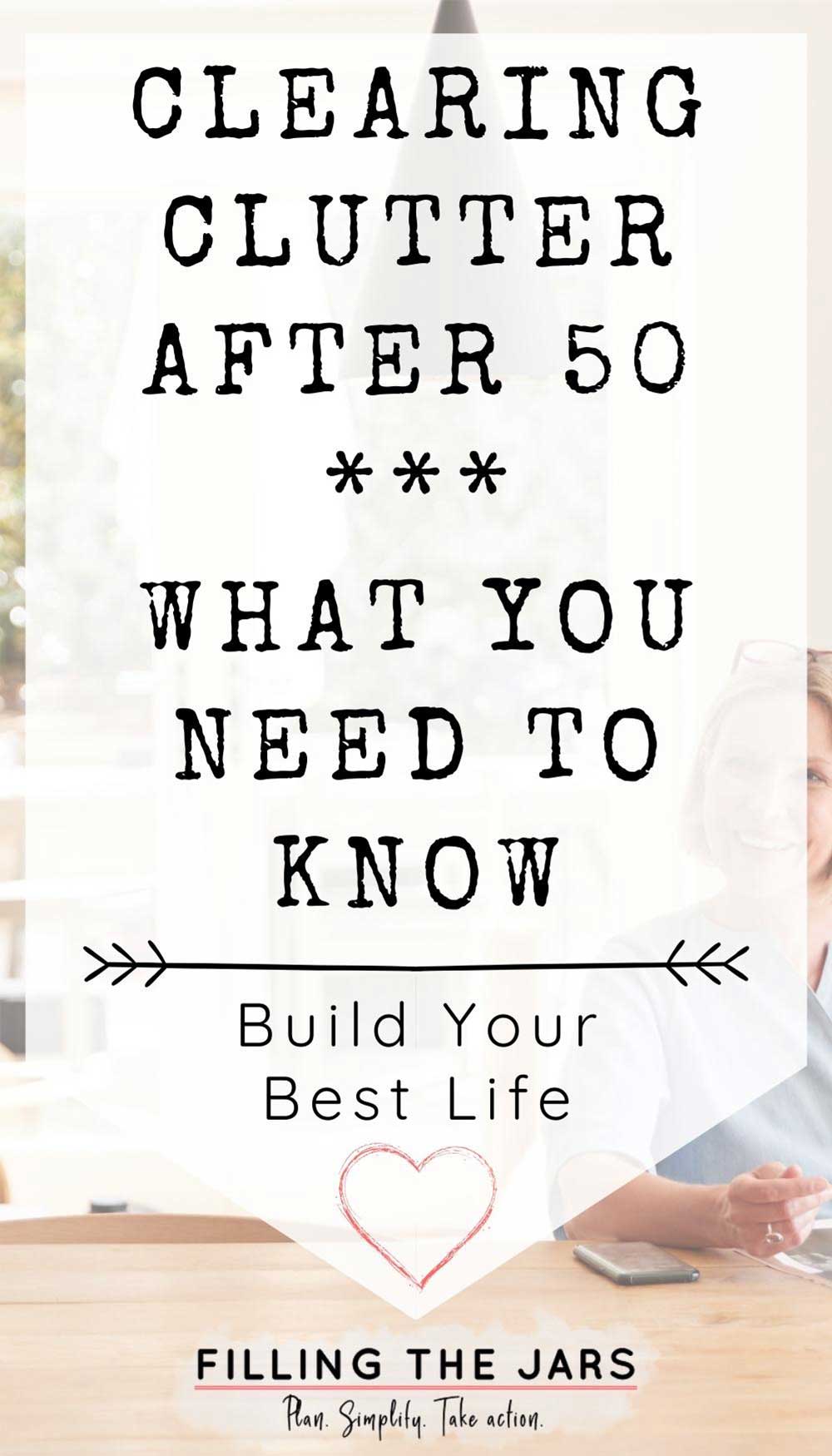 This post may contain affiliate links. If you choose to purchase through an affiliate link, I may receive a small commission at no additional cost to you. You can see my full disclaimer here.
Extra Challenges When Decluttering In Your 50s
I'm not sure what it is about turning 50, but it seems like this milestone age is when many of us decide it 'would be nice' to declutter our homes and our lives.
However, decluttering during midlife can present unique challenges.
While these challenges aren't exclusive to the over-50 crowd, they are definitely more common as we age. That means we may face several of these issues at once… which isn't easy, but it's still possible to be successful.
1. Exhaustion
We've been working hard at life for a long time. Retirement may be upon us, or it may still be several years away.
But honestly, we're just tired and want to rest when we have the opportunity. Decluttering and organizing usually falls to the bottom of the list.
2. Health issues
Of course, age is not always a factor when it comes to dealing with physical health issues. However, things do tend to snowball once we hit that half-century mark.
Sorting a lot of clutter becomes so much harder when your back hurts or you have other serious health problems that may affect mobility or the ability to make quick decisions.
3. Inherited items
At some point in our lives, it usually happens that we inherit possessions from various friends and relatives who have passed away. As we age, that becomes more and more likely.
I hear from many readers who have more than one houseful of belongings from parents and/or grandparents that are waiting to be sorted. Often those things end up consolidated into one home, which increases the stress and mess exponentially.
4. Adult children's possessions
While some of us may still have younger children at home, this decade tends to find us seeing them off to college or moving out on their own.
But when they go, a lot of their stuff usually stays behind. We store it, sometimes for years, and we don't really know whether or not we should get rid of it.
5. Pride
We've worked hard to afford the nice things we have. Why should we be in any rush to get rid of them?
Pride is definitely a mental block to clearing clutter. Although we may not want to admit it, we're often afraid we'll feel — or look — poor if we get rid of those 'nice things.'
While decluttering in your 50s does present challenges, you can absolutely still be successful. Let's look at some of the benefits that make conquering these challenges worth the effort…
Why It's Important To Declutter When You're Over 50
In addition to the 'regular' ways your life will improve when you declutter, there are several compelling reasons why you should declutter after age 50.
The decluttering process may seem like a formidable task, but it's also liberating. You free yourself from the weight of unnecessary possessions and having to be The Keeper Of The Things.
We all know that time is precious, especially as we get older. Why spend our midlife and golden years dealing with unnecessary clutter every.single.day. when we could be enjoying our extra time relaxing and spending time with family and friends? Clearing out unnecessary belongings is definitely worth the effort in the end.
Related: 10 Takeaways From Swedish Death Cleaning That Will Inspire You To Declutter
Here are a few reasons why it's important to take the time to declutter now:
1. You'll be able to find what you need more easily
When your home is cluttered with too much stuff, it can be hard to find anything you need. But when it's decluttered, everything has a place and it's easy to put your hands on whatever you're looking for.
Decluttering can be very empowering – it's a way to take control of your life and your environment. When everything has its place, you'll feel more in charge and more organized.
Let's be honest, it does get more difficult to remember things when we're older. Make life easier on yourself by having less stuff to keep track of!
2. You can prepare for single-floor living
Once you've decluttered, you'll have more open space in your home — and that's a good thing! You'll be able to relax and not feel cramped or claustrophobic in your own living space.
If your goal is to age in place in your own home, you'll be well prepared to update your spaces as the years progress for comfortable single-floor living.
3. You'll create space for new opportunities
You may be considering the idea of downsizing to a smaller home. Or you may want to spend several years traveling before settling into a new home.
Anticipation of freedom to pursue a new, more intentional way of living is a powerful motivation. NOT having a lot of stuff makes it so much easier to take advantage of opportunities when they arise.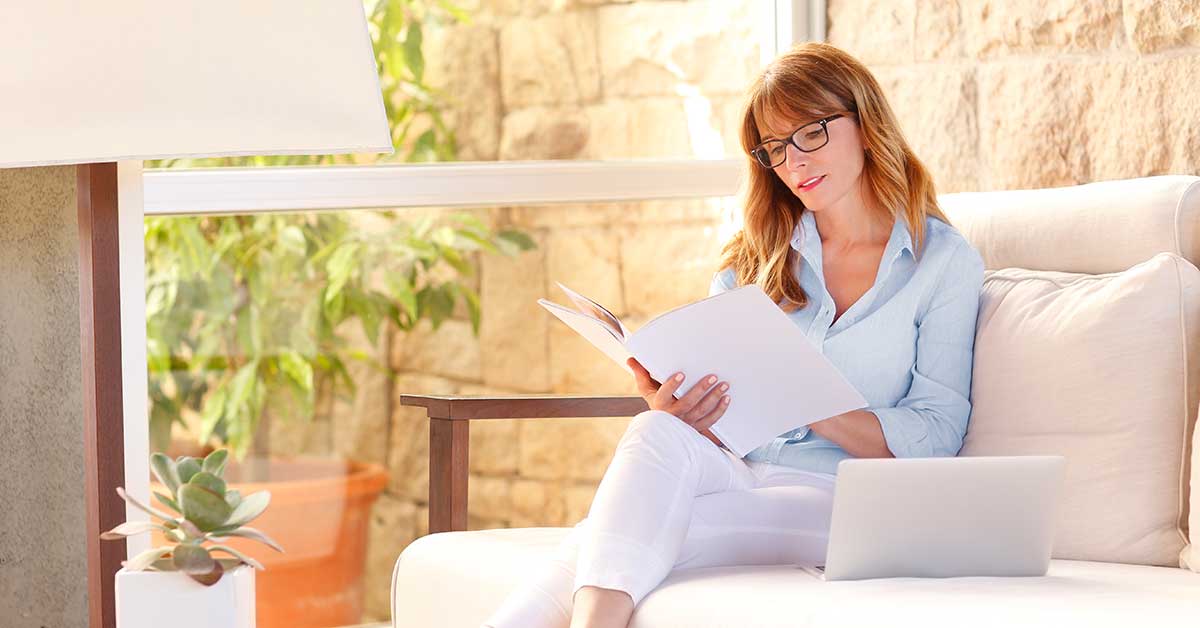 4. You can leave heirs a lighter load
If something happens to you, it will be much easier for your family members to handle your affairs if your home is decluttered. They won't have to deal with the burden of clearing your lifetime clutter and having to make decisions about what to do with everything.
You'll also ensure that they won't feel compelled to keep everything simply because you never took the time to get your house in order.
As we approach older age, it's a good time to reassess what's important to us and let go of anything that no longer serves us. Clearing out the old can make room for the new in our lives.
So if any of these reasons resonate with you, it's time to start decluttering!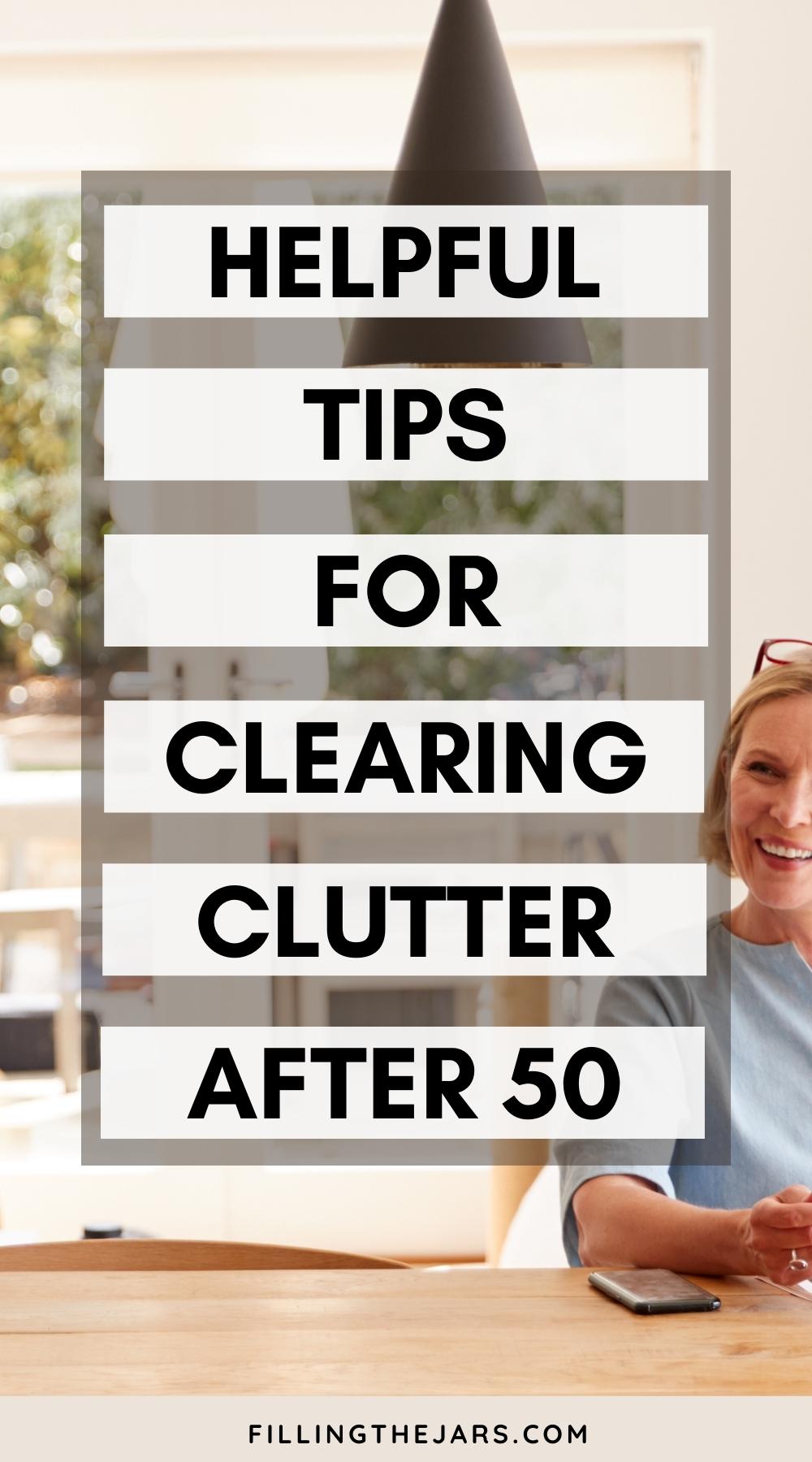 How To Declutter A Lifetime Of Stuff
When done properly, decluttering can reduce stress, clear out clutter, and make your home more functional and organized.
But with so many years of accumulated belongings, how do you choose what stays and what goes?
Follow these tips and you'll be well on your way to a clutter-free life after 50!
1. Get clear on your reasons for decluttering
In line with the benefits listed above, the first thing you should do is come up with your 'mission statement' for why you're decluttering.
Believe me, in the depths of the process, you're going to need the reminder!
2. Set your decluttering goals
Decide what you want to achieve with your decluttering project.
Do you want to simplify your life by getting rid of excess paperwork? Are you preparing to sell your home and downsize? Maybe you want to start over completely or become a minimalist?
It's your choice, but you need to decide what your objective is before you begin.
3. Make an action plan
Will you get rid of a certain number of items every day? Slow decluttering is great for the over-50 crowd, as it's a mess-free and stress-free way to purge clutter.
Don't just start sorting through your stuff and making piles without knowing what you're going to do with it. Have a plan for what will happen to each item you get rid of.
4. Start small
Don't try to tackle everything at once. Instead, focus on one small space or one category of belongings at a time.
My favorite way to declutter is to start with the easy things and do 10 minutes or 10 items at a time. This will help minimize the feeling of being overwhelmed and make the process less overwhelming.
Even if you have a houseful of clutter, you WILL make progress if you do this consistently every day.
5. Deal with the emotions
Women over 50 have a lifetime of memories and experiences to look back on. As we get older, it's natural to want to hold onto things that remind us of different times in our lives.
It's absolutely okay to feel the feelings that go along with dealing with all.the.stuff. But that doesn't mean we need to keep all.the.things!
You may want to read my post on decluttering sentimental items for specific help.
6. Stop holding onto everyone else's stuff
Even though decluttering your home might feel liberating, what should you do with all the stuff in your space that actually belongs to other people?
To be brutally honest, it's time to let go of anything that you're keeping for someone else. Maybe it's a piece of furniture that your grown child thinks they 'may' want someday or a set of dishes that your niece doesn't have room for.
Whatever the case may be, it's either time to give those items back to the owners or get rid of them. Your time as Keeper Of The Things has passed.
Oh, and what about your partner's stuff? Read this: 8 Strategies To Use When Your Partner Refuses to Declutter
7. Keep the items you actually want
Here's the thing… YOU get to decide what goes and what stays.
Make the decisions in line with your goals and decluttering mission statement, but you're absolutely allowed to keep the things you really want!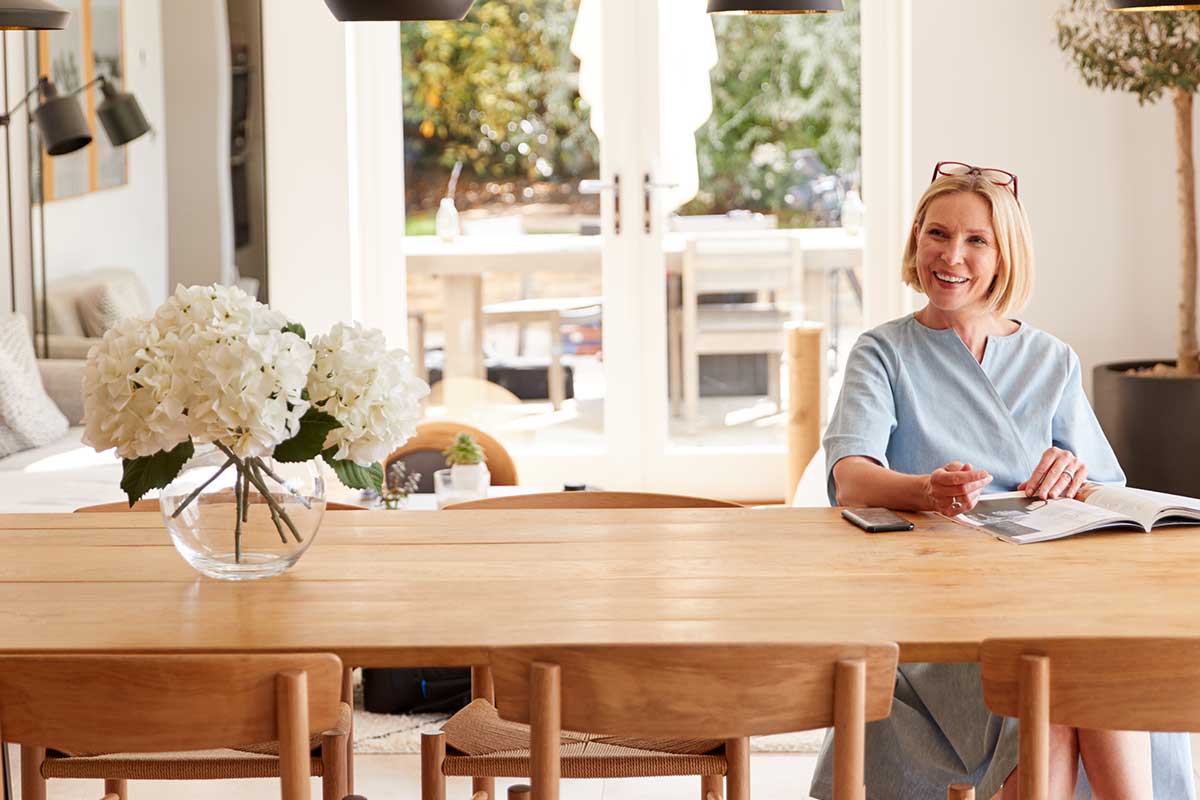 8. Get unwanted items out of the house
Donating is always a great option, especially if the item is still in good condition. There are numerous charities that would love to have your gently used — or 'vintage' — clothing, household items, and more.
Related: How to Declutter and Donate Your Stuff Without Regret
Selling your unwanted items is another option. This can be a way to declutter your home and make some extra money at the same time. Sites like Facebook Marketplace make it fairly easy to sell your belongings.
However, you will need to keep your personality in mind. If selling is overwhelming, choose a different option. You don't want to make this any more difficult than it needs to be!
Finally, if you don't want to donate or sell your items, you can recycle or trash them. Just be sure to dispose of them properly according to your local laws and your conscience.
9. Give yourself time to complete the project
Decluttering an entire house can be a lot of work, so don't try to hurry through it. Rushing can lead to mistakes and regret later on. Be thorough and make decisions that you're happy with.
Don't expect to finish decluttering in a day or even a week. It may take months to go through everything. But as long as you're making progress, that's the important thing.
Frequently Asked Questions About Decluttering After 50
These are some of the questions you may be asking yourself as you begin your decluttering journey.
1. Should I hire a professional?
As you declutter your home in your 50s, you may be wondering whether or not you should hire a professional organizer to assist you. There are pros and cons to both hiring a professional and doing it yourself, and the decision ultimately comes down to your personal preferences.
If you decide to go the DIY route, there are a few things you should keep in mind. The process will probably take a while. Do you have the patience to keep going even when decisions get difficult?
If you decide to hire a professional, be sure to interview several different candidates before making a decision. Find someone who will work with you, but gently push you to make the uncomfortable decisions in a timely manner.
2. Should I pass family heirlooms along to loved ones right now?
There are a couple of things you should take into consideration before making this decision.
First, do they actually WANT these things? Be brutally realistic here. Don't force your belongings onto your children or your younger siblings if they don't really want them or if they are only taking them out of guilt.
Second, do you still love and frequently use the items in question? If so, then keep those things and enjoy them.
With these things in mind, if you don't think you'll use an item in the next year and if you know someone who would appreciate it more than you, then it's probably time to pass it along.
3. Should I ask friends or family members for help?
Absolutely, especially if you need assistance with awkward or heavy items.
However, there is one caveat: Don't invite negativity into your home. If the only people available to assist you will make you feel guilty about your decisions or have you second-guessing yourself, just don't.
Instead, take things more slowly and call a professional when necessary.
More Decluttering And Organizing Inspiration
How To Organize Papers Without a Filing Cabinet: 5 Simple Solutions That Work
The Gentle Art of Swedish Death Cleaning – Margareta Magnusson
Declutter Your Life: 6 Things to Purge for More Intentional Living
The Life-Changing Magic of Tidying Up – Marie Kondō
7 Rules for Decluttering & How to Decide What to Keep
The Upside of Downsizing: Getting to Enough – Sara B. Hart PhD
Feeling Sad After Decluttering? It's a Real Thing… and Here's How to Deal With It
Next Steps…
After 50, your home may be stuffed to the gills with decades of memories. And while it's tempting to let the sentimental value of the excess stuff hold you back from decluttering, remember that your home is supposed to be a haven, not a museum.
While the process of decluttering can be lengthy, it's well worth the effort for the improved mental clarity, decreased stress, and easier mobility that comes with living in a more organized space.
Plus, once you get started, it's actually pretty therapeutic to let go of things you no longer need. So go ahead and give yourself permission to purge your home of clutter. You'll be glad you did.
Happy decluttering!
Sign up below to get a free quick-start mini declutter plan so you can begin tossing the clutter today!
---
Did you enjoy this post? Know someone else who might like it? Please take a moment to share on Pinterest, Facebook, or your favorite social media… (Click the sharing buttons at the bottom of the post.) Thank you!