You know that feeling when you're so over everything? You feel like the weight of the world is on your shoulders and there's no way out? Yeah, we've all been there.
During those times, it's important to remember that life doesn't have to be a constant struggle. Take some time for yourself today and read these take it slow quotes for when you need inspiration to stop stressing over every.single.thing and just relax.
When I read these quotes, I immediately knew they needed to be added to my collection of slow quotes. I hope you'll find inspiration in all of them.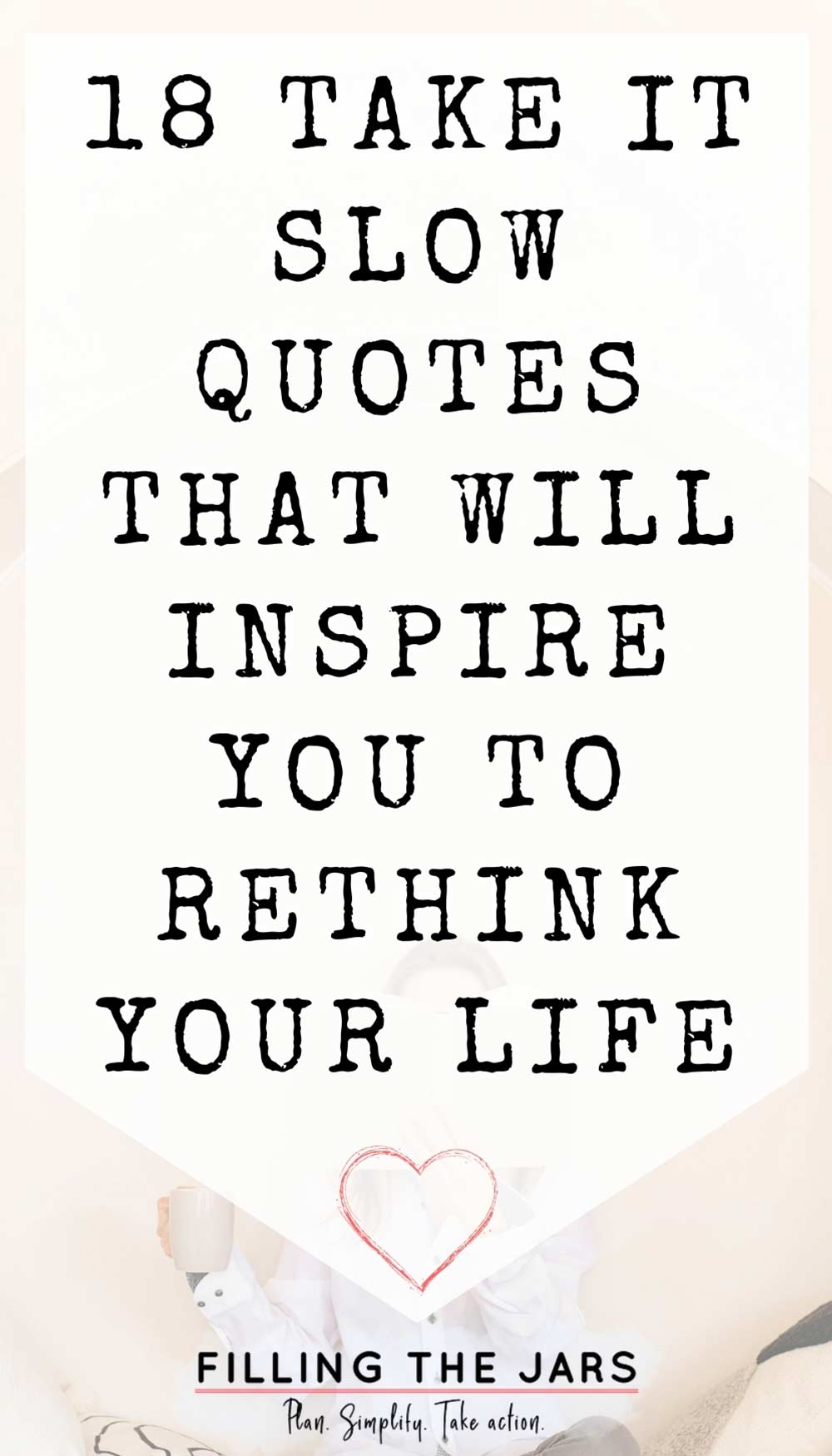 This post may contain affiliate links. If you choose to purchase through an affiliate link, I may receive a small commission at no additional cost to you. You can see my full disclaimer here.
What Does It Mean to Take It Slow?
Taking it slow is an aspiration for many. But do we ever achieve that? This is why you might need these take it slow quotes in your life.
I know how hard it is to intentionally slow down. We all have busy schedules. Commitments to keep. Places to be. And that's just the tip of the iceberg.
In a world that is traditionally fast-paced, how can you intentionally take it slow? Without letting any of those plates slip? It's possible, but what's more important is deciding which plates we really need to spin. 😉
Taking things slow doesn't always mean that the things which need to be done don't happen. In fact, it can be quite the opposite.
When we have too many plates spinning we can get overwhelmed in our minds. We start overthinking, we lose focus, and things can feel chaotic.
When you intentionally take it slow, you are allowing yourself to take a breath… to think about what is needed and to make informed choices without your overwhelmed brain spiraling out of control.
When you take it slow, you feel more content and happier in yourself. Meaning, you are likely more motivated and energized to do the things that NEED to be done (and honestly, that list probably isn't as long as you think) along with the things you want to do.
Why should you take it slow?
Your mind is clearer when it comes to making decisions
You appreciate what you are committed to
You can choose to do the things that are needed as well as what you want to do
You feel more confident in your ability
A sense of calm will come over you
You feel more in control
Sounds good, doesn't it? Are you ready to take it slow?
Taking It Slow Quotes
"Don't be afraid of taking the slow lane in life. It brings more happiness."
— Jennifer West
"Don't let the fear of the time it will take to accomplish something stand in the way of your doing it. The time will pass anyway; we might just as well put that passing time to the best possible use."
— Earl Nightingale
---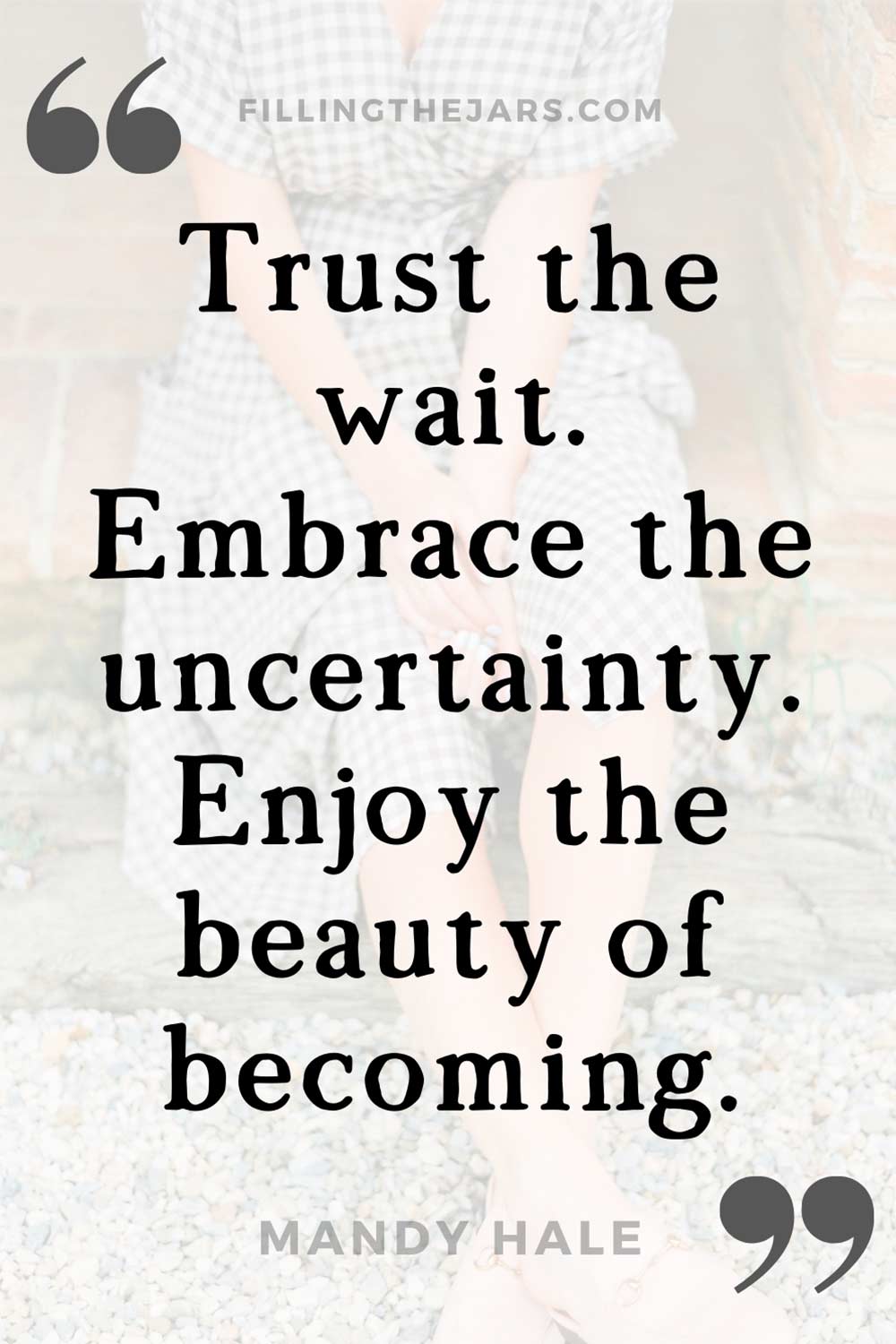 "Trust the wait. Embrace the uncertainty. Enjoy the beauty of becoming."
— Mandy Hale
"Never rush to be the first. Slow down and be your best. Life is not a race. It's a playground to radiate your uniqueness."
— Hiral Nagda
"If people just took it a day at a time, they'd be a lot happier."
— Richard Bachman (Stephen King's pen name)
---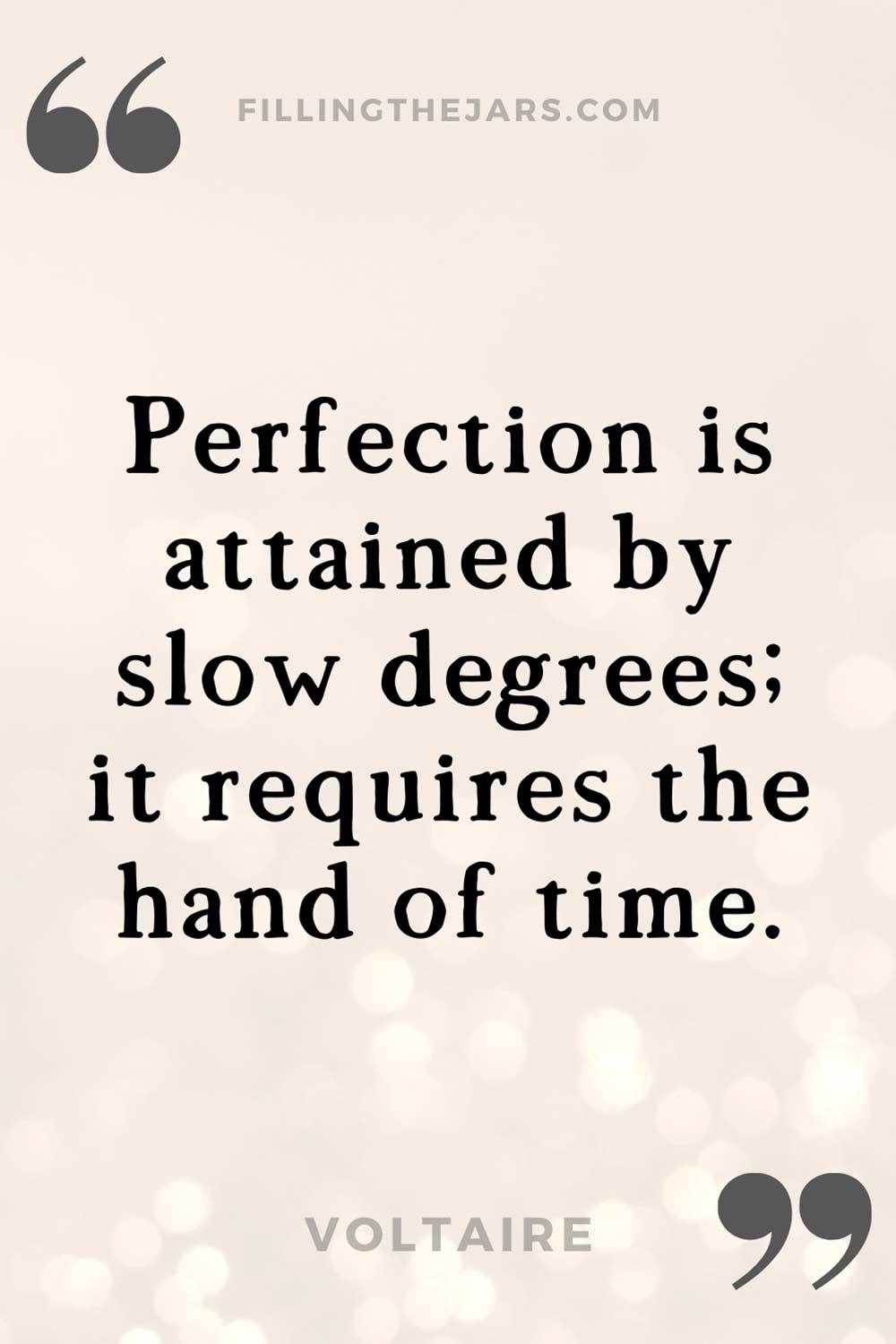 "Perfection is attained by slow degrees; it requires the hand of time."
— Voltaire
"Take a step back, evaluate what is important, and enjoy life."
— Teri Garr
"Life moves pretty fast. If you don't stop and look around once in a while, you could miss it."
— Ferris Bueller
---
"Take it slow."
"Take your time getting dressed this morning; read a book, make yourself some breakfast. The world can wait."
— Whitney Nobis
"It's better to go slow in the right direction than to go fast in the wrong direction."
— Simon Sinek
---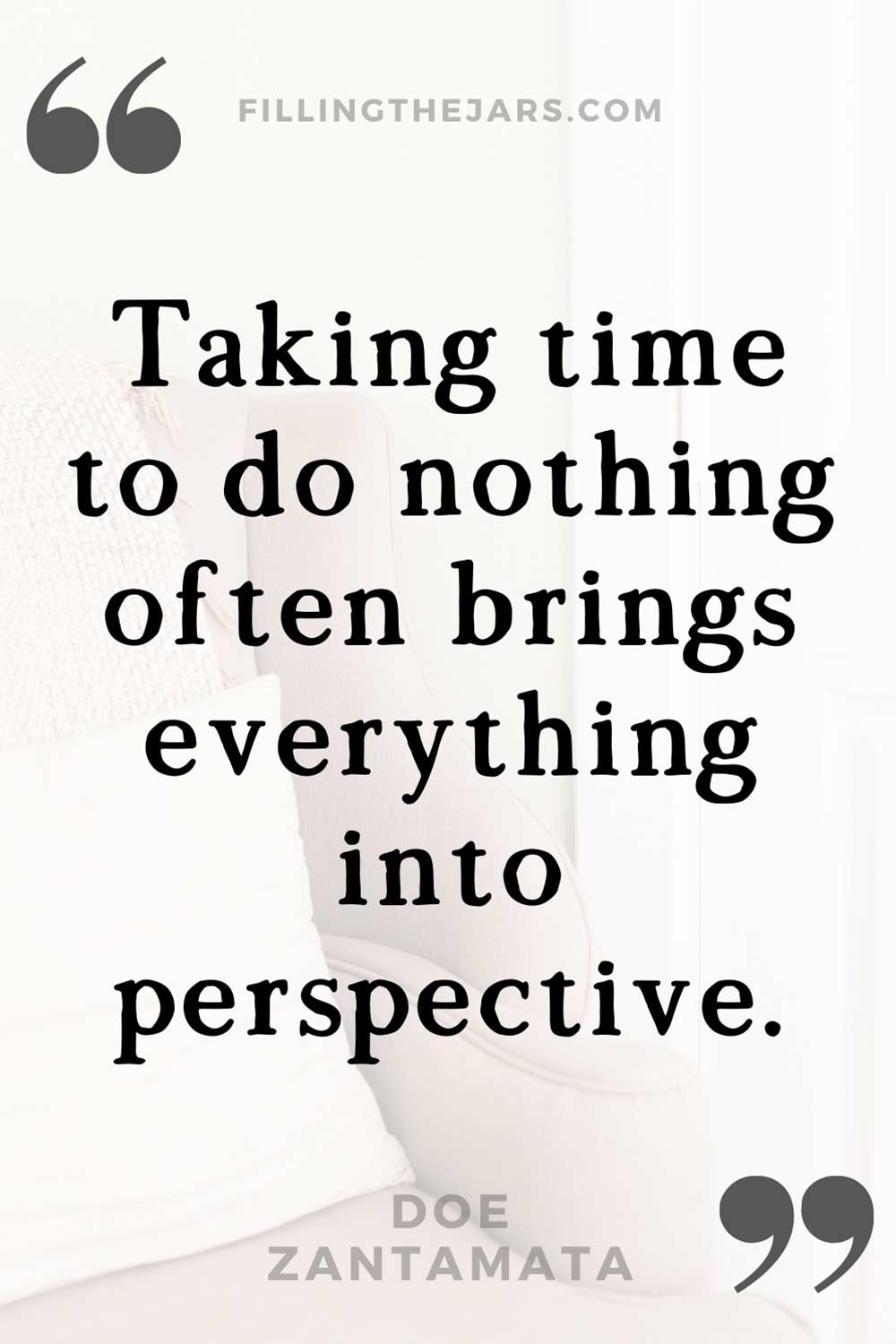 "Taking time to do nothing often brings everything into perspective."
— Doe Zantamata
"One thing at a time, all things in succession. That which grows fast withers as rapidly; and that which grows slow endures."
— Josiah Gilbert Holland
"If you will only pause, as you hurry through your days, take a minute to look at passersby, beyond cursory skin-deep analysis, all the way into their eyes, what beauty you might find woven from the life threads there."
— Ellen Hopkins, Perfect
---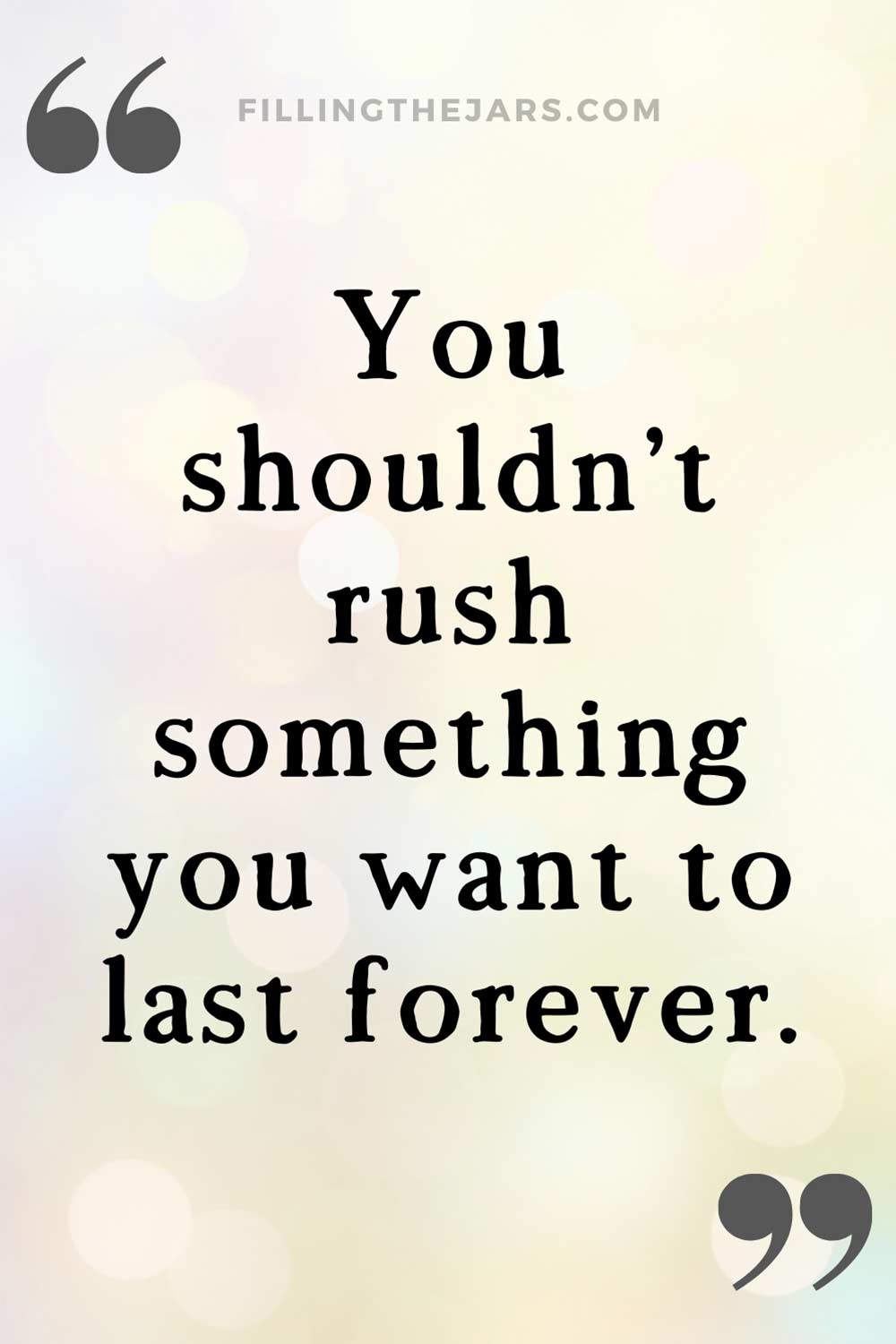 "You shouldn't rush something you want to last forever."
"I wanted to live how I really wanted, even if that meant turning against what everyone I knew was doing. I didn't want to be close to the action or save on rent by sharing space anymore. I wanted to live somewhere with quiet views of the mountains, surrounded by nature and with plenty of time to sit, read, write and think."
— Lucy Fuggle
"Less mindless hustle;
More mindful magic."
"It always pays to dwell slowly on the beautiful things – the more beautiful the more slowly."
— Atticus
How to implement take it slow quotes to help you achieve your goals?
There is no doubt in my mind that many of you will want to take it slow at some point. You may even be at a particular stage of life where you want to make slow living a priority. I get it! 
As with any change in life, you need to be resolved, consistent, and take actionable steps to help yourself. This is where quotes about taking it slow can serve as a reminder of what you want in your life.
If you want to use these quotes as part of your daily routine, then here are some of the best ways that you encourage yourself to make those changes and take it slow.
Try using them during meditation
Many people turn to things like meditation when they are wanting to calm a busy mind. These taking it slow quotes are perfect mantras for when practicing meditation. They will serve as a reminder to slow down, take a breath, and consider all of your options.
Say the quotes in your mind that resonate the most as you breathe in and exhale. 
Use them as daily affirmations
A great way to make something an intention is to use them as daily affirmations. In the morning, you can say the quotes that have resonated with you while you are washing your face, brushing your hair, or getting ready for the day.
Look at yourself in the mirror and say them out loud with belief and faith that you can take it slow. 
Write down the quotes you have taken a shine to and them keep them close. Put the pieces of paper in your wallet or purse.
You could even set reminders in your phone where you will be greeted with them when you look at it. 
Put them where you can see them
Another great way to remind yourself to take it slow would be to place these quotes where you can see them.
Put them on your refrigerator door or dressing table mirror… somewhere you go daily that will remind you of the purpose and intention you want for your life. 
Finally, make sure when you are repeating these quotes that you say them with intention and belief. This is something you want. A change you are determined to make.
More Inspiration and Resources for Taking It Slow
12 Timely Slow Living Quotes to Revitalize Your Intentional Living Goals
The Joy of Missing Out: Live More by Doing Less – Tanya Dalton
25 Insightful Quotes About Decluttering the Mind
How to Master the Art of Quiet Time Off – Always Well Within
Quiet: The Power of Introverts in a World That Can't Stop Talking – Susan Cain
12 Slow And Steady Quotes to Keep You Grounded
Is taking it slow the right approach for you?
I am a strong believer in slow progress toward achieving intentional goals. When things happen too quickly, they are sometimes unsustainable.
Take your time, give your mind space to think… and yourself time to breathe. You will be thankful for it as you Build Your Best Life.
You've got this!
---
Did you enjoy this post? Know someone else who might like it? Please take a moment to share on Pinterest, Facebook, or your favorite social media… (Click the sharing buttons at the bottom of the post.) Thank you!