Sometimes we all need a push to help us get motivated and moving in the right direction. If you have fallen into the trap of being lazy more often than not, then these stop being lazy quotes may be just what you need to get you up off the couch and back on track.
Or, maybe you don't have a problem with being lazy, but you could use some motivation in another area of your life. Check out these motivational quotes to provide some thoughtful inspiration that will help you add more positivity and intention to your daily life.
This post may contain affiliate links. If you choose to purchase through an affiliate link, I may receive a small commission at no additional cost to you. You can see my full disclaimer here.
How These Quotes Will Inspire You to Stop Being Lazy
If you really take the time to process these quotes about stopping your lazy habits, you'll be able to narrow your focus and pinpoint where you can make a change and start taking action in your life.
Life really is short. No matter how long you live, you don't want to look back and remember all of the time that you wasted being lazy. It is possible to stop being lazy, but the only one who can make you do it is you.
When you find yourself with a full to-do list, but you're lacking the motivation to get any of those tasks done, take a moment to read through a few of these stop being lazy quotes for the inspiration to get up and get to work.
Motivational Quotes to Stop Being Lazy
"Laziness is nothing more than the habit of resting before you get tired."
— Jules Renard
---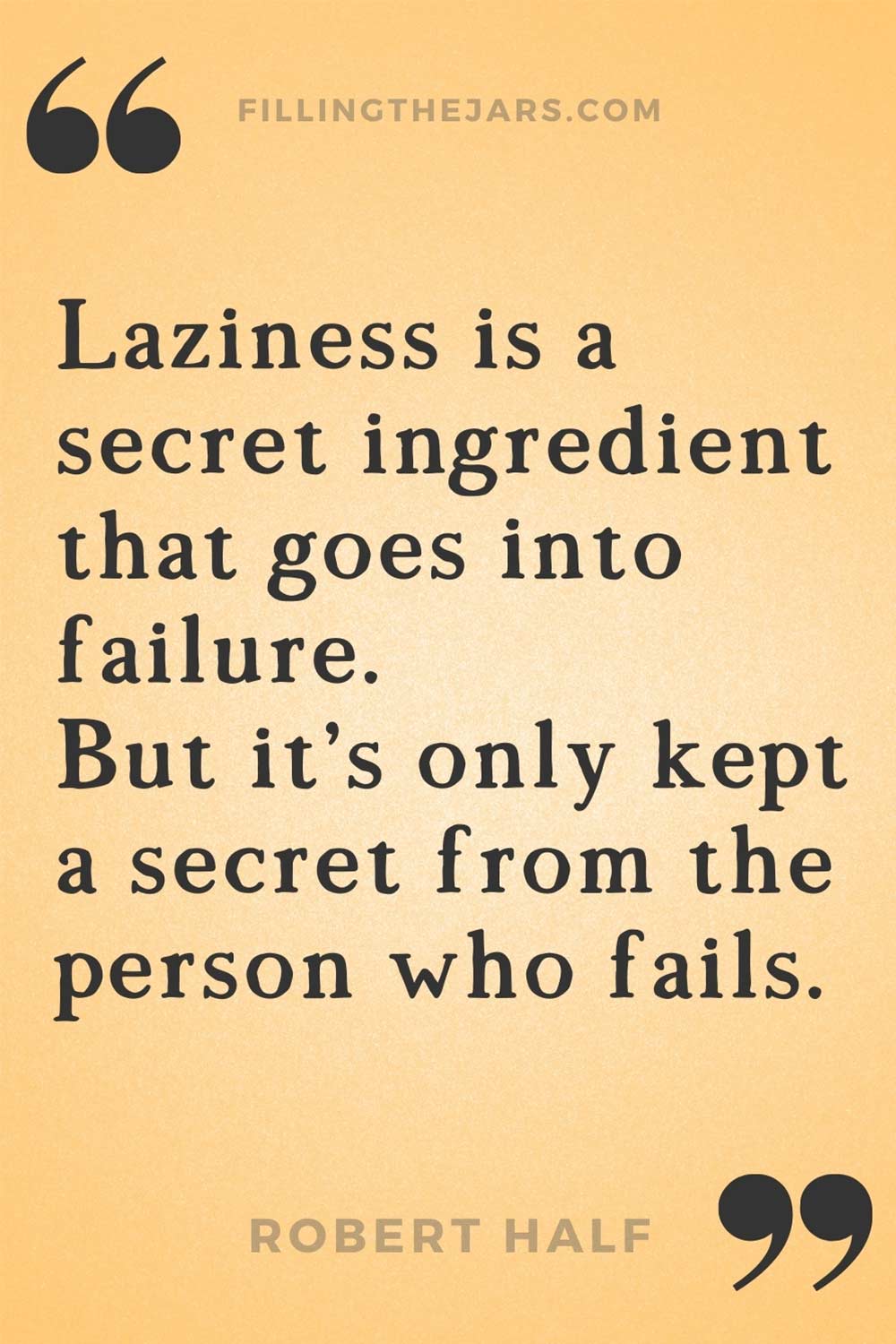 "Laziness is a secret ingredient that goes into failure. But it's only kept a secret from the person who fails."
— Robert Half
"You are only as lazy or lacking in willpower as you think you are."
— Ken Christian
"Lazy people tend not to take chances, but express themselves by tearing down other's work."
— Ann Rule
"The only time a lazy man ever succeeds is when he tries to do nothing."
— Evan Esar
"Maturity is when you stop complaining and making excuses in your life; you realize everything that happens in life is a result of the previous choice you've made and start making new choices to change your life."
— Roy T. Bennett
---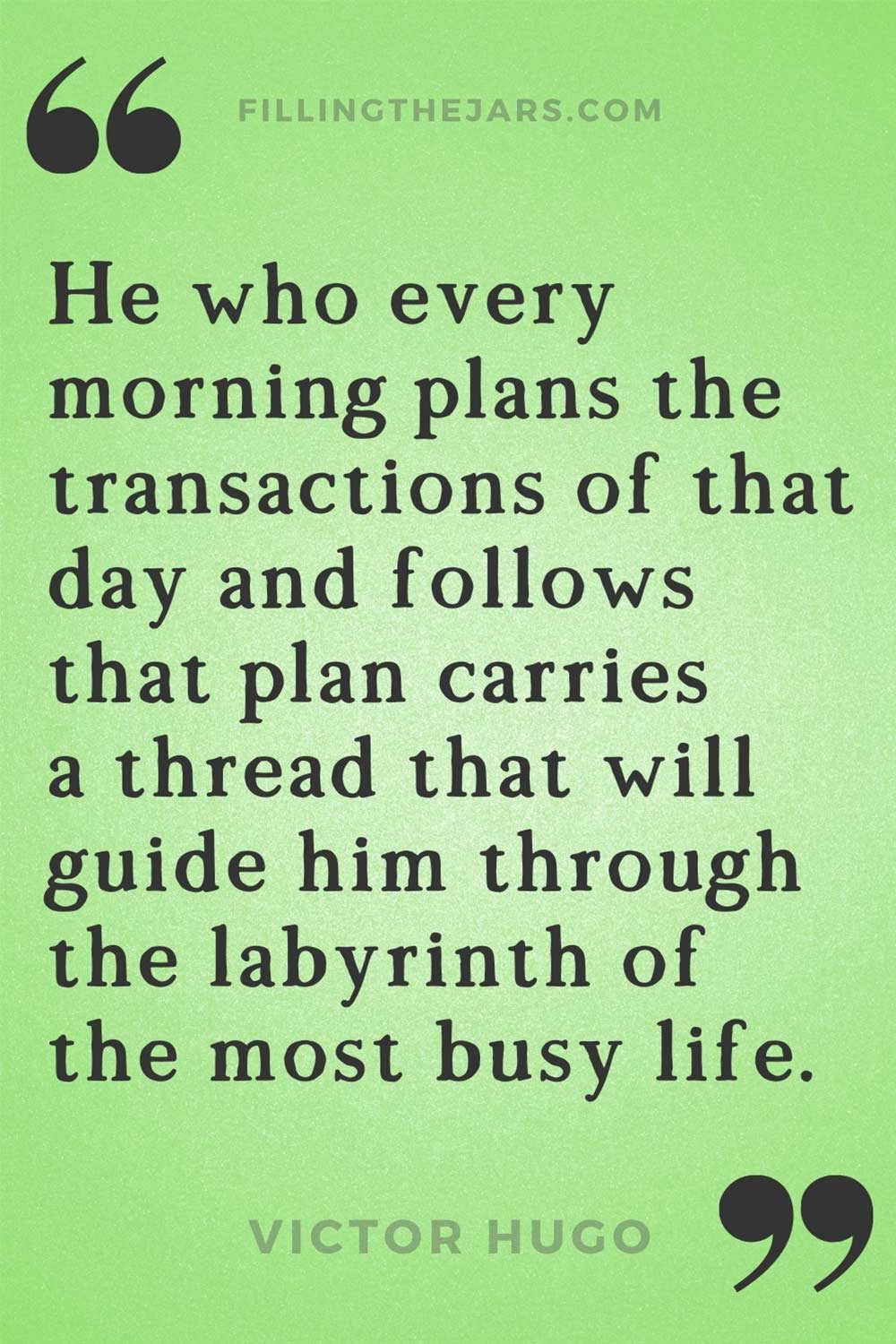 "He who every morning plans the transactions of that day and follows that plan carries a thread that will guide him through the labyrinth of the most busy life."
— Victor Hugo
"The really happy people are those who have broken the chains of procrastination, those who find satisfaction in doing the job at hand. They're full of eagerness, zest, productivity. You can be, too."
— Norman Vincent Peale
"You can have the results you want, or you can have excuses. You can't have both."
— Clyde Lee Dennis
"If you are going to quit anything, quit being lazy, quit making excuses and quit waiting for the right time."
— unknown
Stop Being Lazy and Wasting Time Quotes
"Time slips away like grains of sand never to return again."
— Robin Sharma
"Time is free, but it's priceless. You can't own it, but you can use it. You can't keep it, but you can spend it. Once you've lost it you can never get it back."
— Harvey Mackay
---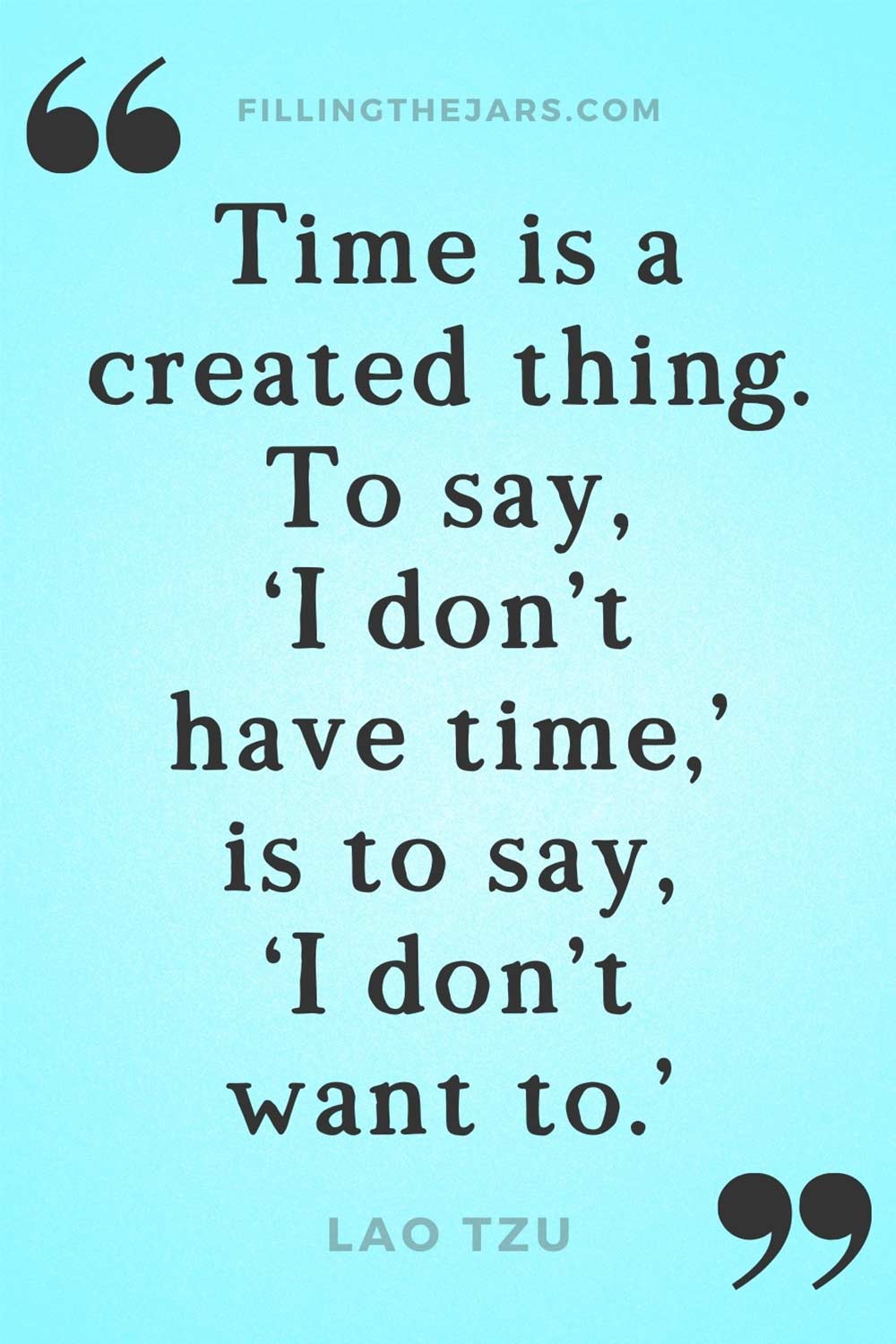 "Time is a created thing. To say, 'I don't have time,' is to say, 'I don't want to.'"
— Lao Tzu
"My advice is to never do tomorrow what you can do today. Procrastination is the thief of time."
— Charles Dickens
"If you love life, don't waste time, for time is what life is made up of."
— Bruce Lee
"When there is a hill to climb, don't think that waiting will make it smaller."
— unknown
---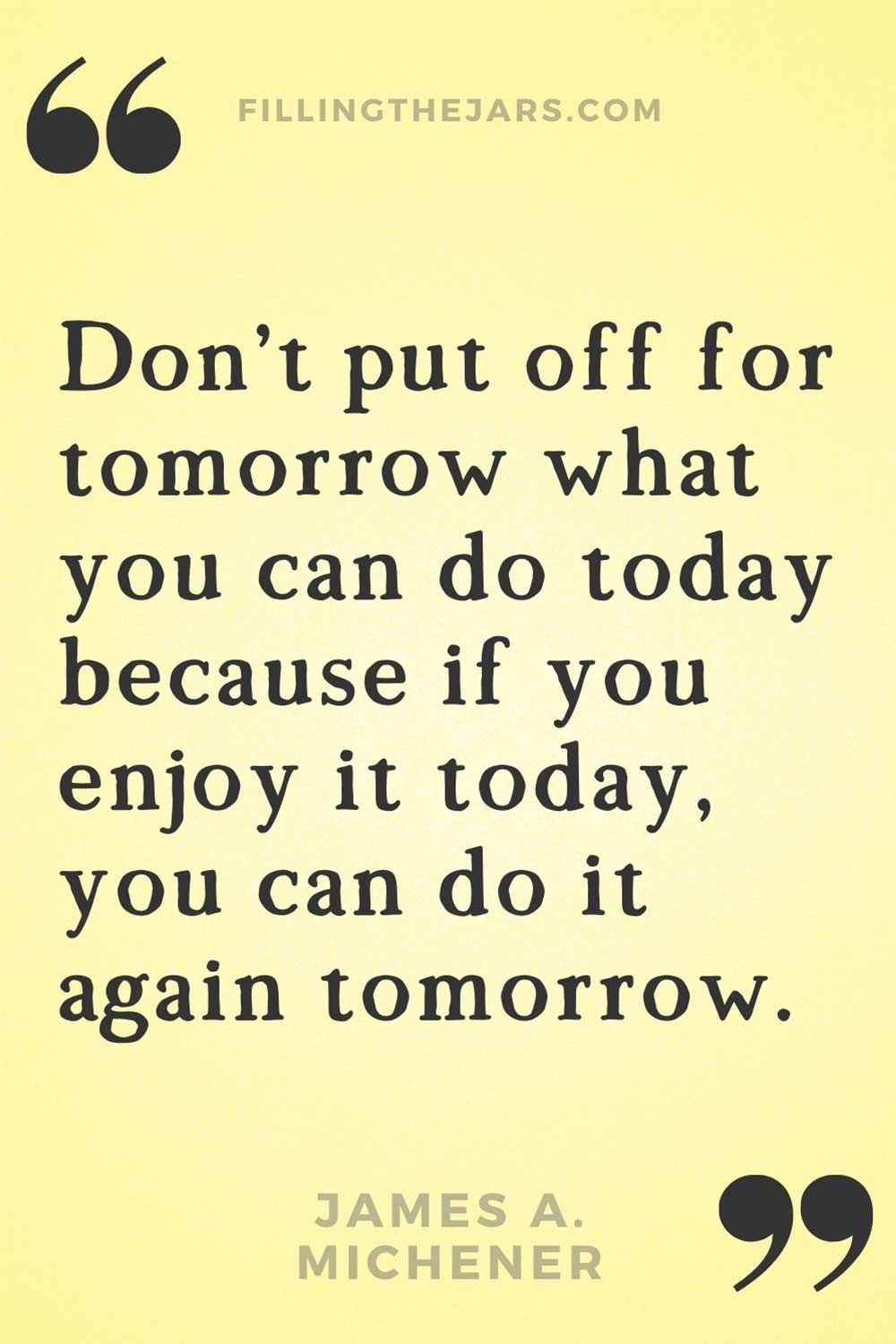 "Don't put off for tomorrow what you can do today because if you enjoy it today, you can do it again tomorrow."
— James A. Michener
"You cannot escape the responsibility of tomorrow by evading it today."
— Abraham Lincoln
"We must be diligent today. To wait until tomorrow is too late. Death comes unexpectedly. How can we bargain with it?"
— Buddha
Great Resources to Defeat Laziness
How To Stop Being Lazy At Home: 5 Ideas to Keep You On Track
How to Plan Your Day to Get Things Done
24 Intentional Living Quotes to Inspire Your Best Life
Your Own Worst Enemy: Breaking the Habit of Adult Underachievement – Ken Christian
6 Powerful Life Hacks You Need to Stop Being Lazy
The ONE FOCUS Method: A Step-by-Step Guide to Transform Yourself From Overwhelmed to Accomplished
Using These Quotes as Motivation for Lazy People
Read through these stop being lazy quotes anytime you feel yourself lacking the motivation to drag yourself up off the couch, or when you have a big project that you just keep putting off until tomorrow.
You may find it helpful to jot down all of the tasks that you need to compete for the day. Not only can this keep you on task, but you can also see how much you have accomplished throughout the day. I mean, who doesn't love crossing things off a list?
You might like using something very simple like this planner notepad with a to-do list. Or, if you prefer something with a harder cover that you can take with you in your purse, you might like this spiral-bound planner notebook. Treat yourself to some colorful gel pens and make your to-do list beautiful… or at least more fun to write out!
Consider adding one of the stop being lazy quotes to the top of each page to help keep you motivated and on task.
If there is one task on your to-do list that you dislike more than others, go ahead and get it out of the way first. That way the worst is behind you and you're motivated to keep working through your list after you see that least-enjoyed task marked off.
Stop being lazy and allow yourself to feel the weight lifted off your shoulders by knowing that you have accomplished your tasks with a job well done.
Once you have completed your to-do list, you can certainly climb back on the couch to relax… just make sure you don't get stuck there for too long. 😉
You've got this!
---
Did you enjoy this post? Know someone else who might like it? Please take a moment to share on Pinterest, Facebook, or your favorite social media… (Click the sharing buttons at the bottom of the post.) Thank you!