Okay, so you know you still have a clutter issue. And you're working on that, which is awesome! But in the meantime, you REALLY need some ideas for how to make your house look less cluttered. Here are six simple things you can do that will make a big difference!
Note: This post is NOT about hiding mountains of clutter. It's also NOT about doing a super-fast house purge. (For common-sense decluttering, check out my declutter tips to help you get the job done.) Rather, it's more like basic ways to make spaces look better even with some clutter remaining here and there.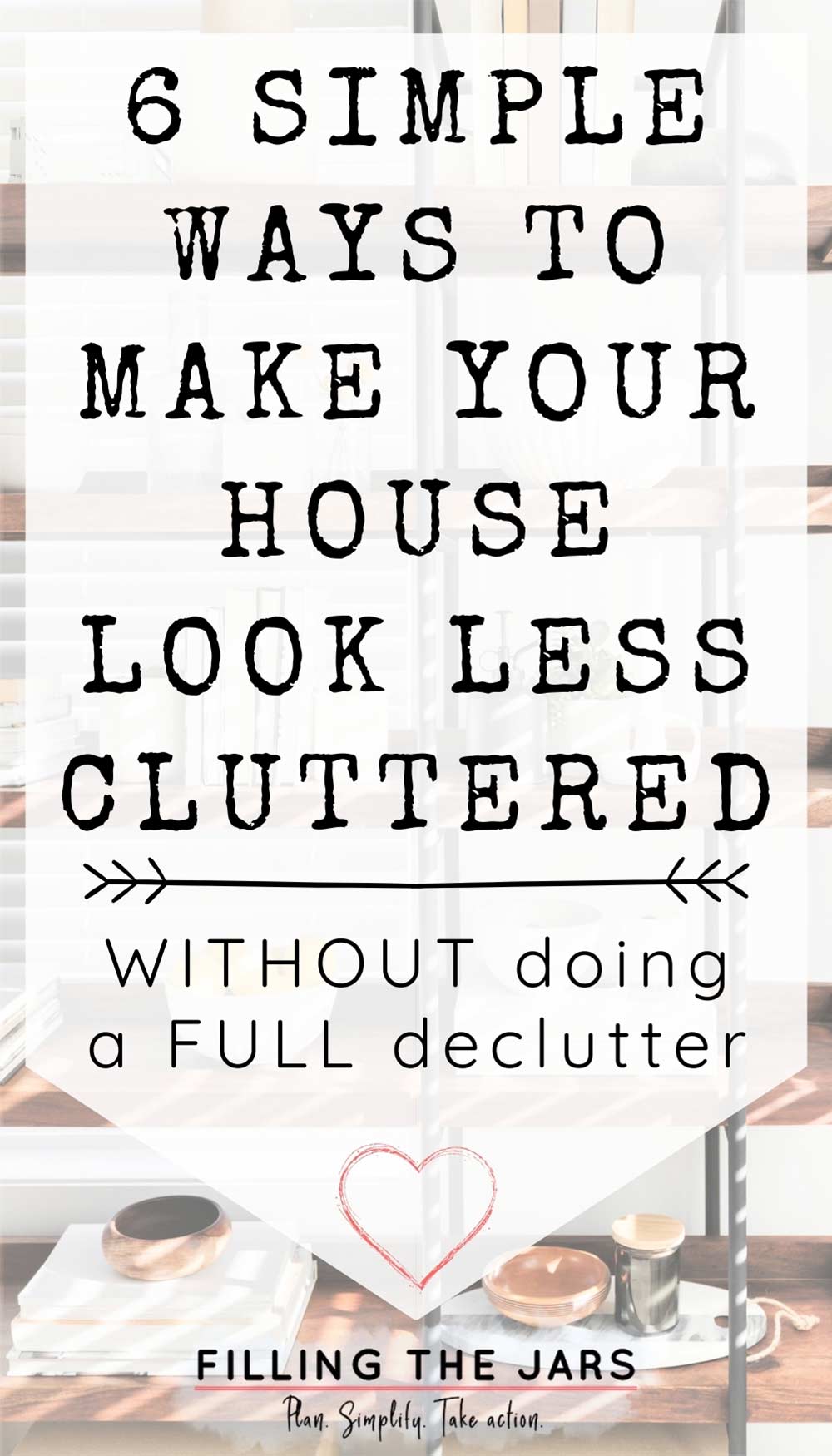 This post may contain affiliate links. If you choose to purchase through an affiliate link, I may receive a small commission at no additional cost to you. You can see my full disclaimer here.
Things That Make Your House Look Cluttered
Have you ever heard the term visual clutter? Often, visual clutter is what's keeping your home from feeling spacious, peaceful, and organized. There are lots of 'extra' things that can make your home look and feel cluttered — some of which you know are clutter, others you might not even think about. But those things are still there…
Too many pillows on the couch
Too many pictures hanging from the walls
Overstuffed bookcases
Items without a home that just get left out lying around
Piles of laundry
Too many knick-knacks
Baskets filled with mail or paperwork
Counters filled with items
Clutter on the refrigerator door
Trash
Empty boxes
Donations waiting to be dropped off
And, well… the rest of the 'original' clutter that you've been working to get rid of. If you haven't completed a full declutter, you're going to have this. The trick is to make it less 'in your face' while you finish working through the decluttering process.
How to Make Your House Look Less Cluttered
Now that you know what types of items might be making your home look and feel more cluttered, let's talk about what you can do to fix it. This isn't a complete fix, but things will definitely look BETTER. 😉
1. Take care of the laundry
Have you ever noticed that you can make any room look instantly bigger, simply by putting away the laundry? It's true, you can!
That big pile of laundry spread out on the couch or your bed draws your eye to it the second you step into the room. So do yourself a favor and get that laundry put away!
2. Rethink knick-knacks and artwork
Do you have shelves covered with knick-knacks? Consider reducing the size of your collection. Or, if you can't bear to part with any of them, display them in rotation so they aren't all out at once. 
Likewise, too many pictures or pieces of art covering the walls can make your room look small and busy, which makes it feel cluttered. Open spots on the walls make the room look and feel bigger and more organized.
3. Clear the counters
Kitchen countertops make easy places to store items like blenders, mixers, spices, and toasters. However, they don't leave you much space to work in, and they can make your kitchen look cluttered. 
Consider placing these items in a cabinet or pantry and free up some of your counter space. You'll be surprised at how much easier cleaning is in the kitchen also!
4. Reclaim the refrigerator doors
The kitchen is often the heart of the home and as such our refrigerators can become the final resting place of schedules, meal plans, kid's artwork, recipes, and receipts. This can make the kitchen look cluttered and feel very busy.
Your kitchen will look much more streamlined if you only keep a few items on your refrigerator — such as this week's meal plan and your grocery list. Turn the doors into a simple refrigerator command center and find a new spot for everything else. 
5. Drop off the donations
Do you have donations that you have been meaning to drop off taking up space in your living room or bedroom? These can make your space look cluttered, and they clutter your mind because they are unfinished business. Make the time to drop those donations off so that they aren't in your way.
You can also have a set area in your home where all of your family members know to place items to be donated. When the box is full drop it off or arrange to have it picked up. Here's my list of where to donate your stuff after decluttering.
6. Corral the paper
What about paper clutter? Do you have piles of bills, mail, and other paper clutter that just seem to get bigger by the day? Don't let paper clutter take over your countertops or dining room table. Here are the paper organizing tools you need to manage paper clutter in your home.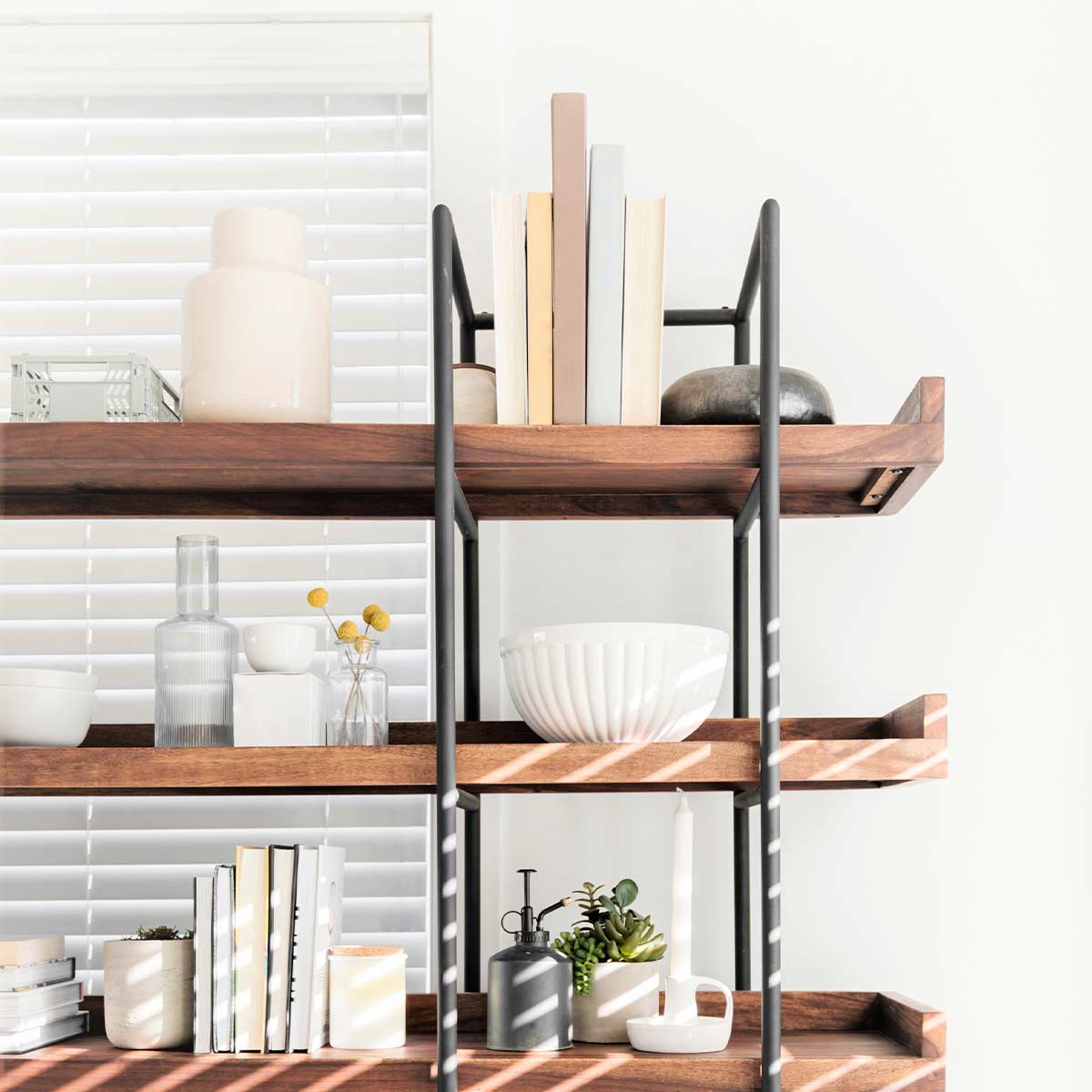 How to Make a Cluttered Room Look Nice
Now that you know which items are making your place look clutter-y, let's talk about some tips and simple decorating tricks that you can use to make your still-kinda-cluttered room look nice.
Coordinate storage
Baskets are a great way to help keep your home looking organized and less cluttered. However, if you have too many of them or if they are mismatched they can actually make things look worse.
Try to get matching baskets or containers, or find a way to make them all look uniform by painting or covering them in fabric.
Enlarge the windows
Hang your curtains high and wide instead of hanging them at the top corners of the window frame. 
What does this mean, you ask? Hang the curtains closer to the ceiling than the window frame, and wider than the frame itself.
That way, when the curtains are open, you can see the entire width of the window view. This will make the windows and the room look bigger than they actually are.
Neaten cords and cables
Be sure to take care of your electrical cords so they don't become a distracting visual mess. They can be zip-tied together and kept behind furniture, tucked under rugs, threaded through self-adhesive hooks, or even hidden behind baseboards.
And for the mess that happens when everything gets plugged into a power strip? Try this nifty cable management box to contain the cords and make everything look neat and tidy.
Routers and charging stations can be discreetly hidden in boxes or baskets to keep them from drawing your eye's attention to them.
You can find more tips for hiding cords and cables in this post. 
Add more light
Most people think that the overhead light fixtures in their room will provide plenty of light for the space. Adding some additional lighting to a room will draw the eyes to its source and naturally make the room seem larger than it really is.
Another trick to making a room look bigger is to hang a mirror across the room from a window so the light reflects in it. This will also make a cluttered room look 'finished' and feel more spacious.
Finish decluttering
You know this is the most important thing, but I had to say it anyway. 😉
More Decluttering and Organizing Tips
How to Get Motivated to Clean and Declutter: 7 Tips
Storage Ideas For Clutter: 8 Dynamite Ways to Organize the 'Must-Keep' Stuff
How a Decluttering Schedule Will Help You Conquer the Mess
Stop Making These 14 Excuses to Avoid Decluttering Clothes
Next Step: Get to Work
Now it's time to look at your home with these new ideas in mind. What steps can you take today?
The great thing about these steps to make your house look less cluttered is that none of them are very time consuming. You can easily accomplish all of them in a weekend or in 30-minute bursts throughout the week.
Do you have any additional tips to share for making a cluttered home look nice, or how to make your house look less cluttered?
---
Did you enjoy this post? Know someone else who might like it? Please take a moment to share on Pinterest, Facebook, or your favorite social media… (Click the sharing buttons at the bottom of the post.) Thank you!