IN THIS POST: To really get you into the autumn spirit, here are 31 October daily journal writing prompts for adults. These free printable writing prompts are a great way to spark inspiration for your daily journaling habit.
You'll notice most of these are one word journal prompts. I love using them because often the words have more than one meaning. With that prompt, I can let my mind roam free in any direction. This is especially useful when I wake up early in the morning to write 500 words.
I don't know about you, but I'm often surprised by what ends up on the page after a daily journaling session. That's why I love single word prompts, and why I love to create lists of them for my fellow journalers.

I like to think of these as creative writing prompts for adults. We don't always need a deep question.

And of course, since we're in the middle of autumn, you'll find most of the words relate to that theme. On the surface, anyway. Look a little deeper, and they could have many more meanings.

How will you use these journal prompts? To spark daily reflection? The basis for a short story? Maybe an essay about your life?
Let me know your favorite way to use one word journal prompts!

Free printable >> 31 October Journal Writing Prompts << #amjournaling #writingprompts #journalprompts
Click To Tweet
This post may contain affiliate links. If you choose to purchase through an affiliate link, I may receive a small commission at no additional cost to you. You can see my full disclaimer here.
Why Use Printable Daily Journal Writing Prompts?
Couldn't you just look at them online?

Yes, of course you could. But I'll share a little secret… journaling works best when you keep it mostly offline. Even just 'taking a minute' to look for a prompt each morning leads to distractions.

Printing out your list of daily journal promts is one trick to try if you've attempted to journal in the past and failed. Keep your list with your notebook.

There's something about the feel of the paper, marking off the prompts with a pen after I write about them, and having that list next to me while I'm writing… I just love it. How about you?

October One Word Journal Prompts
Okay, so that's not completely accurate. 😉 Two of the prompts have two words, but they are a single phrase… and you could just use one of the words if you really want to stick with 'single word' for the entire month. It's okay, I won't be offended. 😉

Crisp
Humility
Latte
Harvest
Burn
Pumpkin spice
Beyond
Drip
Full moon
Color tour
Apple
Riot
Pause
Donut
Chill
Homecoming
Glow
Stalk
Rest
Confidence
Bonfire
Fall
Natural
Gaze
Prepare
Spook
Champion
Web
Carving
Appear
Creep

Click the image below to have the printable PDF prompt list sent right to your email box >>
How to Begin a Daily Journaling Routine?
If you've never been a 'journaler' and you landed upon this post by chance, you're probably wondering how to begin.

Do you need a special journal, special pens, artistic ability?

Nope! You can write in a regular notebook with any writing instrument you like. You don't have to draw anything in your journal, although some people find doodling helps their mind work when they are stuck for words.

You can even type your journal entries on your computer in a google doc or word doc.

The most important thing is to begin. Spend about 15 in a quiet space and let the words flow.
And then continue. Every day is ideal. Fifteen minutes in the morning or evening will work wonders.

More Journaling Ideas
22 Fantastic Gratitude Journal Prompts You Need Today — Filling the Jars

How to Turn a Composition Notebook into a Stylish DIY Journal — Page Flutter

30 Printable Journal Jar Prompts to Inspire Reflection — Filling the Jars

Journal Writing: A Short Course — The Center for Journal Therapy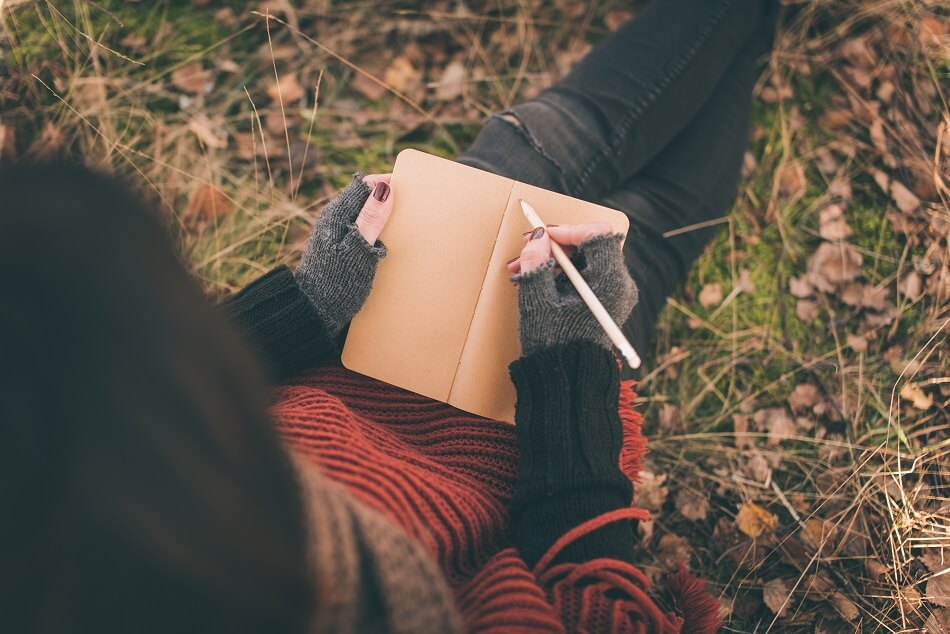 Beautiful Journaling Tools
As I mentioned before, you don't need any special items for using daily journal prompts. But if you do want to 'fancy up' your journal with a special notebook and pens, here are some recommendations:

Frixion erasable pens — I absolutely love these! I find the stick-style pens seem to write more smoothly than the larger refillable style.
Prefer to write with a non-erasable pen? I like the smooth flow of the Pilot G2 in size .7 — not too fine to skip when writing, but not too bold or messy.

I've come to appreciate notebooks with hard covers, thick paper, and no spiral binding. 😉 So much easier to write in. Try this notebook with a pen loop or this journal available in several pretty cover patterns — scroll down to see more covers.

Concluding Thoughts on Using Journal Prompts
Don't overthink journaling or feel that you have to write the perfect journal entry every single day.

Some days it may seem like your entries are disjointed, but that's okay!
There's no wrong way to journal. Just start writing. Let your thoughts flow.
I'm usually surprised by the feelings and thoughts that end up on the paper. The quickly-filled blank page holds possibilities, dreams, hopes, frustrations… and solutions.
You will be amazed at how you feel throughout the day after even a short journaling session.

Every day of journaling can be different. Keep it fun, cathartic, interesting… and regular.
Whether your journal turns into a diary, a work of fiction, a memoir, or a training manual for life, your mind will appreciate the relief of having another place to hold all the thoughts and 'stuff.'
Sign up below to get your free October daily journal prompts printable PDF. Then… start writing!

---
Did you enjoy this post? Have friends who would enjoy it? Please take a moment to share on Pinterest or your favorite social media channel… thank you!