Is establishing a daily writing habit on your 'must-do' or 'want-to-try' list for June? As summer explodes upon our senses, these one-word June journal prompts can help you capture the essence of the season. Use these daily writing prompts as an easy way to discover your creative spark.
Looking for even more journal topics? I've got links to over a thousand journal writing prompts just for you!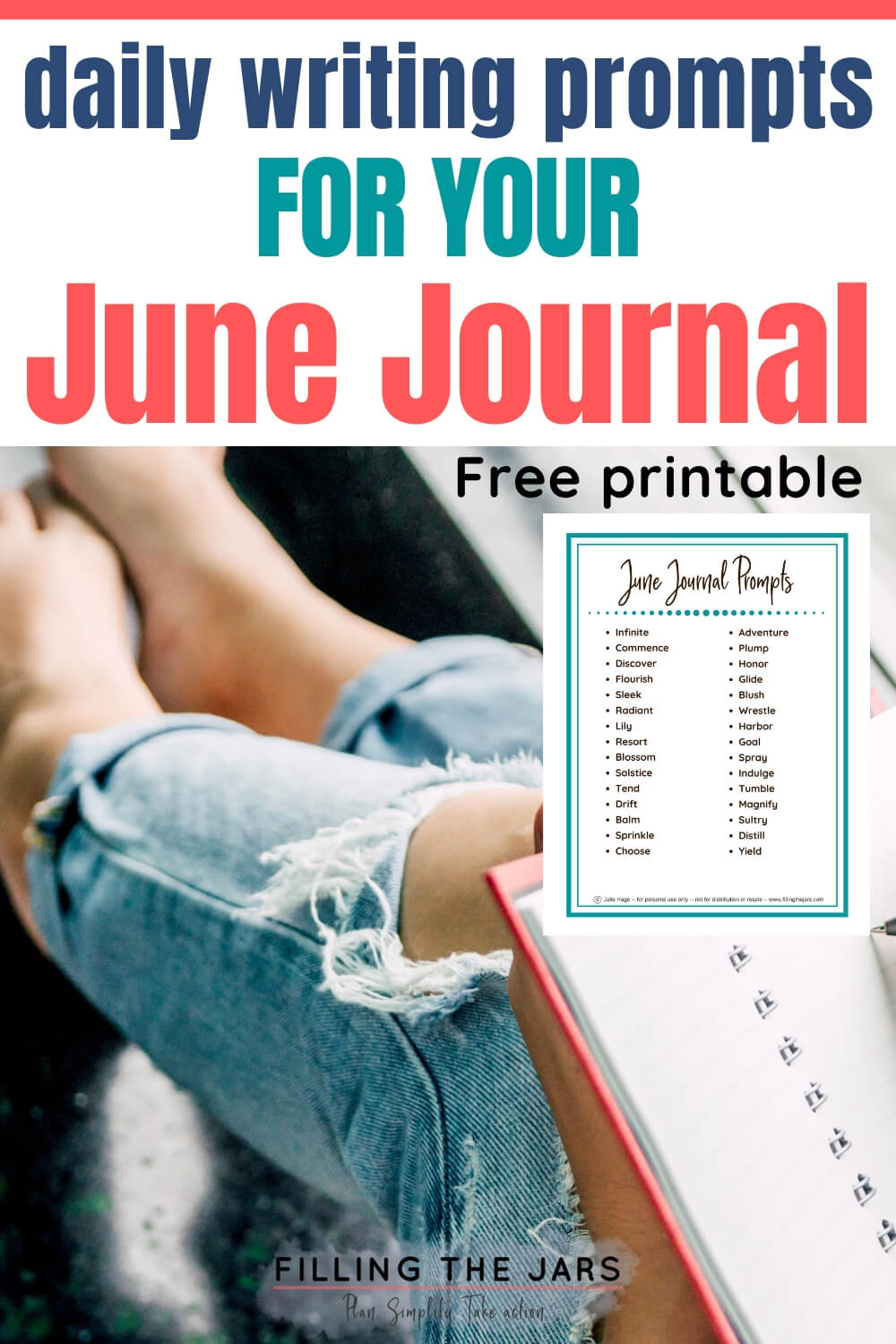 This post may contain affiliate links. If you choose to purchase through an affiliate link, I may receive a small commission at no additional cost to you. You can see my full disclaimer here.
Benefits of Daily Writing
Daily journaling has a huge number of benefits, a few of which include:
Stop the churning and reduce stress
Your brain will feel more rested after a session of journaling, especially if you use the time and daily prompt to delve into your feelings. As you write — or reflect on what you've written — unexpected realizations and solutions often emerge.
Improve memory
The more we write about events, the more we tend to remember small details. The act of writing helps to cement those details in our memory. Are you the type who makes lists for everything? Journaling is the same thing, but in a more 'life-centered' way.
Better physical well-being
Although not conclusively proven, studies show that writing for health can have a positive effect on your physical person. There's nothing wrong with doing everything we can to get and stay healthy!
---
How to Use These June Journal Prompts
As a reminder, journaling is a completely personal experience… which means, 'You do you!'
That's one reason a list of single-word journal prompts is so powerful. You're not locked in to answering specific questions or writing on pre-determined topics.
Instead, you can choose whichever word strikes your fancy for the day. And it doesn't matter if you're journaling your feelings or writing flash fiction. Even a faint glimmer of inspiration can quickly catch fire in your mind as you write.
However, if you have difficulty making decisions (I'm looking at you, fellow overthinker), I suggest beginning with the first word on the list and going in order day by day. Wasting time choosing the 'best' word each day can extinguish the creative spark — and we don't want that to happen!
Most of these words also have more than one meaning, which adds an extra dimension of possibilities. Don't be afraid to explore using these words in unfamiliar ways.
If you've never kept a journal by hand before, give it a try. Grab a large spiral-bound notebook or a smaller softcover journal and a pen, print out this list of prompts (click HERE to have the printable sent to you), and just start writing every day for about 20 minutes.
30 One-Word Prompts for June
Ah… summer! The beginning always feels like a magical season full of possibilities.
The green leaves are still fresh. The temperatures tend to be less intense than July and August. The days slow down. Smiles come more easily as we raise our faces to the sunshine.
For some reason, I usually think of June as a 'gentle' month, and most of these prompts reflect that idea. Enjoy!
Infinite
Commence
Discover
Flourish
Sleek
Radiant
Lily
Resort
Blossom
Solstice
Tend
Drift
Balm
Sprinkle
Choose
Adventure
Plump
Honor
Glide
Blush
Wrestle
Harbor
Goal
Spray
Indulge
Tumble
Magnify
Sultry
Distill
Yield
Fill out the form below to have the printable June monthly journal prompts PDF sent to your email inbox.
---
More Writing Posts and Resources You May Enjoy
List Writing Prompts: 20 Lists to Make for 2020
The Magic of Getting Up Early and Writing 500 Words
The Brain Dump — An Overthinker's Secret Weapon
30 Printable Journal Jar Prompts to Inspire Reflection
Concluding Thoughts
Taking time out for yourself every day is one of the best things you can do this summer. Use these June journal prompts to relax, improve your creativity and coping skills, and quiet your mind when there's just too much to think about.
Just begin… today.
Don't be nervous, because there is no possible way to mess up personal journaling as you Build Your Best Life.
You've got this!
Didn't grab your printable journal prompts yet? Sign up below and they will be delivered right to your email:
---
Did you enjoy this post? Know someone else who might like it? Please take a moment to share on Pinterest, Facebook, or your favorite social media… (Click the sharing buttons at the bottom of the post.) Thank you!