If you read my very first blog post, you might remember that I said I don't exactly love my home. While that's true — this is not my dream home with a mountain view and no maintenance required 🙂 — thanks to Pinterest I have learned so much about ways to make it a place I can enjoy. You can visit my Pinterest Home Decor board — it's where I keep my main inspiration pins.
Trust me, even a few changes can make a huge difference in how you feel about your home – and most of them are free!
This post contains affiliate links. If you choose to purchase through an affiliate link, I may receive a small commission at no additional cost to you. You can see my disclaimer here.
1. Create a Welcoming Entry
We FINALLY did this, and the change it's had on my attitude is AMAZING.
You can read about it here: Our DIY Farmhouse Style Entryway – My Favorite Home Improvement Project!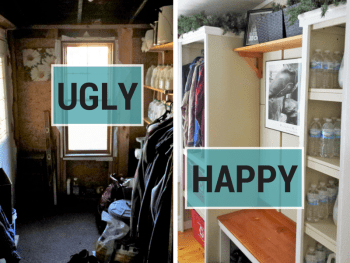 Now I love our entryway!
You might not have to begin from the wall studs like we did. Adding a place to sit, a nice boot tray, some hooks for backpacks or coats, a mirror, and table or shelf — you can do all of this with just a little time and not much money.
You will feel much better about coming home to a pretty space!
2. Display the Things You Love
What items do you have hidden away that you actually love? Find a way to bring them out and enjoy them every day.
I love books. I love them in paper and digital formats. But nobody who visited our home since we moved in 17 years ago would know that. My books were packed into boxes and bins, hidden in a closet or taking up floor space in my tiny office.
Why? Well, I didn't have the right bookshelf. Our house is pretty small, so it's not like I could just pop into the nearest big box store and bring one home to solve the problem.
This autumn I finally built some shelves to fit the space in our living room that has been screaming for shelves for years. (Screaming silently of course, but I could hear it!) And guess what? Now my books are on the shelves and there is a little bit of quiet in my head. Here is a photo of part of the shelf unit I built.
Guess what else? I discovered I didn't have quite the attachment to all of those books that I used to have. I ended up donating a couple of boxes' worth.
Which brings me to the next way to love your home…
3. Declutter
Seriously. Just do it. TRUST ME.
I have a tendency to save everything… for all the usual reasons.
"It cost a lot of money." (If you're worried about the money, check out this post from Abby Lawson about how to make money from your clutter.)
"I might lose 50 pounds and be able to wear it again." (If it happens, you deserve new clothes.)
"I might use it someday." (Probably not.)
Let. It. Go.
Related: 4 Mindset Shifts to Help Clear Your Cluttered House
I used to have so many bins, I joked that I should own stock in Sterlite and Rubbermaid. And they were all full. I would have to move bins every time I tried to get to certain areas of my house.
Over the years I have managed to purge most of that crap. Sure, there is still some clutter here and there. Every few weeks I will notice an area that needs work. But it's a lot easier to work on one area instead of feeling overwhelmed by stacks of bins.
Set a goal of 10 items a day and get rid of them. It doesn't matter what they are. A receipt, an old pencil from the junk drawer, whatever. In a week, you will have tossed 70 items. In a month, 300 items! Your home will thank you, and you will love how your home looks!
Related: Got Too Much Stuff? Here's Your Step-by-Step Declutter Plan of Action
If you need a more defined method, I've listed a couple of websites with printable decluttering calendars — or grab my printable 30-day decluttering challenge printable.
I like both of these sites and sometimes combine them depending on my focus for the week or month.
4. Move Your Furniture
Try something unexpected.
A couple of weeks ago my older son moved home from his college work term. He brought back one of our two mission-style recliners that look so nice in our house but take up So. Much. Space.
We discussed where to put it. (The place where it used to sit was no longer available.) One possibility was removing the couch from the living room and placing both chairs there instead.
As a temporary solution, we moved the couch into the dining room between the table and the window.
Oh… Wow… How surprising to discover the couch totally works there! Even if we end up getting rid of the couch (it's getting pretty worn out, which is why there is no photo), I will definitely put something similar — like this gorgeous settee — in that spot.
Don't be afraid to try something that might seem a little unconventional. You might end up loving it! If you don't, move it back. No harm, no foul.
5. Build a Fire
There's just something about a fire that brings coziness to a home. Of course, I'm typing this on a cold snowy day in the middle of winter. I might have to make a different list for summer.
One thing I do love about our home is our woodstove, which is our main source of heat. It's in the living room and can be used like a fireplace. A favorite part of my day is sipping coffee in front of the woodstove every morning while the front doors are open and the fire is really getting going.
An actual fire is not for everyone. Not all homes are set up for wood or gas heat sources. But there are some options.
Some of the new electric fireplaces have sound and heat to go along with their simulated flames.
Another option is to use video. Yes, your television or computer screen can be your cozy fire source! You can purchase DVD's of crackling fires, visit Amazon video (there are free videos available if you have Prime — Try Amazon Prime 30-Day Free Trial) or check out YouTube videos like this one.
It might sound weird to have a fire going on your television, but I tried it out and it was actually kind of neat.
What Do You Love About Your Home?
What is your FAVORITE thing about your home? What have you done to like the things you can't change? Leave a comment, I would love to hear about it!
If you love everything about your home, how did you get it that way?