Note: This is a guest post by Jo & Leisa Creed of Joleisa.com. You can read more about them at the end of this post.
Okay, you've clicked to read this because you have at least one thing on your mind that is causing you to worry. It might be something simple, but then again, it may be a massive issue that's consuming your every waking moment, including the hours you spend up at nights because you can't sleep. Well, I've got news for you, news that you can share by way of the free checklist, or by email, or text or whatsapp messenger, with someone else.
If I ask you what you mean by worry, chances are that you can't put a proper definition into words but the fact is that you know only too well what you and I mean by worry. Words like anxious, fidgety, nervous, afraid, upset and concerned come to mind.
I want to start off by reassuring you that you are not alone. Millions of people at this very minute are anxious and worried about something or another. Of course, some issues that cause worry are much more major. For example, someone who is clinging onto their car while it is slowly being submerged in a flood of rising water following heavy rains and a landslide is in a much worse predicament than someone who is worried about whether or not they passed the Geography test about flooding. Wouldn't you agree?
With that being said, here are seven things you can do to minimise your worry. You should find at least one thing that is appropriate for you. And do remember to share the checklist or this post with others. I'll start with simple things that you can do and then I'll address getting more people involved in helping you with the situation.
Blog Owner's Disclaimer: This post contains affiliate links. If you choose to purchase through an affiliate link, I may receive a small commission at no additional cost to you. You can see my disclaimer
here
. Please note that I am not a medical professional. You assume all responsibility if you choose to follow any of the advice in this post.
Feeling anxious lately? Here are seven things you can do to ease your worry + a FREE checklist.
Click To Tweet
1. Think about what is making you worried and try to address it.
By this I mean that sometimes you can take charge of a situation and make a decision so that it is no longer there as a trigger for your worry. Sometimes the decisions will be smaller but sometimes they will be bigger and require more time to think through as well as more guts to make the decision.
The point is that once you take hold of the situation and make the decision, you don't need to keep worrying, it's been dealt with.
My own situation comes to mind here. I can share with you that I have, in the past, spent too long being anxious and worried about the stress levels I had in my last job. I was so consumed with worry that I wasn't sleeping well at all and this lead to me having scary hallucinations at night.
The long and short of the story is that I weighed up the pros and cons of the situation (leaving versus staying) and when I finally decided to give it up and handed in my notice, I had the best sleep ever in years! I honestly even felt lighter after that. Sometimes you just have to take the bull by the horns and make a decision! You can do it!
2. Try naturally calming treatments.
No, it's not a joke. I recently heard about boiling a banana in a cup of water for 10 minutes, then adding a pinch of cinnamon. This tea is then had right before bed time. My friend Erica tried it one night and reported that although she still woke up at about 3 a.m. as usual, she found that it took her much less time to fall back asleep.
Kalms tablets are also made of all natural ingredients and like the name says, it calms and relaxes you, therefore making you less likely to be taken up with worry. I like to say it makes you 'mellow'. Ever felt that before?
There are other natural remedies for calming us. The use of yoga and essential oils come to mind. I haven't got much experience with yoga and essential oils but my friends swear by them that they help to calm you and I believe in them. Lavender oil is said to be really good.
3. Talk it through.
It's never a good idea to go through a rough storm all by yourself. Find someone that you can talk to. I share all my worries and concern with my twin sister and find that sometimes by the time I tell her what I've been worried about, and we talk through it, breaking it down, I find that the matter is really insignificant in the grand scheme of things.
It helps when someone is there as a supporter. The worry, when shared, is halved. It's even better when your supporter actually shows you why there is no need to worry.
Try to help a friend talk through something that is concerning them. You can literally see them beginning to relax. The same will happen to you when you share what you are going through.
4. Indulge in one of your great passions.
We all, well most of us, have something that we are interested in, be it a hobby or special interest or some form of creative outlet. Well when stress takes over, try to find solace in this 'thing'. For me it is usually crochet or some other type of art or craft which helps to get my mind off worrying.
It also helps if you try to teach others your craft as this takes even more concentrated effort which will get your mind off 'stuff' for longer. Getting involved in some type of activity for you helps to re-energise you. If you are running on empty, you have nothing to give! Remember this point.
---
Related post: Why You MUST Discover & Develop A Creative Outlet
---
5. Turn to your faith.
Most of us have a fellowship with a group of believers who have the same general views about life issues both now and hereafter. It has the effect of grounding you and helps you to remember what the important things in life are. So if for nothing else, they can help to support you with the issues you are stressed about.
Whether or not you believe in God, or some other force, I'd recommend that you find solace there when in need. I personally rely on some of my trusted church friends for support. There is always someone that I can talk to, depending on what the issue is. Sometimes all I needed to hear was a scripture verse which matches or encourages about the situation I am going through.
And you know what? I always keep these texts in mind for when I need to encourage someone else. Isn't it amazing that the help that is given to me in my time of need, I can use to help someone else! Life can be amazing like that.
6. Seek counselling and support groups.
There are many support groups out there which deal with a variety of issues which affects us from time to time. A good Google search or check of the yellow pages could give you information of where to find these support groups.
Take the first step by searching for these and availing yourself of their services. Very often these are free. You may feel nervous at first to sit and share your worries with strangers. I did too. And I was one of those who always said I would never go to a counsellor who I don't know and who doesn't know me, about anything. I always thought that it would be too uncomfortable.
Four years ago, though, when my own son died and I bottled it all in for too long so that the worry took over, my doctor recommended that I try at least one counselling session and join a support group. If you want my honest opinion, I will say that it is one of the best things I ever did to deal with the grief and worry I was going through! The talk with the counsellor gave me a chance to put a time and place for me to deal with my worry. I so loved the session that I carried on for several months until I 'graduated'. To this day I am still a member of the support group. I am now one who offers the listening ear and words of comfort and advice to new members of the group.
7. Seek the help of medical professionals.
It was only recently through my contact with another blogger that I came to realise that so many people suffer from anxiety and other mental health issues that they spend a lot of time being worried. For them, it is something they try to mask although they really find it difficult.
The fact is that many people have to rely on the expert knowledge of medical professionals and on medication to control their anxiety. You may be one of those. Like I said before, you are not alone in this. That should bring some comfort and put you in a good position to be able to help or advise others who are going through similar situations.
You would be surprised to know that may top leaders and professionals rely on medication daily to be able to manage. Because you have never seen people take medication doesn't mean that they don't. Many people that you know, would not be able to carry on in a sane way with it.
Worry is real. You and I know it only too well. Now you know that there are lots of things that you can do to minimise and even get rid of unnecessary worry. Choose something and try it. Start off simple with something near to the top of the list and work your way through if things don't get better. If I had to choose three, I would say to talk about it, immerse yourself in something creative that you enjoy and that relaxes you, and then if nothing works, you need to seek the help of medical professionals. Hope you find something that works for you in helping to cut down on worry. Good luck and do let us know how you get on.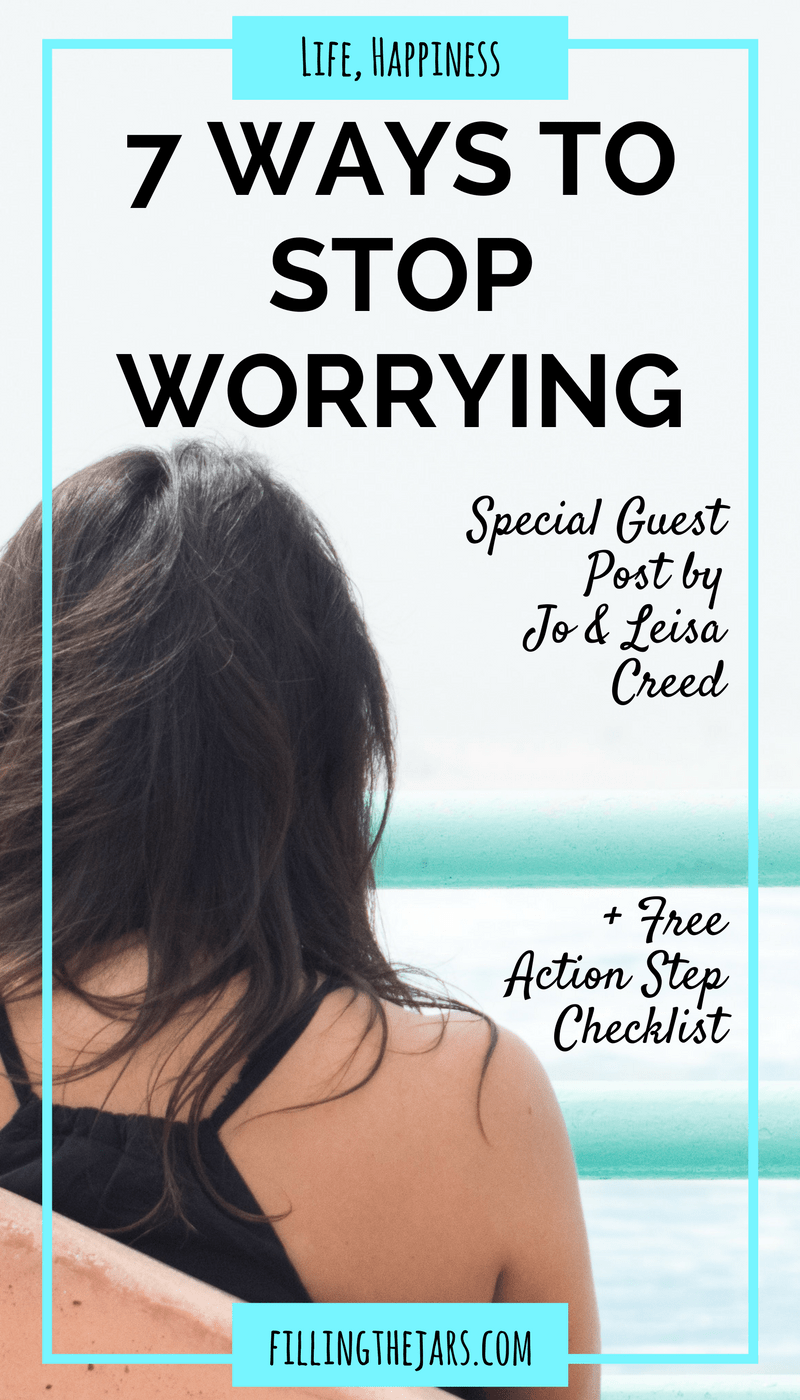 Jo and Leisa are twin sisters who started blogging in January of 2016. They are teachers and frugal lifestyle bloggers who blog at joleisa.com. Between them they have three teenagers who mean the world to them. The girls love travelling and definitely know how to have a good time, all of it while pinching pennies. They do believe in having positive thoughts and setting aside time for activities which promote good life balance.
Connect with them on social media at: