How do you declutter when you don't know where to start? If you've ever been in that place — or if you're stuck or overwhelmed by the whole process — then these declutter tips and strategies for dealing with clutter are just for you!
For more on organizing after you declutter, check out my collection of more than 175 quick organizing tips.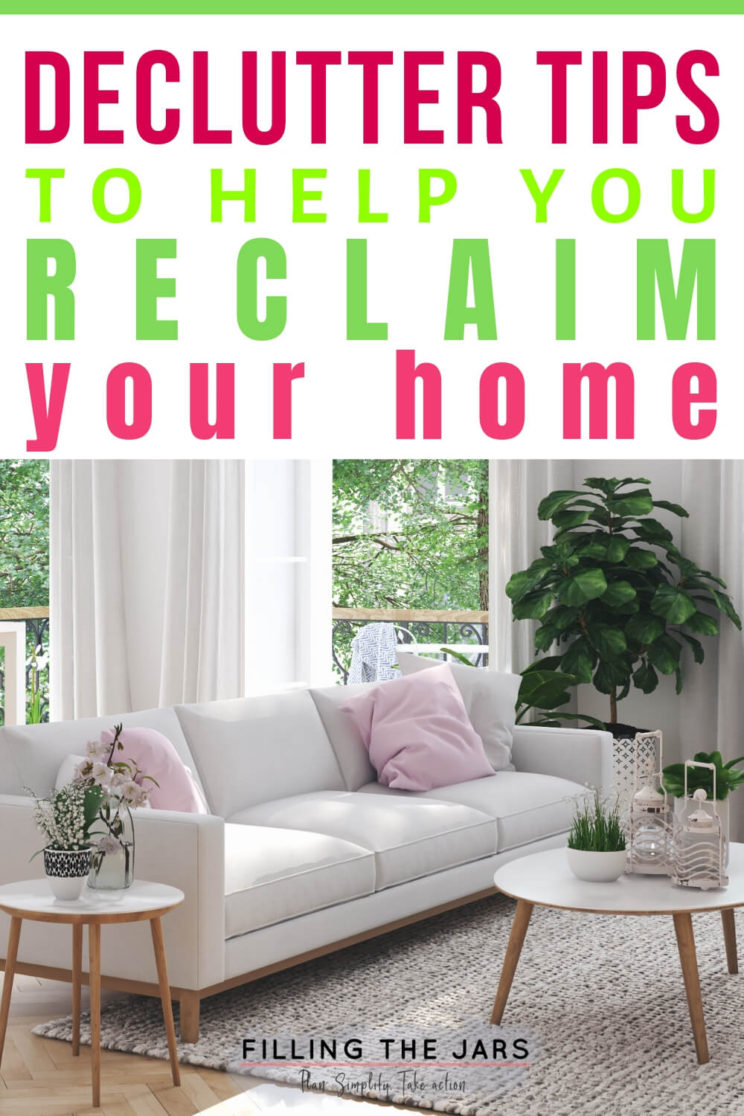 This post may contain affiliate links. If you choose to purchase through an affiliate link, I may receive a small commission at no additional cost to you. You can see my full disclaimer here.
Before You Begin Decluttering
There are a few things you can do before you get rid of anything that will improve your chances of success and will make the process much easier.
The very first thing you have to do is Stop Being a Victim of Clutter, so be sure to check out this post about changing a victim mentality into a positive decluttering mindset.
9 Awesome Ways Your Life Will Become Simpler When You Declutter — This post will help you understand the benefits of decluttering, so you'll want to begin right away!
You may not consider clearing clutter to be a form of self-care, but it most certainly is! You'll want to read this post about why decluttering is important for self-care.
There are times we tend to make excuses for our clutter, whether it's conscious or not. These 4 Mindset Shifts to Help Clear Your Cluttered House will help you work past some of the problems you may be facing. It's also something you might want to think about if you're dealing with a situation of decluttering when you're poor.
Are you desperate but too overwhelmed to even begin? Here are 3 things you can do when you're overwhelmed by clutter and feel paralyzed. Think of them as 'pre-decluttering' steps to help you have a better chance of success later. 😉
7 Rules for Decluttering & How to Decide What to Keep — This simple list provides clear rules to help you quickly decide what to do when you're faced with a pile of clutter.
There are many potential pitfalls when it comes to decluttering. Overthinkers tend to make a lot of them! 😉 Here are 7 decluttering mistakes you'll want to avoid on your personal journey.
One thing I often see people trying (and failing) to do is mindful decluttering. This post about mindful decluttering will explain why it almost never works for overthinkers… and what you can do instead that DOES work.
Where to Start Decluttering When Overwhelmed
When you declutter your home, you're actually taking the first steps to organize your entire life. But sometimes just getting started can be the most overwhelming part of decluttering.
Exactly Where to Start Decluttering Your Home — Seriously. You asked. I answered. No more guessing where to begin, because this post tells you where, why, and how.
Before you do anything, build some motivation with words from others who have been in your place. These 30 Inspirational Decluttering Quotes and 33 'Too Much Stuff' Quotes will help get you in the mindset to attack the clutter immediately!
Often, we're overwhelmed by visible clutter, and it really does affect us physically and mentally. Try these 5 simple tips to reduce visual clutter.
Sometimes all you need to get started are some tips for exactly what to do when you walk into a room. Try these 11 Top Tips For How to Start to Declutter a Room.
5 Baby Steps for Successful Decluttering That Don't Require a Huge Time Commitment — Nobody wants to think about spending every minute of the day decluttering, so here are the first few things you'll need to do to set yourself up for success. And you won't have to spend more than 10 minutes a day, I promise!
If those baby steps aren't quite what you're looking for, here are 10 tiny tasks to clear your clutter that are sure to motivate you. It's as easy as clearing ONE horizontal surface or ONE shelf at a time. Do all 10 things? You'll be well on your way to a clutter-free and organized home!
27 Truly Easy Things To Declutter This Week — It's easy to get overwhelmed when decluttering your space but you can start with these *really* easy things first and feel accomplished before moving on to more difficult tasks.
Have a massive collection of bags stuffed away all over the house? Here's how to declutter shopping bags and get them organized in a way that works for you.
62 Things to Declutter That You Won't Miss at All — be sure to read this post and grab the printable list so you can start tossing clutter without having to think about it.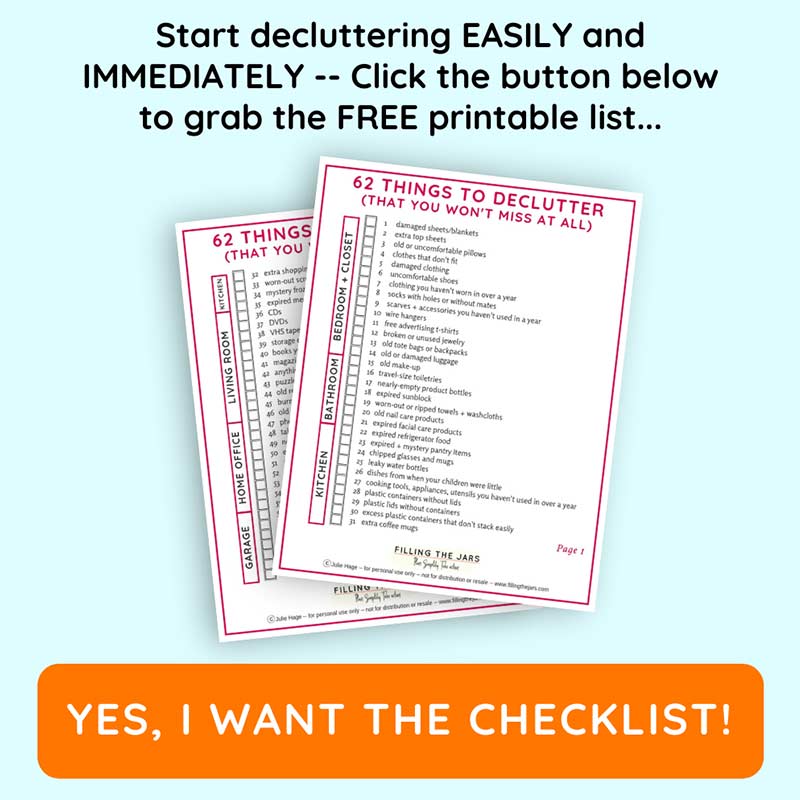 How a Decluttering Schedule Will Help You Conquer the Mess — If you're ready to clear your house and regain your living space, developing a decluttering schedule you can stick to will be exactly what you need. Get some great ideas in this post!
There are times when a simple 30 day declutter challenge printable is all you need to begin your declutter journey. I've designed this printable to be used in multiple ways to get — and keep — your home clutter-free.
Maybe a seasonal-focused declutter is more your style? Why not try fall decluttering this year to get ready for the colder weather?
Like variety? Here are some ways to declutter that could spark your interest.
Declutter Tips
Developing your declutter skills will help you make better and faster decisions about everything… which is a major bonus if you're an overwhelmed overthinker.
Not ready to declutter your entire house in a week? Then you're going to love The Slow Declutter: A Lower-Stress Way to Clear Your Home — this is a no-mess way to clear the clutter. It's by far my favorite method! Give it a try and let me know how it works for you!
Or… maybe you ARE ready to declutter your entire house in a week? That means you need to get busy! How to Quickly Declutter a Room Every Day explains how to do a one-hour S.P.R.I.N.T. to clear the clutter from a room and stay motivated to get the job done.
This Declutter Plan of Action gives you actionable strategies for dealing with clutter, including a free printable mini declutter plan.
If you've been decluttering for a while and feel like you've hit a wall, you're probably experiencing some pretty intense fatigue. Try some of these 27 ideas to overcome decluttering burnout.
For those times when you need to fix part of the clutter problem immediately, Here's How to Declutter Really Fast. I think of this as a last resort or special circumstances type of post, but it will help you when you need it (because life happens)!
So many people ask me about what to do when their husband refuses to declutter. Whether or not you personally have an issue with clutter, I've compiled a list of 8 things you can do to help your partner begin clearing clutter and — hopefully — keep peace in the home.
We all tend to keep things with memories attached. Giving yourself grace and space is important to successfully decluttering sentimental items. I recommend dealing with memorabilia after you've learned how to let go of 'regular' clutter. Then you can take the time to make good decisions about sentimental clutter.
Gifts can become sentimental clutter all too easily. This post on how to declutter gifts will help you get a handle on that before unwanted gifts take over your home and life.
Another problem many of us deal with is living in a small space. Here's How To Declutter A Small House In 5 Basic Steps. It's not quite the same as decluttering a larger home, but it IS possible!
If you dream of a comfortable living room with room for entertaining, you'll want to get specific tips for how to solve the issue of a cluttered living room. This is especially targeted to smaller spaces.
You've probably heard about The Gentle Art of Swedish Death Cleaning book that came out a few years ago. I've got 10 Takeaways From Swedish Death Cleaning That Will Inspire You To Declutter.
As the Swedish Death Cleaning post confirms, decluttering over 50 is just… different. This post on decluttering after 50 discusses the challenges, benefits, and how-tos for being successful at clearing clutter in midlife.
No matter your age, you may be considering a move to a smaller space. I've got some tips for how to declutter and downsize and make the process a positive experience.
Working from home and organizing a household can feel impossible when you're trying to do it all from a cluttered space. Here's how to organize a messy office — you'll be so glad you did this!
More posts about decluttering:
Decluttering Your Closet and Bedroom
Ready to take on the job of downsizing your wardrobe? It doesn't have to be that hard! Here's How to Declutter Your Wardrobe by asking yourself the right questions, taking one step at a time, and letting go of the guilt.
Just want a simple decluttering list to get started? Click here to grab a free closet declutter checklist and have it sent right to your email.
There are actually a lot of thoughts, excuses, and tips that go into decluttering and organizing your closet. These wardrobe management tips can help you navigate all of it and end up with your BEST clutter-free and amazing closet.
Once you've decluttered your closet, it's much easier to declutter your room. Here's how to declutter your bedroom in 10 simple steps.
Ready to take things a step further? If your bedroom still feels crowded even after you *think* you're done clearing the clutter, you may be ready for a minimalist bedroom declutter. You'll be surprised at how well your room functions and how relaxing it is to have even less stuff to take care of.
Don't Forget About the 'Other' Spaces
How to Organize a Cluttered Garage — It's time for an organized garage. You know it, I know it. You can regain control over the chaos that has taken over your garage! With decluttering tips, organizing ideas, and a handy checklist to keep you on task, you'll soon have the clutter-free garage you deserve.
It's time to declutter that cell phone. Here are some easy and effective ways for decluttering your cell phone and clearing out all those old pictures, unused apps, emails from years ago – ALL OF THEM. It will be sooo worth it when you're done!
How to Declutter When Moving — There are so many things to think about when you move, and they can all become overwhelming. One of the most important steps is decluttering your home before moving day.
Decluttering will make packing easier because you'll be able to focus on the essentials instead of hauling around every single thing in your house. Plus, it's less stuff that has to get unpacked later — which means more time with family! To keep yourself on track, grab the printable checklist.
Declutter Your Life: 6 Things to Purge for More Intentional Living — Take a look at this blog post for some tips on how you can live lighter and in a simpler way that works for YOU.
So much of our everyday lives are filled with the clutter of the non-essential. But if we can whittle those things down, then we can get a clearer picture of what really matters to us and what we want to do or be. Let's talk about simple ways to get started living intentionally today!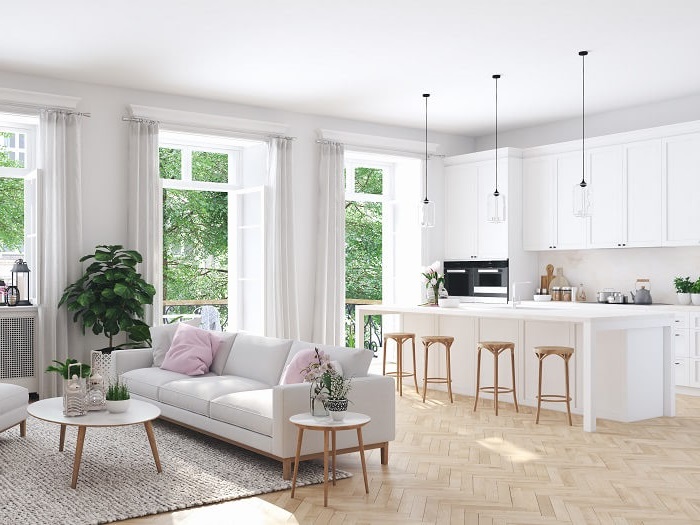 What to Do With Your Stuff?
So you've started decluttering, but you have plenty of still-useful things that you want to go to a good home?
First, here's How to Declutter and Donate Your Stuff Without Regret. I love donating, and I strongly believe everyone should try it as an alternative to trying to sell clutter. This post will show you exactly why and how to do that in a way that works for you.
Once you've made the decision to utilize the donation method, Where to Donate Your Stuff After Decluttering is a helpful list of local and national places to send your donations.
Cleaning and Clutter
We all know that cleaning and decluttering are good for us. It gives our home a fresh start, clears out the clutter so we can have more space, and makes it easier to find things when we need them. But sometimes the motivation just isn't there. When you're feeling that way, here are 7 tips for how to get motivated to clean and declutter!
How To Start Cleaning A Cluttered House — We've all been there. The house is cluttered, you feel overwhelmed and don't want to start cleaning because it seems like too much work. But if you only have a few minutes, you can make your home more welcoming again by tackling one small job at a time. Here's how to get started with simple steps that will make all the difference.
Have an entire hour? Here's a cheater method for how to clean a cluttered house fast. *Note: This is for 'emergency' cleaning situations, and NOT recommended as a regular way to deal with clutter and cleaning.
What Happens After Decluttering?
What if you've finished decluttering and still feel like you have too much stuff? Well, honestly, you're probably not done yet. This post will help you work through what went wrong and how to fix it: Decluttered, But Still Too Much Stuff In Your Space? Try These 5 Things
Feeling Sad After Decluttering? It's a Real Thing… and Here's How to Deal With It — Decluttering can be a cathartic experience. But it's also possible for you to feel sad afterward for different reasons. Here are some tips on what to do if you find yourself feeling down after decluttering.
Here are some great ideas for organizing your clutter-that's-not-really-clutter. You may have already decluttered the majority of your home and gotten rid of all the really messy stuff. But there are still things you have to keep and use that 'feel' like clutter and you want a nice way to store them. Check out these storage ideas for clutter so you can feel more organized.
How to Live Clutter Free: 12 Golden Rules for Clutter Control — Maintaining your decluttered spaces can be really tricky. Use these rules and ideas to make it easier.
Don't forget to decorate in a way that means you can enjoy your space! I live in Michigan, so being cozy is VERY important! Check out my simple and cozy living room ideas — most of them are perfect for small living rooms or clutter-free coziness.
Why is Decluttering Important?
When you use these declutter tips every day and break the clutter cycle, the beautiful difference you see in your home will translate into more positivity everywhere in your life.
You will feel better physically and mentally.
Cleaning will be easier and take much less time.
Your frustration level will decrease because you have to deal with less visual clutter taking up your mental space. Even if you think you're organized, you may actually be an organized hoarder. Getting that under control will definitely improve your physical AND mental space.
You will learn how to organize a cluttered house because you will develop better systems that won't be derailed by existing mountains of paper and other clutter.
You will regain pride in your home and won't be embarrassed when company stops over unexpectedly.
Your house will become a place of joy and peace, a true home for your family.
Need more convincing? Here are 5 Smart Reasons Why You Should Declutter Your Home.
Still don't see anything that strikes your fancy? Here is a list of decluttering websites that offer, at times, different perspectives and other ways of tackling similar situations.
Start reducing clutter piles today, and find out just how soon you feel better about your home!
More Decluttering Resources:
---
---
Like this post? Please take a moment to share on Pinterest or your favorite social media… thank you!